A popular Specialist from a previous Call of Duty title was introduced to Black Ops 4 last month with the start of Operation Grand Heist.
Outrider is now available in Call of Duty: Black Ops 4. Fans of the franchise will recognize Outrider as a Specialist from Black Ops III. She's known for her Specialist weapon, the Sparrow bow and arrow—it's an incredibly lethal weapon that can one-shot enemies.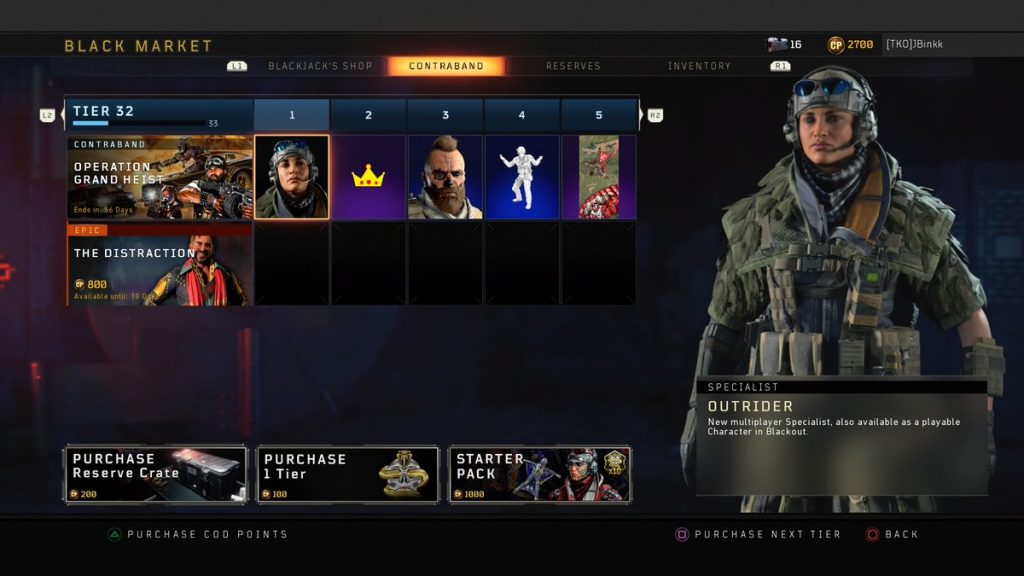 Several players are curious about what they need to do to unlock Outrider—but it's actually pretty easy. All you have to do is complete Tier One in the Operation Grand Heist Black Market.
You can unlock tiers just by playing the game, but you can also purchase tiers for 100 CoD Points each. So, technically, you could unlock Outrider by simply spending real money on CoD Points.
Related: How to unlock the Cosmic Silverback in CoD: Black Ops 4
But there's an even easier way to get this Specialist. There's a Daily Tier Skip in Black Ops 4 that resets each day at 12pm CT. All you have to do to get this Daily Tier Skip is win a multiplayer game, earn a Merit in Blackout, or reach round 15 in a Zombies Classic game.
Since Outrider becomes available after completing Tier One, you just need to get one Daily Tier Skip to unlock her. It's really that simple.