One of the greatest game hunters across the Outlands, Bloodhound's true origins are a mystery. One thing that's known, though, is that they're excellent in hunting and tracking opponents. Bloodhound's skillset in Apex Legends is focused on recon. Finding the enemies is made simple with his tactical ability, Eye of the Allfather. This ability allows the player to see their target through structures and smoke screens, enabling the team to launch a strategic ambush.
Their skillset isn't the only unique thing about Bloodhound. The hunter has a collection of skins available with ranging levels of upgrades. These skins can be acquired through the store or during events and crafted through specific challenges.
Common skins
Bloodhound's common skins apply a color change to the trim of their outfit. While it isn't a substantial difference, it allows players to personalize the character by using the color of their choice. You can get access to common skins with only 30 crafting materials.
Rare skins
Bloodhound's rare skins will do the opposite of their common skins, offering a change in the design of the main parts of their armor instead of just the trim. The rare skins also offer different colors and unique textures for each color. Most can be acquired by spending 60 crafting metals, but there are a handful that can't be crafted and are hard to find nowadays.
Deep Blue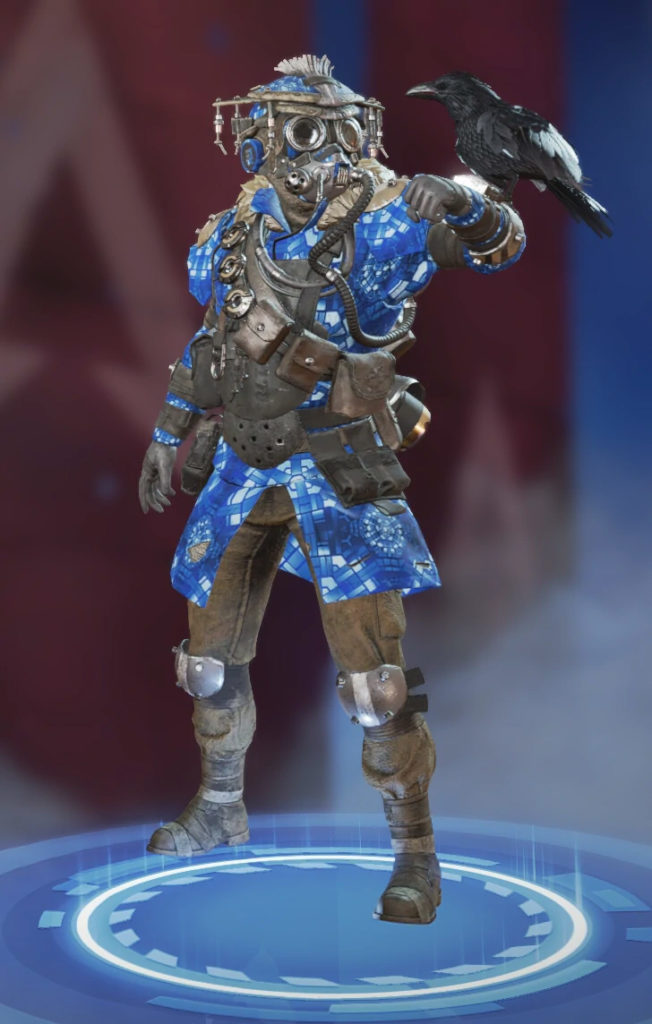 Deep Blue was only offered as part of a PlayStation Plus pack for PS+ subscribers way back in the preseason, which ran from February to mid-March of 2019. In order to have this skin, a player would need to have played almost since release day and have been a PS+ subscriber during that time. While it's not their flashiest, this is definitely one of Bloodhound's rarest skins.
Rockabilly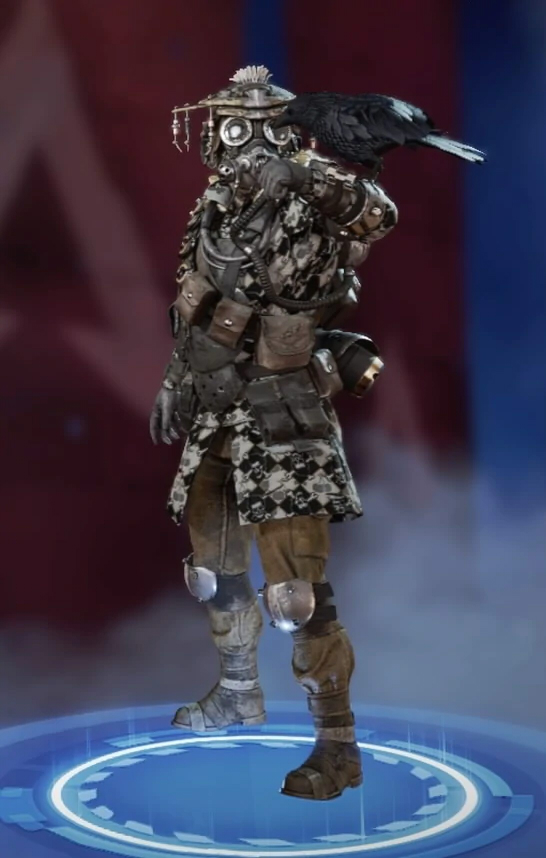 In a similar vein, this rare Bloodhound skin was offered as part of a PS+ pack in season nine. While that's significantly closer to the present day, not all Apex players are PlayStation Plus subscribers, making these skins much more unusual to see in the thick of battle than your average rare-tier skin.
Will of the Allfather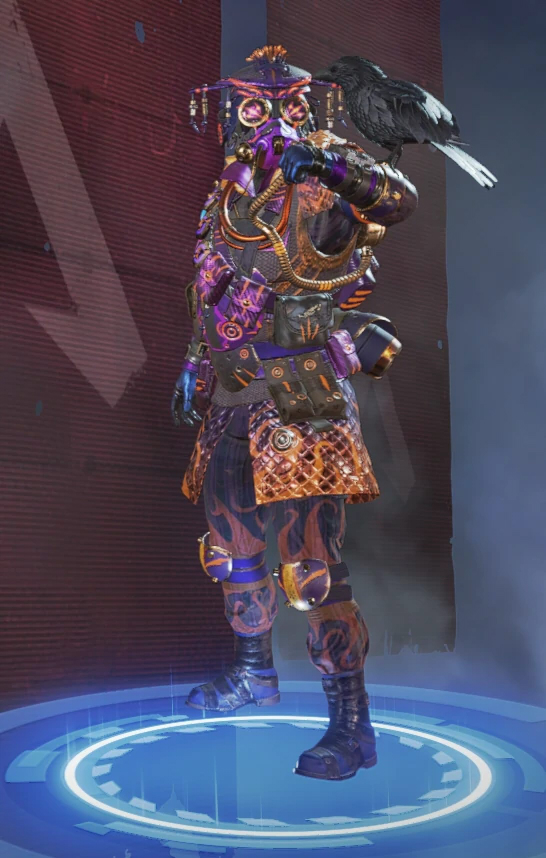 Will of the Allfather is yet another hard-to-find rare skin. This skin was offered to Twitch Prime subscribers (now known as Prime Gaming) during September 2020. Players needed to connect their EA account to Twitch and log into the streaming site to claim this reward, which added a few extra steps to the process. Will of the Allfather is a little brighter and more decorative than many of Bloodhound's other rare-tier skins, but its real value lies in its rarity.
Epic skins
The epic skins available for Bloodhound will do a combination of what's aesthetically available in the previous tiers of skins. Epic-tier skins will give Bloodhound a complete color change with five different options to choose from, all of which are worth 400 crafting materials.
Master of the Hunt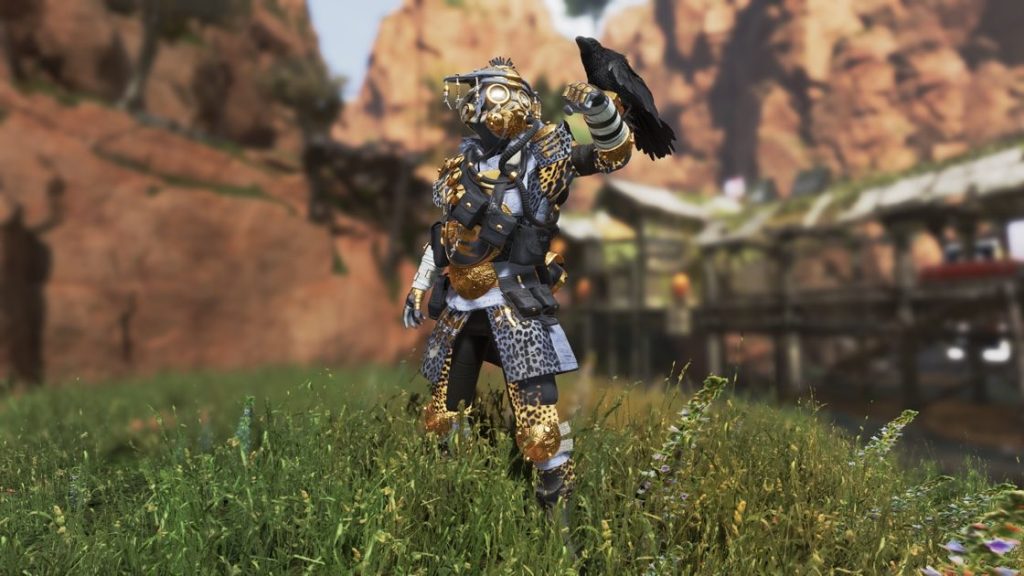 Bloodhound's rarest epic-tier skin is Master of the Hunt. This skin was only available through completing challenges during the Legendary Hunt event. The skin itself sees Bloodhound's armor textured in leopard print and includes delicate gold detailing concentrated on their mask, arms, and shoulders.
Legendary skins
Bloodhound's legendary skins offer full redesigns of Bloodhound that aren't available in any of the lower-tier skins. They change the shape of Bloodhound's model significantly and are some of the flashiest, most unique skins out there for the technological tracker. Some cost 1,200 crafting metals to create, but most are event-specific and can only be crafted or purchased during specific periods.
The Centurion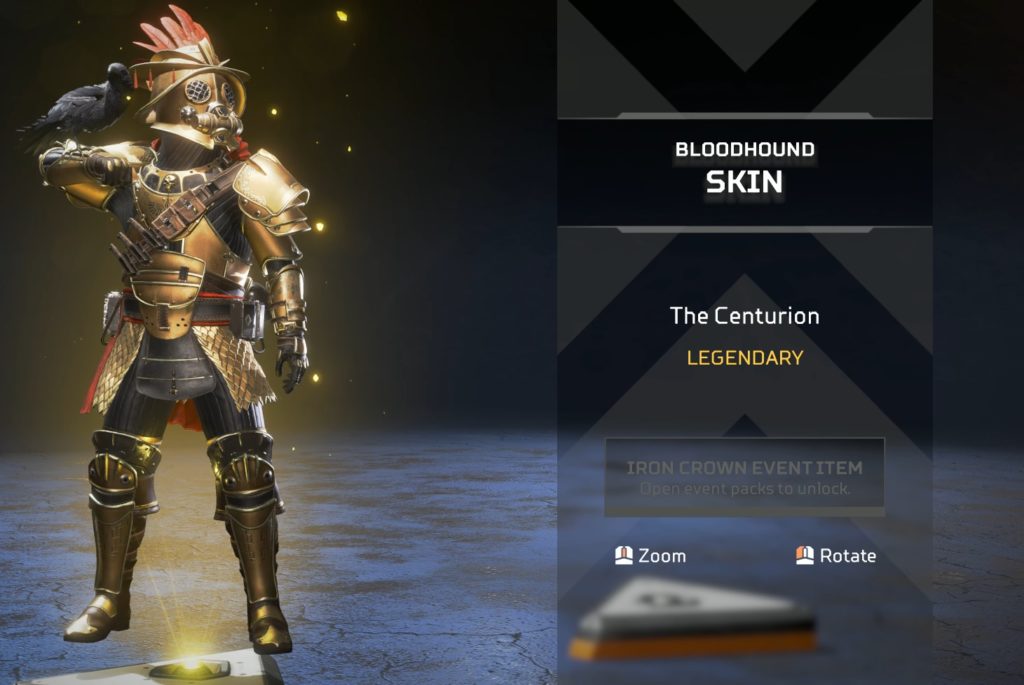 One of Bloodhound's most standout skins, The Centurion sees a complete remodel of their armor in favor of a Roman soldier look. It was originally available during the Iron Crown event, which ran all the way back in season two. It's come back a couple times since then in the store, but it's still fairly difficult to find.
Protector of the Patch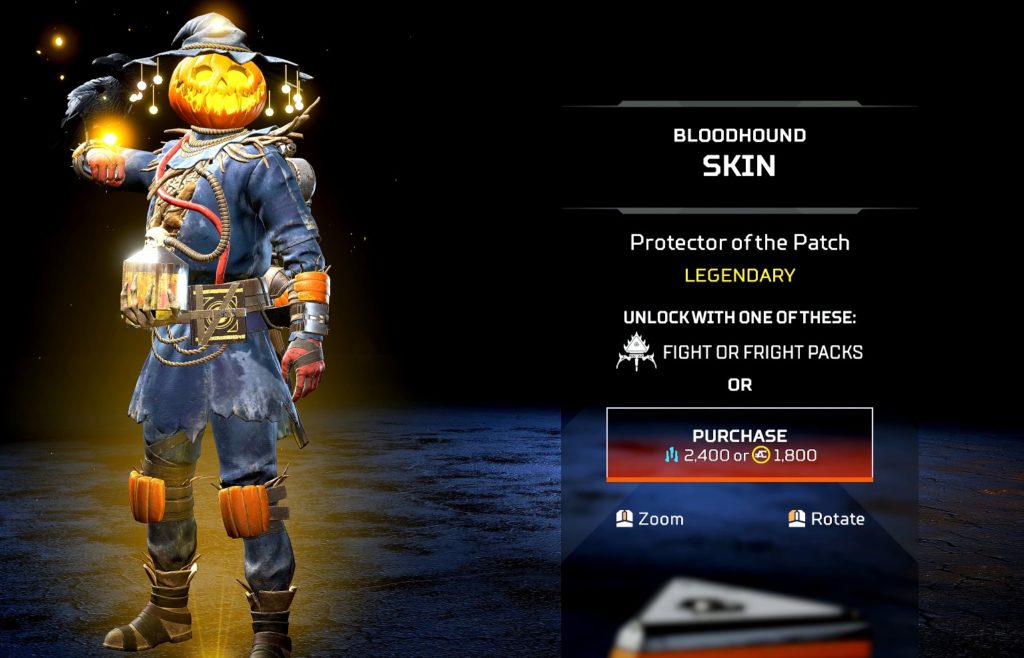 Available only during the Fright or Fight event in season three, Protector of the Patch Bloodhound is one of the legend's most unique looks. Donning a pumpkin as a head, Bloodhound is dressed like a scarecrow in this standout skin. If you're looking to scare your enemies, you'll need to look pretty hard to find this skin.
The Intimidator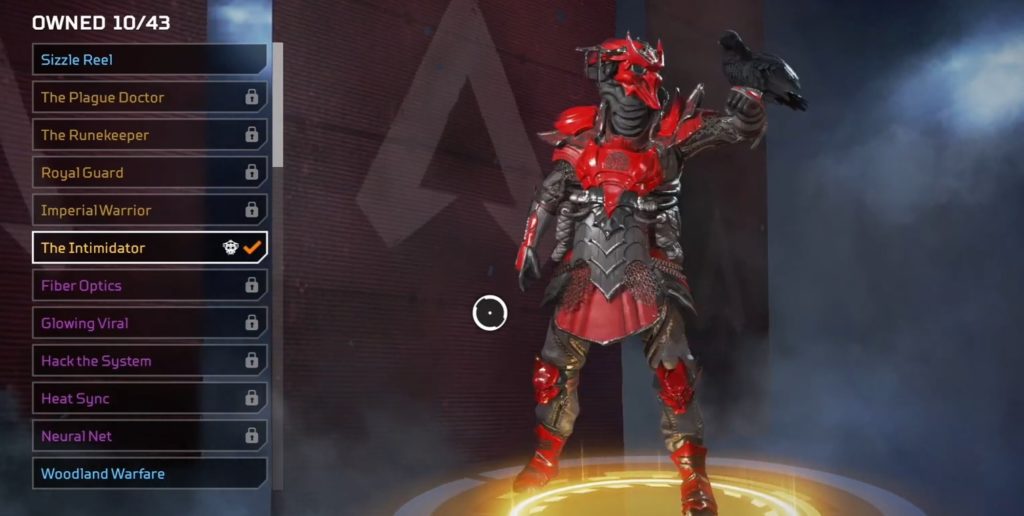 A solid color pallet isn't always what looks great in skins. But in the case of the Intimidator, that's exactly what it needed. The skin has a distinct red color scheme all over and reshapes Bloodhound's armor into something sinister that resembles a mask with devil horns. This skin is sure to stand out and send fear down the spines of the opposition.
Road Warrior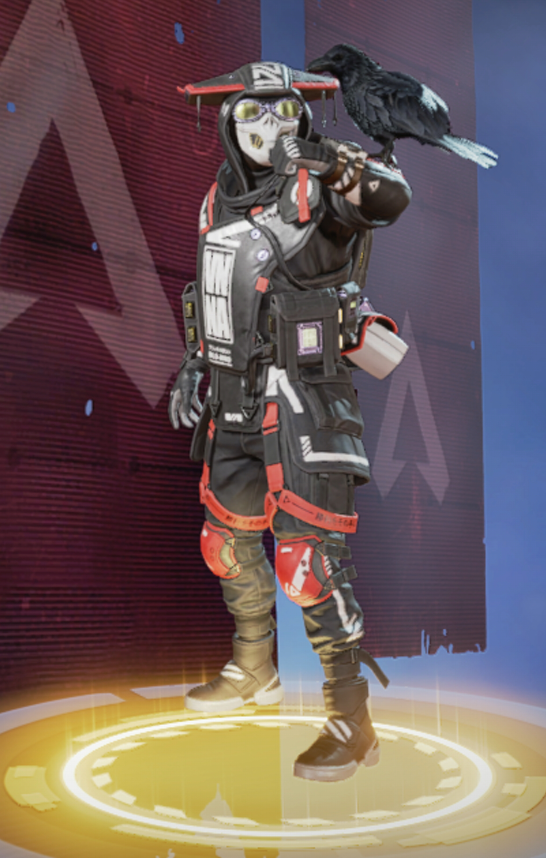 Road Warrior swaps Bloodhound's usual look for a sleek, streetwear-inspired getup. Besides looking incredibly stylish, Road Warrior also stands out as one of Bloodhound's rarest skins: it was only available as a battle pass reward in season 6 at level 50. Respawn tends to avoid re-releasing Battle Pass skins in the in-game shop, so Road Warrior is tricky to come by these days.
Prestige skins
Introduced in season 12, prestige skins are a new class of skins that change appearance at certain milestones. Right now, Bloodhound is the only legend who has a prestige skin available for purchase. The skin can only be bought with heirloom shards, a currency that players are always champing at the bit to receive.
Apex Hunter, tier 3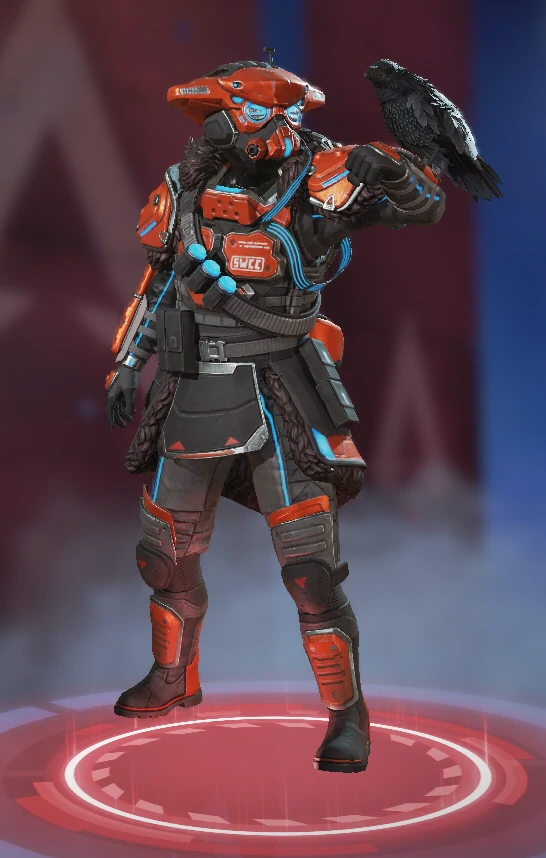 This is tier three of Bloodhound's Apex Hunter skin. In order to reach this tier, players must have dealt at least 100,000 damage as Bloodhound after purchasing the skin, meaning only the best players will make it to this level. Once tier three is unlocked, players also receive access to an exclusive finisher related to the skin. Not everyone has received heirloom shards yet and even fewer people have the skin and have done enough damage, making this a skin you won't see very often.
---
As of season 13, these are some of Bloodhound's rarest skins. The development team at Respawn is always releasing new skins and collection events, though, so check back soon to see if Bloodhound has received new hard-to-find skins.