Since Apex Legends' release last year, diehard fans of the battle royale have made it their goal to unlock all of the game's legendary loot.
When the game launched, only one Heirloom set existed for Wraith. But Respawn Entertainment, the developers of Apex, added four more sets for Bloodhound, Lifeline, and Pathfinder—and most recently, Octane—during limited-time events.
But just as it was on day one of Apex, many players are still scratching their heads as how to unlock the game's rarest collectible.
With each Heirloom set, players will receive three items for the respective legend. The sets include an intro quip, a melee weapon skin, and a banner pose.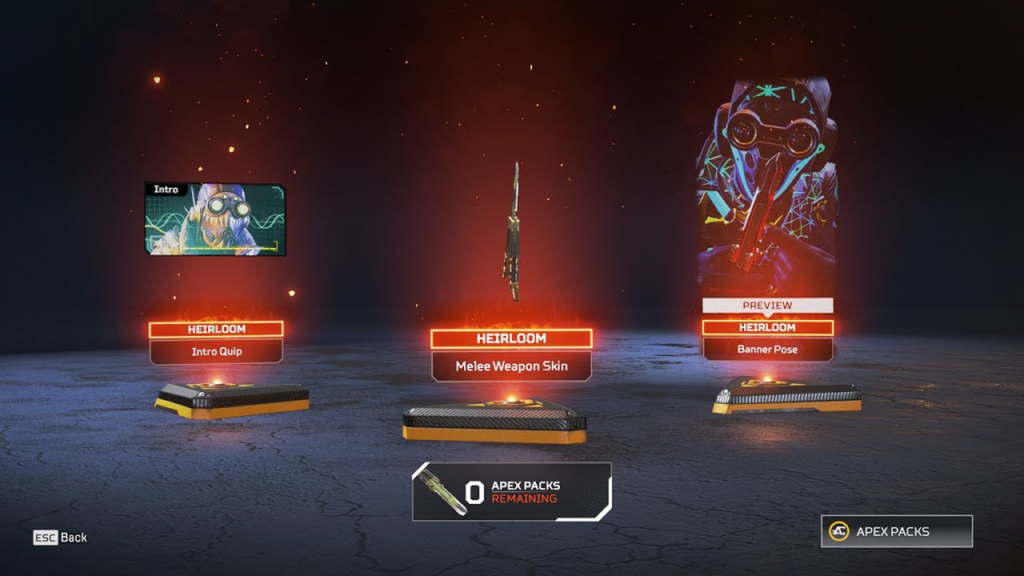 Items from Heirloom sets are considered one step above the legendary loot items. They're so rare that they don't even show up on the skins list until they're unlocked. Full sets or individual items cannot be crafted or purchased.
But exactly how do you unlock them?
You can get their hands on an Heirloom set through opening Apex Packs and unlocking all the cosmetics for that specific event. Apex Packs are simply received by leveling up.
When all 24 event cosmetics have been unlocked, your Heirloom set will automatically appear in your inventory. In other words, when a new event comes along, grinding levels and unlocking cosmetics are all you have to do.