In celebration of Gearbox's highly-anticipated looter shooter Borderlands 3 being released last week, 16 Twitch partners are competing in a Twitch Rivals tournament today.
The 16 participating streamers were broken up into four teams:
Team KingGothalion: Char, Edemonster, AdmiralBahroo, KingGothalion
Team woops: ryancentral, Roflwaffles, lazydata, woops
Team Sacriel: Tomographic, stodeh, BreaK, Sacriel
Team criken: gmart, lawlman, ShayneHawke, criken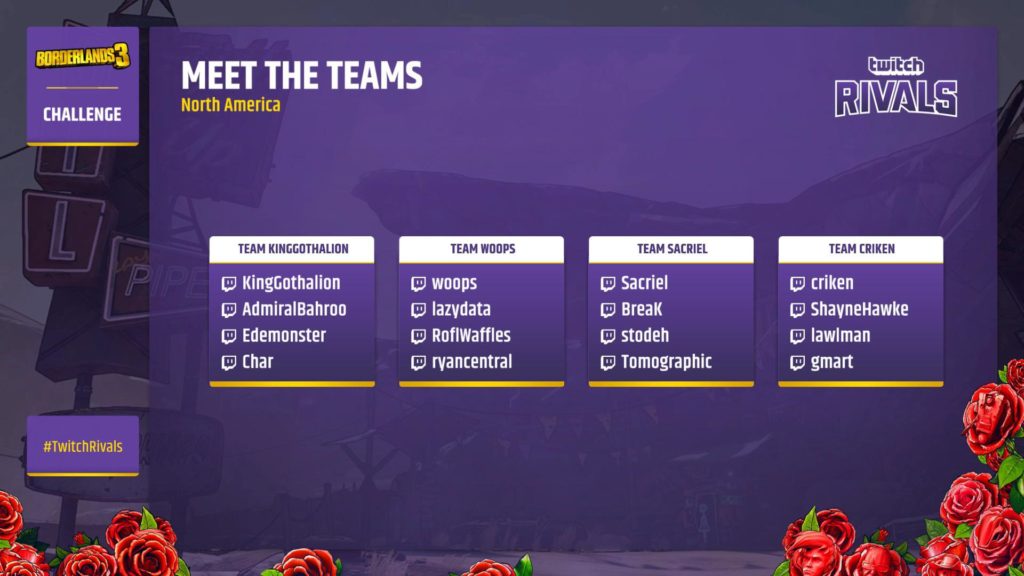 After the first round, Team woops took the win, putting $5,000 in their coffers early in the event.
| | |
| --- | --- |
| First place | Team woops (153) |
| Second place | Team KingGothalion (152) |
| Third place | Team Sacriel (115) |
| Fourth place | Team Criken (103) |
For emerging victorious in the second round, the spoils went to Team woops yet again who won with 304 points. The two points separating the first and second place teams means Team woops finished only one minute faster than Team KingGothalion.
Team woops is first overall in points after two rounds, making them the frontrunners to win an additional $5,000.
| | |
| --- | --- |
| First place | Team woops (304) |
| Second place | Team KingGothalion (302) |
| Third place | Team Sacriel (250) |
| Fourth place | Team Criken (230) |
At the completion of the third and final round, Team woops grabbed the crown with a score of 450 points.
| | |
| --- | --- |
| First place | Team woops (450) |
| Second place | Team KingGothalion (444) |
| Third place | Team Sacriel (237) |
| Fourth place | Team Criken (195) |
After all the points were tallied and the winners of the two bonus challenges were determined, it was Team woops that came out on top today, taking home a treasure trove of $21,500.
| | |
| --- | --- |
| Team woops | $21,500 |
| Team KingGothalion | $13,500 |
| Team Sacriel | $9,000 |
| Team Criken | $6,000 |
The Twitch Rivals hosts announced that woops would be donating his split of the team's winnings (about $5,375) to a charity Beat Saber tournament he will be hosting this weekend.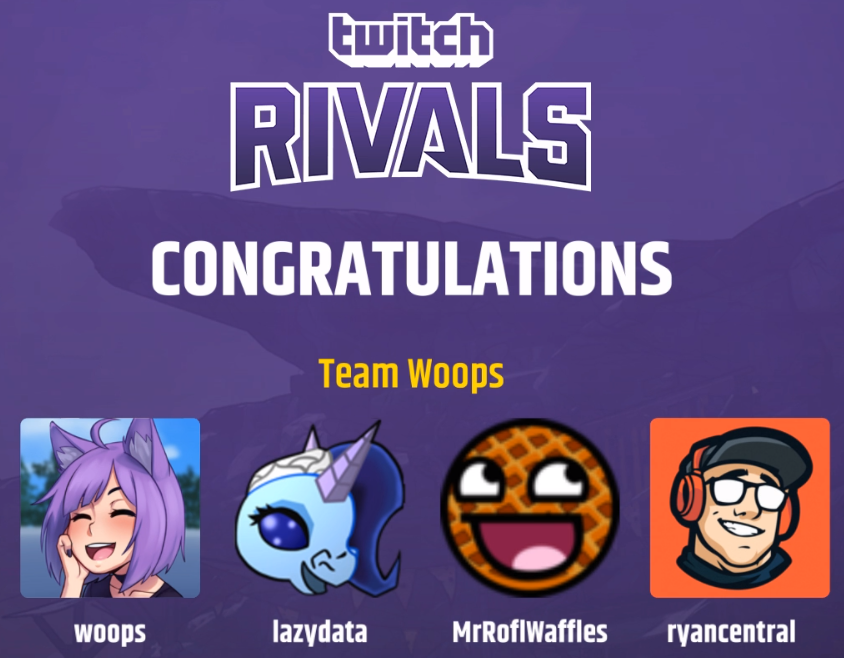 ---
Controversy broke out in the chat room with cheating allegations against Team woops during the second round.
Whereas Team KingGothalion, Team Sacriel, and Team Criken stuck to only using weapons provided to them at the start of the challenge and any others dropped by enemies they killed, Team woops chose to expand their arsenal through other means.
Prior to the start of round one and two, Team woops farmed for legendary weapons from enemies outside of the challenge maps to give themselves a better chance of cruising through the Proving Grounds with ease.
Viewers felt that while this was not explicitly prohibited in the event rules, it was nonetheless unethical. After lots of uproar, the Twitch Rivals hosts announced that the event administrators had reached out to Team woops and told them they were no longer allowed to farm for weapons during the down time between rounds.
Even though the team was spoken to and did not farm for weapons before round three, viewers still felt it was not an adequate handling of the situation, considering that Team woops had won both of the first two rounds by only one minute each. Viewers were looking for a time penalty to be applied or for the team to have to get rid of the farmed weapons.
Moderators began timing some viewers out for talking about the cheating allegations, and the chat room slowly morphed from mostly talk about the competition to discussion of the meta drama for most of the second and third rounds.
---
The Twitch Rivals Borderlands 3 challenge was hosted by streamers SayNoToRage, Caleb "WavePunk" Simmons, and Britanni Johnson, who many viewers likely recognized from her role as Angel in Borderlands 1 and Borderlands 2.
The four teams were tasked with defeating Proving Ground challenges across three different rounds as fast as possible, each with increasing difficulty.
During each round, teammates had to play as all four of the Vault Hunter classes so that no one was playing the same character at the same time. Scoring is determined based on how much time was left on the clock whenever a team completes a challenge, with multipliers applied according to the difficulty.
If a team finished a challenge with 15 minutes left on the clock in easy mode, for example, they'd get 15 points (1x multiplier). In medium mode, they'd receive 30 points (2x), and on hard mode, 45 points (3x).
With a $50,000 prize pool, teams would win cash after each round based on how they placed. Bonus cash was awarded at the end of the event for two additional challenges.
Payouts per round and concluding bonus challenges were rewarded as follows:
| | |
| --- | --- |
| First place | $5,000 |
| Second place | $4,000 |
| Third place | $3,000 |
| Fourth place | $2,000 |
| Team with most maps cleared without deaths | $3,000 |
| Team with highest number of points | $5,000 |