All of your countless hours of grinding skill rating in Overwatch to somehow reach Masters is finally about to pay off.
Blizzard has announced details for its Overwatch Open Division, an entry-level program for aspiring professionals. It's being described as "the proving ground where players can test their strengths as teammates," as well as earn prizes and make a name for themselves in the Overwatch esports scene.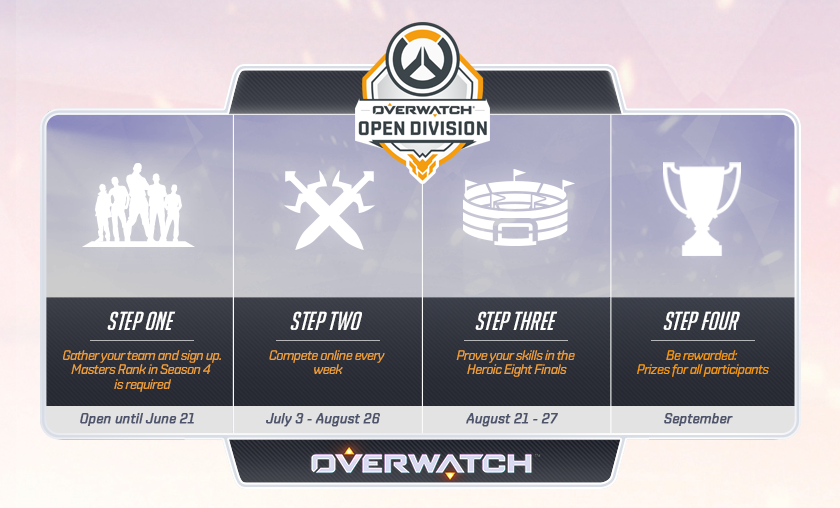 Players can sign into the Open Division website with their Blizzard accounts and sign up for entry, but only if their skill rating is 3,500 or above in competitive play's most recent season. That means you'll need to reach Masters division or higher to participate. Players will also need an ESL ID, since the matches will be found through their website. A full list of the requirements is available online.
If you meet the requirements, you can sign up with a team or as a free agent through a feature called "Unite," which will help match you with other players to compete with.
Then, starting on July 3 and lasting until Aug. 26, players compete online every week against other Open Division teams to find out who is the best. From Aug. 21 to 27, the Heroic Eight Finals take place, rounding out with rewards for the top teams in September.
The top team in each region will be awarded $50 in Blizzard Balance for each player, according to ESL's rules page. Second place gets $40 per player, while third place gets $30 per player, and fourth place gets $20 per player.
There also is a participation prize—every player who is on a team that competes in the event, substitutes included, will receive $10 of Blizzard Balance just for participating in Overwatch Open Division.
Blizzard had previously mentioned Open Division in their announcement of Overwatch Contenders, which is in the midst of its Season Zero right now for NA and EU teams. On the subject of Open Division, Blizzard said that it would "take place in select regions around the world, and in 2018, will offer emerging teams a path to Overwatch Contenders seasons in each region."
The sign-up period for teams is available now until June 21.