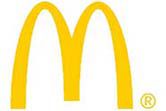 This article is proudly supported by McDonald's.
---
The beauty of esports is that anyone can pick up a mouse or controller and with dedication and hard work become a pro gamer.
That's the concept behind Overwatch Contenders, the Path to Pro, which gives up-and-coming teams and players across the globe a chance to make their names known and showcase their talents to the pros in the Overwatch League.

In Australia, Jarrod "Frogger" Meredith is one of the players who has walked the Path to Pro. Starting as an amateur, he's steadily improved into a player who's made an impact on the Australian scene. Famed for his aggressive Lúcio playstyle, the aptly named Frogger has helped lead his team through the first two seasons of Overwatch Contenders Australia.

Frogger's team, Blank Blue, reached the Contenders playoffs after a strong season that ranked them third in the league. But the team couldn't reach the finals despite high expectations, falling to Masterminds GC in the quarterfinals.

This time, in season two, Frogger's squad, now playing under the ORDER banner, is looking to go further. They've already bested Masterminds in the quarterfinals and will battle Dark Sided on Aug. 31 at the Melbourne Esports Open in the Rod Laver Arena where the Contenders semifinals and finals will take place.

To pull off the win, they'll need Frogger to show that he's living his pro gaming dream. He's seeing a lot of play on his signature champion in the current metagame, with triple tank and triple support combos backed by Lúcio's speed boost a backbone composition, and he's got the tools to lead his squad to victory.