A new Apex Legends tournament is set to start today. Guy "DrDisrespect" Beahm is hosting a new Code Red Tournament with BOOM.TV and several Apex professional players and streamers on Twitch.
Since Apex has yet to get custom matchmaking that would allow players to compete with each other on a private server, BOOM.TV had to create a set of rules and a bracket system that will allow teams to compete with each other indirectly.

Here's everything you need to know about today's Code Red Apex Legends Tournament.
Teams and brackets
All players in the BOOM.TV Code Red Apex Legends tournament are streamers or professional players. There are 24 players split into three squads.

The most notable players in the tournament are streamers DrDisrespect, Jaryd "summit1g" Lazar, Félix "xQc" Lengyel, and the Twitch Rivals Apex Legends Challenge winner, Coby "dizzy" Meadows.

All teams have been placed in a double-elimination bracket as shown below.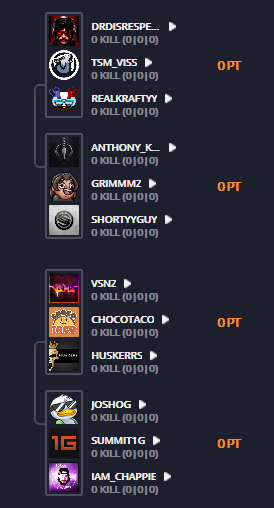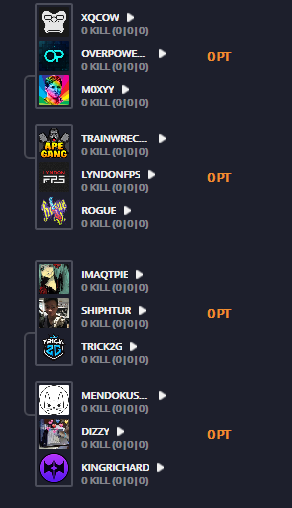 Rules
All participants must be streaming to play in the tournament.
Every participant is part of a three-player squad. Every squad will play a match at the same time as their opponents, and three matches will be played in total per matchup. The team with the most points after three matches wins and moves on in the bracket. A team has to lose two sets of matches to be eliminated from the tournament.

Teams can earn eight points for every match they win and one point per kill that any player on the team gets.
Prize pool
There's $25,000 on the line in this tournament, split as shown below.
First place: $13,000
Second place: $7,000
Third place: $5,000
Other teams won't receive any prize money.
Schedule
All Code Red Apex Legends matches will take place this Friday, March 1, starting at 3pm CT. The organizer hasn't mentioned an anticipated end time for the tournament.
Stream
Fans can watch the Code Red tournament in the livestreams of any competitor. All of them must be livestreaming their matches to participate in the tournament, so fans can just choose their favorite streamer to watch their matches.