Crafting cards in Hearthstone can be a stressful situation. Many decks don't work as planned unless they have specific key cards that play into their core strategy.

This means it can be difficult to test a deck in its true form unless you have all of the necessary cards. Most players don't have enough dust to justify spending it on a gamble. For this reason, you'll want to make sure you're getting appropriate value out of any card you craft.

With a new standard format coming soon, here are some cards you can craft that will definitely be seeing play in 2019.

Shirvallah, the Tiger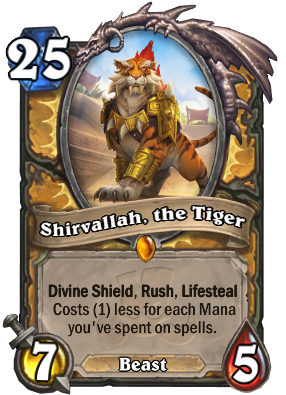 Shirvallah is one of the most talked about cards thus far in Rastakhan's Rumble. It's a 25 mana cost seven attack five health minion that has Divine Shield, Lifesteal, and Rush. Shirvallah also costs one less for each mana you've spent on spells previously in the game. This means if you're playing a spell-heavy deck, you can usually play Shirvallah for close to free.

Since his arrival, Shirvallah has played a major role in revitalizing the Control Paladin archetype. The main deck Shirvallah sees play in currently is OTK Paladin, but this deck will be no more once Uther rotates out in April. Expect to see Shirvallah pick up the slack for Paladin once Uther is gone and for him to be become a must-play for any Control Paladin deck.

Pyromaniac and Daring Fire-Eater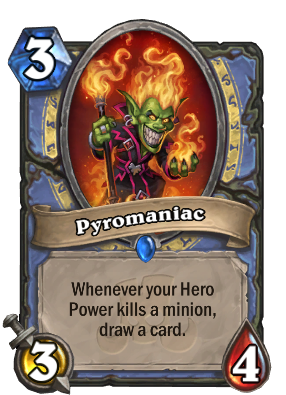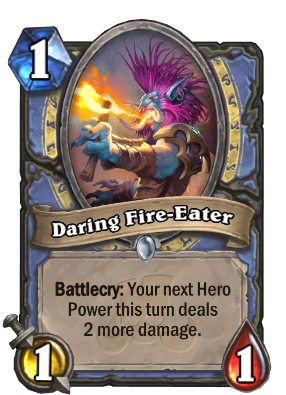 Pyromaniac and Daring Fire-Eater make up one of the most powerful packages available to Mage in the current state of the game. Since both of these cards came to us through Rastakhan's Rumble, that means they won't be going away any time soon.

Pyromaniac is a three cost 3/4 that allows you to draw a card when your Hero Power kills a minion. Considering the card's base stats, this effect is powerful by itself, but paring it with Daring Fire-Eater makes it insane.

Daring Fire-Eater is a one cost 1/1 with a Battlecry that cause your Hero Power to deal 2 more damage the turn he comes into play.
This combination makes for an insane amount of value, plus both cards can be used effectively by themselves early in the game. While Mage isn't in a fantastic place right now in terms of ladder play, whatever changes happen in April are sure to benefit this package.
Zul'jin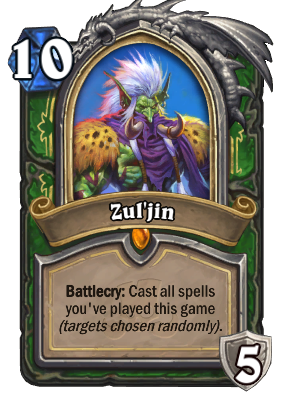 The new Hunter Hero card Zul'jin is arguably the strongest card from Rastakhan's Rumble. The card costs 10 mana and awards five armor. Zul'jin's Battlecry causes you to cast all spells you've played previously in the game at random targets.

Zul'jin has resulted in Spell and Secret Hunter being two of the strongest and most played decks in the game. With most of the Hero Cards for other classes rotating out with Frozen Throne, non-Hunter players are hopeful the year will bring them an answer to Zul'jin.

Regardless of what the year brings for Hunter, players can expect Zul'jin to be in pretty much any meta Hunter deck.
Subject 9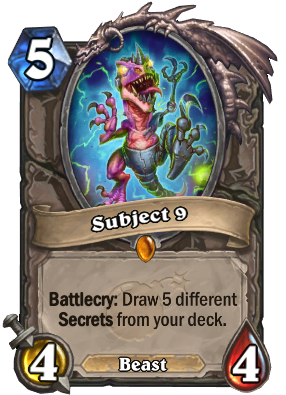 While this card isn't from Rastakhan's Rumble, it won't be rotating out in April like many of the powerful Legendaries currently seeing play. Subject 9 is a five cost 4/4 minion from the Boomsday expansion. Its Battlecry allows you to draw five different Secrets from your deck.

This card is worth crafting because it's going to find play in multiple classes this year. Many suspect that Secret decks in general will be getting a revamp in April since Mage and Paladin will be losing many of their powerful Deck Archetypes.

Subject 9 will be a must play in Secret Mage or Secret Paladin, and is already being played frequently in Secret Hunter.

Oondasta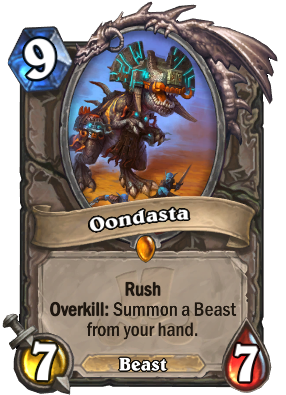 Oondasta is another neutral legendary that you can expect to see getting big play in the coming year. The card is a nine cost 7/7 with Rush. He also has an Overkill that allows you to summon a beast from your hand. Currently, Oondasta is seeing play in Beast Hunter and some Control decks. Players have began to try to revive Druid using Beast archetype decks as well.

With a card like Oondasta being released in Rastakhan's Rumble, odds are the future will be looking pretty good for Beast-type decks. While we can't be certain, expect to see more Beast support added to the game when the new expansion drops in April.
Zilliax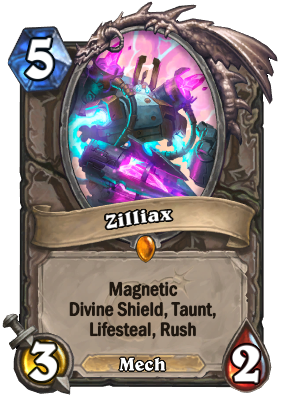 Zilliax is a five cost 3/2 Mech card that is seeing play in nearly every Control deck in the game, regardless of class. Zilliax has Magnetic, Divine Shield, Taunt, Lifesteal, and Rush. This allows for Zilliax to provide a major Tempo swing at pivotal points in the match-up.

Generally, you'll be using Zilliax to clear a low health threat from your opponent's board, the Lifesteal is just a bonus. No matter what happens in April, Zilliax probably won't be losing his place in the Control archetype. Though he is from the Boomsday expansion and is not as new as the Rastakhan's Rumble cards on this list, Zilliax will be around for quite a while.

Jan'alai the Dragonhawk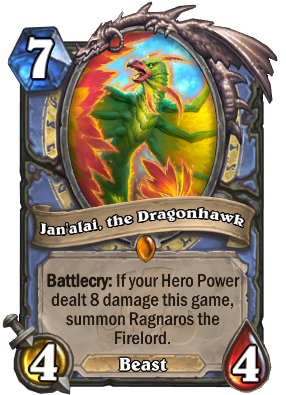 Jan'alai, the Dragonhawk is by far one of the strongest cards in the new Rastakhan's Rumble expansion. A seven cost 4/4, Jan'alai allows you to summon Ragnaros the Firelord as long as your hero power has dealt eight damage previously in the match.

Ragnaros is an 8/8 minion that deals eight damage to a random enemy. The idea is to wipe your opponent's board, then use Jan'alai and Ragnaros to lay some serious damage to their face. Currently, you can use Ragnaros with Jaina in order to get a big dose of healing from your Ragnaros since he is an Elemental.

Since Jaina is leaving in April this type of value won't be in the game long, but Jan'alai is still so powerful that it won't matter. You can expect to see Jan'alai in a variety of Mage decks for all of 2019.