To nobody's surprise, South Korean teams are heavily favored to win the League of Legends World Championship.
Based on data from six betting sites, including Esports-Betting, BookMaker, Bet 365, Betfred, Paf, and Unibet, LCK teams SK Telecom T1, Longzhu Gaming, and Samsung Galaxy, are the only teams with odds better than 10:1 to win. That means, if these site's odds are right, there's a 70 percent chance that the trophy will return to South Korea.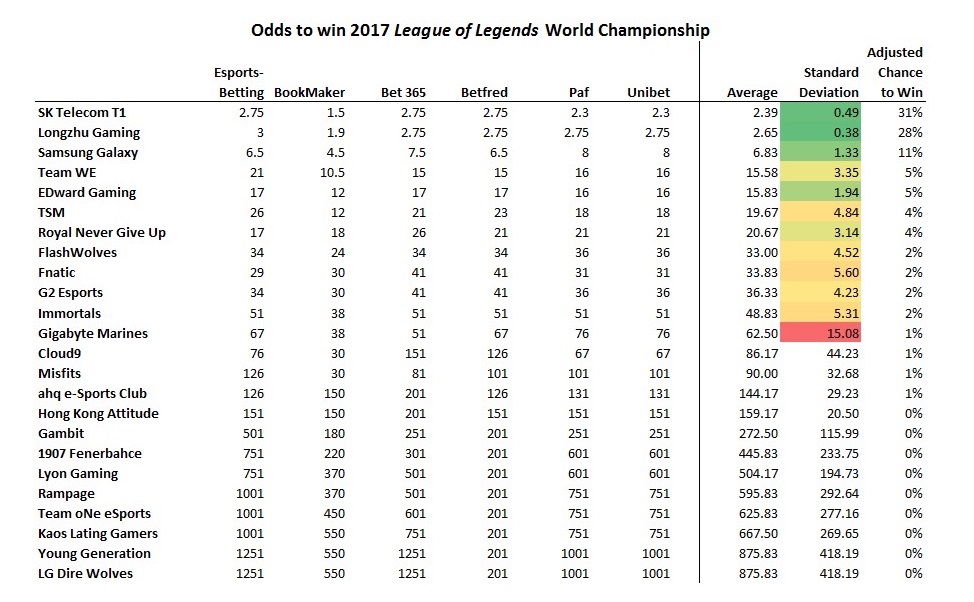 Of the three teams, SKT and Longzhu are the likeliest to meet in the final, with pretty even odds between the two to win. SKT has a slight edge due to their Worlds experience, and despite Longzhu's recent 3-1 victory over SKT in the LCK Summer Final.
After the LCK teams are a couple teams from the LPL. It's interesting that the sites differ so much on Team WE. Team WE are the best team from China, but due to a stumble in the LPL playoffs, they were stuck with the LPL's third seed and will start play this week in the play-in stage. The fact that they could get knocked out before the main event starts may have led to some sites having lower odds to win compared with EDG and RNG.
For fans of LCS teams, the best bet is TSM at 20:1. That means a $100 bet on TSM would net $2,000 if the Baylife fam can finally win the title. It's also interesting that G2 is a 36:1 underdog, even lower than Fnatic, despite Fnatic having to start in the play-in stage like Team WE.
The best bet for value might be the Chinese teams. If rumors of the LPL teams cooperating in their Worlds prep are true, this could finally be the year one of their teams breaks through.