Possibly the biggest controversy coming into the World Championships was Riot's decision to skip several patches from the regional qualifiers. That subsequent tournaments are played on new patches is hardly an uncommon occurrence in and of itself – but 5.18 changed the metagame. The biggest international tournament of the League of Legends calendar was about to occur in a brand new landscape mostly untouched by the competitive scene with a set of rules nearly entirely dissimilar from those that got its participants onto the stage.
This has the potential to be a nightmare occurrence for some teams, but even more for some expectant fans and viewers. Juggernauts brought with them a shift in focus from the previously Maokai/Rumble dominated top lane. Gangplank and Mordekaiser became red side must-bans with the former finding himself a 100% Pick/Ban rate at the tournament, 94.2% banned. There is a 40% difference between the would-be must-bans of Lulu/Elise and these two out-of-nowhere behemoths. The changes were so grand that it would be the equivalent of qualifying for the backstroke only to find yourself placed into the medley.
Let me explain. By the time of the regional playoffs, 5.14's metagame was heavily defined. We were in a bot-centric, bot-leaning meta where playstyles so optimal for teams like the LPL's EDward Gaming and NA LCS's Counter Logic Gaming. Even the EU LCS's Origen, a team of four veteran players with previous World Championship experience, had built many of their compositions around sole rookie AD Carry Jesper "Niels" Svenningsen to incredible success. Teams with a bottom lane weakness as in the Unicorns of Love and Team Solo Mid declined. Teams with strengths such as Gambit (with Konstantinos "Forg1ven" Tzortziou) and Cloud 9 rose towards the end of Summer.
By the time of the top four of the World Championships, only one team that prioritised their bottom lane was left.
A Worthy Opponent
One of the great breakaway stories of the bracket stage has been the KOO Tigers. Their rise from a group stage performance where they dropped two games to the Flash Wolves (who in turn were incredibly close to dropping both games against Wildcard representatives Pain Gaming) to handling KT Rolster and dismantling Fnatic in just nine games has been somewhat ignored. One of their key changes of strategy coming into the quarter finals was the re-prioritisation of Song "Smeb" Kyung-ho from a low-economy zoning presence to a high resource threat in his own right.
Praise for Smeb has increased dramatically in the west since his performance opposite KT Rolster's Kim "Ssumday" Chan-ho but I feel that somewhat diminishes the noteable impact of the Tigers' overall strategy. KOO stuck with Smeb as a zoning presence for the entirety of the group stage with one game of Kennen, three subsequent of Darius and picking and building Gnar twice for teamfighting. Their closing quarter final set against KT saw Smeb on Fiora four times in a row, paired with a four-man sieging unit as part of a composition designed to pressure opponents into a mental break.
It worked. By the end of the series KT's crown jewel Lee "Piccaboo" Jong-Beom was making isolated engages worthy of my Gold V promos. Ssumday had forgotten the limitations of his so-called counterpick Darius and allowed himself to be kited to death repeatedly. All of this happened under the guise of a new KOO Tigers, one that had set up Smeb to become a looming splitpushing threat in the top lane that demanded attention and demanded to be addressed. Far from the 24 games Maokai/Rumble enthusiast of Champions Summer.
Taking the Exam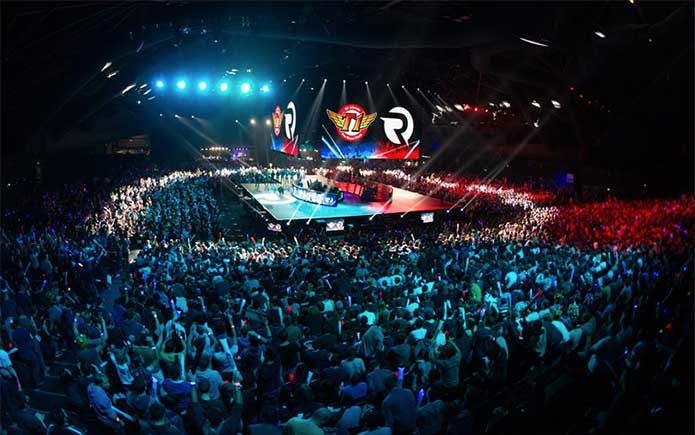 Praise is rightly given to Smeb for being such a threat but praise must be given to his team as a whole for letting him reach that point. He hardly dominated lane in every game. Lee "Hojin" Ho-jin gave incredible priority to his lane, sometimes sacrificing several levels just to keep his team's win condition alive. The old-fashioned defensive warding line at 14 minutes returned harkening back to the days of the GE Tigers – this time trending towards their top laner's 15-25 minute window of necessary farming. As with everything KOO does Smeb's success was achieved as a team.
Their opposites in the Grand Finals, SK Telecom, had a far easier time adjusting to the patch. Jang "MaRin" Gyeong-Hwan's insane unbeaten on Maokai is more of a testament to what star mid laner Lee "Faker" Sang-hyeok can do with an effective frontline rather than a say in the top laner's optimal playstyle. MaRin felt right at home bringing out his old main Renekton as a pocket counter to EDG Tong "Koro1" Yang's Darius and followed it up in the tournament with multiple instances of Fiora. SK Telecom's playstyle did not have undergo any significant changes to accommodate their top carry. Jungler Bae "Bengi" Seong-ung already prioritised solo lanes and had a mastery of the camp-style jungling that eluded Hojin somewhat.
Fnatic had typically found strength in prioritising Heo "Huni" Seung-Hoon so surely they would have an easier time setting up success? Though a true carry through and through Huni's playstyle was far too aggressive for the zoning, low-mobility Juggernauts and the player himself stuck to comfort with Riven counter-picks (a tentative one reliant on the Level 2 window) rather than pick up the now hotly contested Fiora. Huni's inconsistencies also caught up with him as the tournament went on, culminating in his now infamous performance in the finale of the KOO Tigers semi final set.
The Litmus Test of Worlds
EDward Gaming thought they had the transition in the bag with Shek "AmazingJ" Wai Ho coming in to replace Koro1. However their regional qualifier success with the change reflected poorly on the Worlds stage as the loss of their dedicated in-game leader led to inconsistent shotcalling and weakening play across the team as a whole. EDG's confidence appeared shattered come the quarter finals and the re-emergence of Koro1 wasn't enough against Fnatic's strategy of forcing fights, abusing their diminished play.
Of course it's impossible to continue this without addressing the elephant in the room. Origen's Paul "sOAZ" Boyer played more carries than many others in Europe and the team seemed well placed to transition into top priority. Securing the counter pick against SK Telecom did not give with it the change it strategy Origen should have been looking for. With a lack of vision top side, sOAZ would fall prey to Bengi/MaRin's well practiced prioritisation and Niels would be unable to pick up the slack against the growing push top lane.
Origen, EDward Gaming and Fnatic fell. They fell as teams that didn't adapt properly or adapted too late. The teams in tomorrow's series passed the Litmus test of the World Championships with flying colours and are rewarded with the celebration of the first all-Korean grand finals. It will be left to the other regions to dream of what could have been.
Michael "Veteran" Archer wrote this way too late to be published on time, that's why you find it here. You can follow him on Twitter.