After Taipei Assassins stumbled for the third successive time at international competition last World Championships, the question has to be asked: what happened? How did a region go from world champions one year, to laughing stock the very next? Season 3 World Championship, IEM World Championship, All-Star, Season 4 World Championship, all marked as failures. The Garena ruled region is now at its lowest, and will have to fight to get back up to a respectable state.
Heroes
Coming into the Season 2 World Championship as nobodies, the Taipei Assassins massively turned heads with a win over Najin Sword. When they proceeded to beat Moscow 5, they had finally showed they were the real deal. But there was no way they would take down Azubu Frost, the dominant Korean team who had only lost a single map in the entire championship. No way. But under the guidance of mid laner and captain Toyz as well as an overwhelming amount of fan support, who always love to support an underdog, TPA were able to defeat Azubu Frost in the final and earn the title of Season 2 World Champion team.
After their incredible performances at the World Championship, the next step was IPL 5.  Taipei Assassins finished an admirable third, only dropping games to Fnatic. However when fellow South East Asian hopefuls Singapore Sentinels, Blackbean and IceLanD dropped out early, questions were asked about the lack of depth in the region.
Throughout the local league, the Garena Premiere League, it was just the Taipei Assassins and the Singapore Sentinels who dominated. Saigon Jokers made a press at the top two, but it was just Taiwan and Singapore regarded as the top two regions throughout SEA.
Ahq e-Sports Club joined the league in spring 2013, and instantly made a mark. Finishing third in their first season, spring, then quickly moving on and finishing atop the regular season standings by summer and qualifying for the GPL Championship later that year. There, they defeated TPA in a quick 2-0 and claimed their title as the best team in South East Asia.
Next on the list were the Season 3 World Championship qualifiers; one for Taiwan and one for the rest of SEA. Gamania Bears qualified from Taiwan while Mineski joined them via the SEA qualifier.  Gama and Mineski overcame difficult opponents in TPA, ahq and SGS as the brought new blood to the World Championship.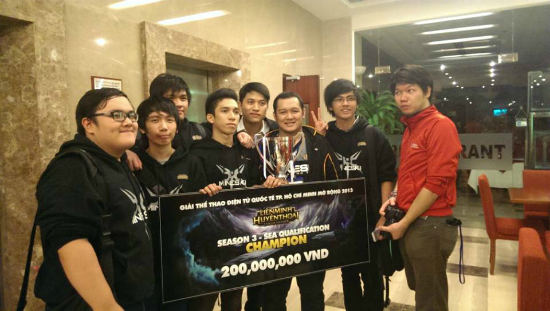 Unfortunately, they represented the South East Asian region poorly at worlds. Despite being much loved, Mineski was humiliated in their group, not being able to pick up even a single victory. Gama Bears had gained an automatic seed to the quarter finals, but were unfortunate when they were matched up with SK Telecom T1. SKT swept the Gama Bears 2-0, and went on to win the championship.
Zeroes
After their disappointing performance at worlds, the SEA region was left in disarray.  GPL Winter approached, and while the Taiwanese teams continued to dominate, the other regions fell off hard. World Championship representative Mineski barely made it out of group stage before being handed a quick loss by Taipei Snipers. Their fellow World Championship team Gama Bears, now Yoe Flash Wolves, didn't even qualify due to age restrictions.
GPL Spring was no different to Winter, with the same champion in TPA, same top four and same lack of competition from non-Taiwanese teams. Thailand, Philippines and Singapore all failed to make top four for the second season in a row.
The lack of competition was clearly having an effect on the top teams. Taipei Assassins was invited to compete at the 2014 All-Star Invitational after repeated GPL victories. However they didn't last long; defeats to SK Telecom T1 K, OMG, Cloud 9 and Fnatic clearly indicated that the once famed GPL region had hit rock bottom. TPA was sent back to Taiwan empty handed, and as the laughing stock of the esports world.
GPL Summer showed improvement for the SEA region. TPA knew they needed to change, and added ex-NaJin coach "Sim Sung Soo" and Singapore All-Star mid laner "Chawy" to their roster. With a rejuvenated roster, TPA sweeped GPL Summer, dropping just two games throughout the entire season, including playoffs. After claiming their third consecutive GPL Championship, TPA earned qualification to the World Championship as the number one seed for South East Asia.
The fight for the second World's seed was a lot closer. Ahq e-Sports Club were clear favourites, but the in-form Saigon Fantastic Five and Saigon Jokers weren't giving it up easily. They were joined by the formidable Taipei Snipers, who had missed out on competing in the GPL Summer. SF5 took down Vietnamese rivals Saigon Jokers in the first round, and set up a date with Taipei Snipers in the second round. TPS jumped to an early 2-0 lead, but seemingly got ahead of themselves in game three, and seemed to lose their composure and synergy. SF5 were able to bring it back 3-2 and move onto the deciding match against Ahq e-Sports Club. Unfortunately, it was not to be for the Fantastic Five, bowing out 3-0 with AHQ moving on the Season 4 World Championship.
Season 4 World Championship
Season 4 World Championship bought a chance for redemption for the South East Asian region, and things were looking bright pre-championship. Talk of TPA finally unveiling their superstar mid laner Chawy, rival teams having team issues and suspensions, Westdoor finally getting his shot on the world stage and Bebe's return to where it all began. TPA arguably had the easier group of the two – a group with no Koreans – while AHQ had to fight it out with Chinese first seed Edward Gaming and the ever dominant Samsung Blue.
TPA's group stage could not have gone any worse. With only a single victory against the Svenskeren-less SK Gaming, the pride of the Garena region was made to look like a challenger team by StarHorn Royal Club and Team SoloMid. Chawy didn't play a single minute while Bebe and Achie never quite looked like they had during the past GPL seasons.
AHQ on the other hand, made the most of their group stage. A slow start with wins just against Dark Passage left AHQ needing a big game win over Edward Gaming. AHQ showed determination and grit in an intense 45 minute game including GreenTea's amazing Death Sentences onto Namei more than once with Westdoor being reliable on clean-up duty. This set up AHQ for a tiebreaker rematch with EDG with the winner moving on through to the bracket stage.
Despite being crowd favourites, AHQ weren't able to progress through to the knockout stage of worlds and joined TPA, leaving worlds early for the second time running. Whether it be Mineski, Gama Bears, Taipei Assassins or AHQ E-Sports Club; South East Asia has been unable to provide a dominant team to the international scene in two years.
Change is in the air
During the offseason, the Taiwanese teams split off from the GPL to form their own league, the League Master Series or LMS. The GPL also expanded, with a new format and a new total of 16 teams from Vietnam, Singapore, Malaysia, Thailand, Philippines and for the first time, Indonesia. This change was welcomed in the region, as it would give the Taiwanese scene more room to thrive without being held back by some of the smaller regions. It would also allow the rest of South East Asia to grow. Regions like Thailand, Philippines and Indonesia have potential but haven't been able to grow when constantly getting smashed by the likes of TPA and AHQ.
The GPL started with a bang with some of the most exciting games and endings in the past year. Mineski, Saigon Fantastic Five, Bangkok Titans, Saigon Jokers and Insidious Gaming Legends all started strong, but as the season progressed Vietnam showed their true dominance. Teams such as Hanoi Full Louis, Zotac 269 and An Phat Ultimate all ending their season much stronger then they started, as all six teams qualified for the second group stages, just joined by Bangkok Titans and Insidious Gaming Legends. The GPL will resume on the 18th of March with the second group stage.
Moving to Taiwan, the LMS has been a much closer league. Taipei Assassins dominated early, but have since been surpassed by Yoe Flash Wolves. The mid table battle has also been tight, with ahq e-Sports Club and Hong Kong Esports both on the hunt for that number three spot, while Logitech Snipers, Midnight Sun Esports and Never Give Up all sit outside the important top four, and look unlikely to make the finals.
Intel Extreme Masters Katowice and Mid-Season Invitational
IEM Katowice will be the first major international event with South East Asian teams since the changes to the LMS and GPL, with just Yoe Flash Wolves attending. They've been drawn into a tough group with GE Tigers, Cloud9 and SK Gaming, but it's certainly possible for them to get through.
The Mid-Season Invitational and International Wildcard will be the biggest events after that. LMS has earned automatic qualification to the MSI, while the GPL will have to go through the Wildcard tournament for the first time. Yoe Flash Wolves are most likely to represent Taiwan if they continue their current form, but the GPL is up in the air, with almost all teams having a solid chance of winning the entire league. A two month break is enough to change anything.
These events will be the most crucial leading up to worlds for the South East Asian region. Their decline has been constant since the Season 2 World Championship, and its do or die for them now.