Book your tickets now—two of League of Legends' major tournament series are heading to Brazil and China.
The Mid-Season Invitational will find its 2017 home in São Paulo and Rio de Janeiro, Brazil on Apr. 28 through May 21, Riot Games announced today. Now a 13-team tournament, MSI 2017 will feature representatives from all of League's 13 leagues. The League World Championships will conclude the season in China—including Wuhan, Guangzhou, and Shanghai—from Sept. 23 through Oct. 29. As with MSI 2017, Worlds 2017 will include teams from all 13 professional leagues.
Both tournament formats have been adjusted for the new year.
2017 Mid-Season Invitational
Spring Split champions from each League region will participate in MSI—there's no more wildcard status. Regional seeds for MSI 2017 will be based on results from the past two years of MSI and Worlds tournaments, while MSI 2017 results will impact Worlds 2017 regional seeds.
Teams invited to MSI 2017 will participate across multiple stages of tournament play. By virtue of their performances over the last two years, the LCK, LPL, and EU seeds will be placed directly into the group stage. All other teams will participate in a play-in format.
The group stage and knockout stage will proceed with 6 teams and follow the same format used in 2016.
Play-In: Apr. 28-May 1 and May 4-6 at the CBLOL Studio in Sau Paulo, Brazil
Group Stage: May 10-14 at Rio Arena, Rio de Janeiro, Brazil
Semifinals and Finals: May 19-21 at Rio Arena, Rio de Janeiro, Brazil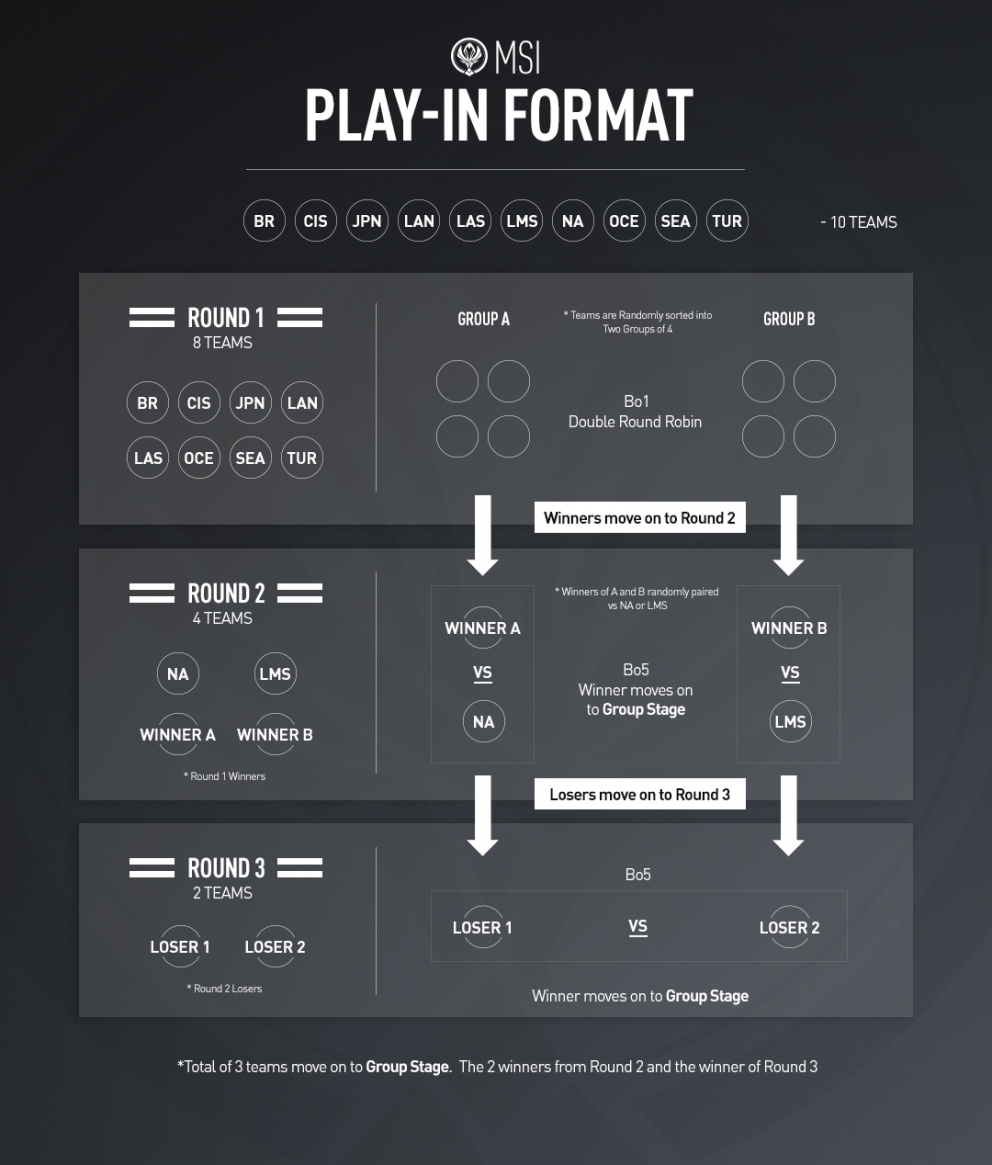 2017 League World Championship
Twenty-four teams from the 13 leagues will compete in Worlds. Regional seeding for these tournaments is changing, however. Taiwan, Hong Kong, and Macau (LMS) will be awarded three regional seeds for Worlds instead of the two they received for last year's tournament. The LMS is being rewarded for consistent good performance over the last couple years.
As with last year, MSI results will impact regional seed placement for Worlds. Teams that make the bracket stage at MSI will earn their region an extra Worlds seed. In addition, the top-performing team out of the traditional Wildcare regions regions—Brazil, Commonwealth of Independent States, Japan, Northern Latin America, Southern Latin America, Oceania, Southeast Asia, and Turkey—will earn its region an additional seed at Worlds.
Like MSI, Worlds will have a play-in stage where the lowest seed from each region will compete to make it to the group stage. The exception is Korea; as the best performing region throughout 2015 and 2016, all three LCK teams will head right into group play.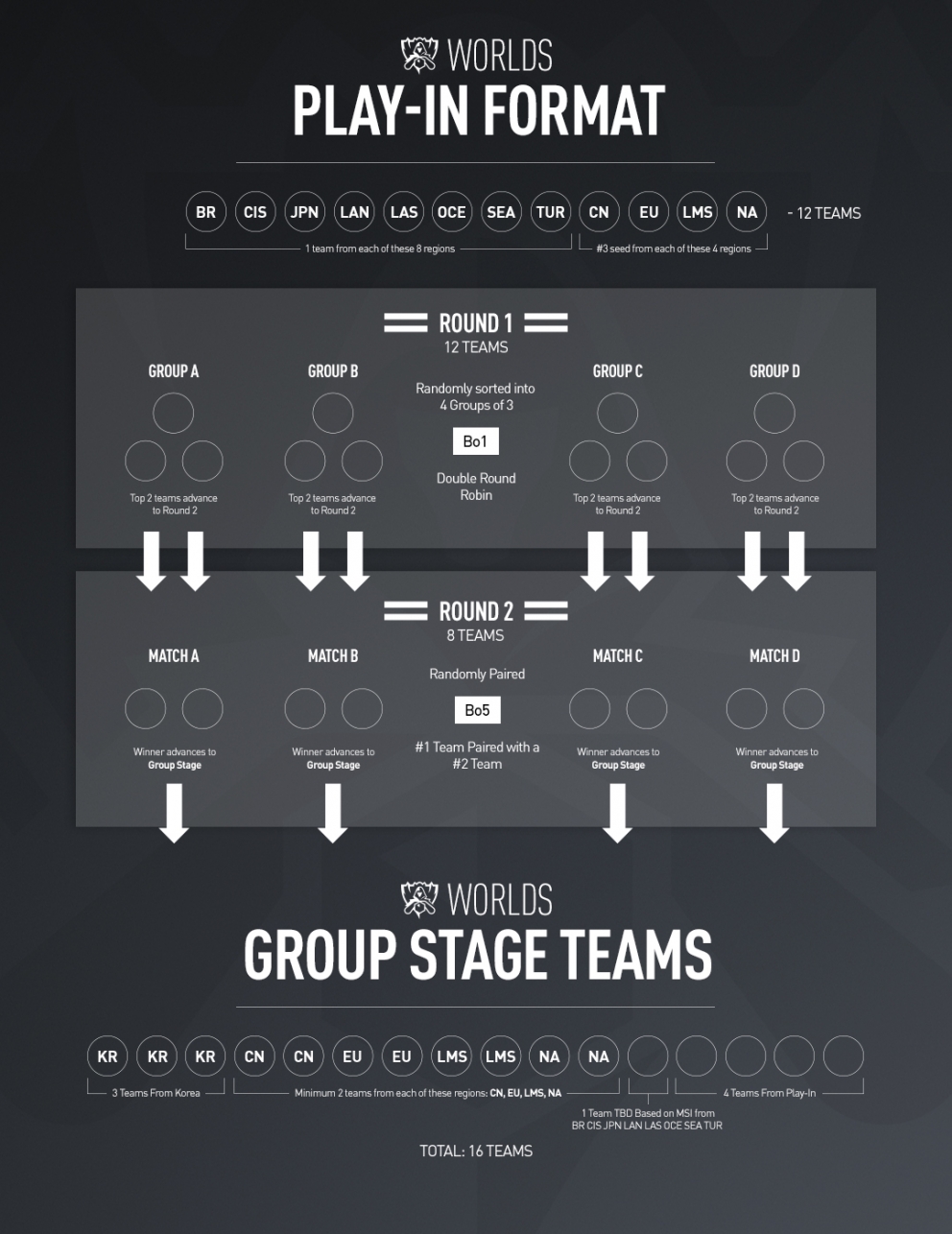 Here's the full schedule for Worlds:
Play-In: Sept. 23-26 and Sept. 28-29 at Wuhan Sports Center Gymnasium in Wuhan, China
Group Stage: Oct. 5-8 and Oct. 12-15 at Wuhan Sports Center Gymnasium in Wuhan, China
Quarterfinals: Oct. 19-22 at the Guangzhou Gymnasium in Guangzhou, China
Semifinals: Oct. 28-29 at the Shanghai Oriental Sports Center in Shanghai, China
Finals: Nov. 4 at the Beijing National Stadium (Bird's Nest) in Beijing, China
Riot's outlined everything else you could possibly need to know about both events on the League website.