Saturday's NA LCS match between Immortals and Cloud9 was one of two teams heading in opposite directions.
Immortals got off to a hot start in the 2017 Summer Split, taking down several playoff teams from the Spring Split, including TSM, Phoenix1, and FlyQuest. Most importantly, the team was playing the map well and communicating effectively, both likely related to the addition of jungler Jake "Xmithie" Puchero.
Meanwhile, Cloud9, who topped the standings for much of last split, was struggling. Even after turning back to Jung "Impact" Eon-yeong in the top lane, the team couldn't quite pull it all together. Their only victories so far were against a listless Phoenix1 squad and an Echo Fox team that was clueless in the late game.
Such was the disparity in the two teams' momentum that before the match even started, the online audience threw their support behind Immortals.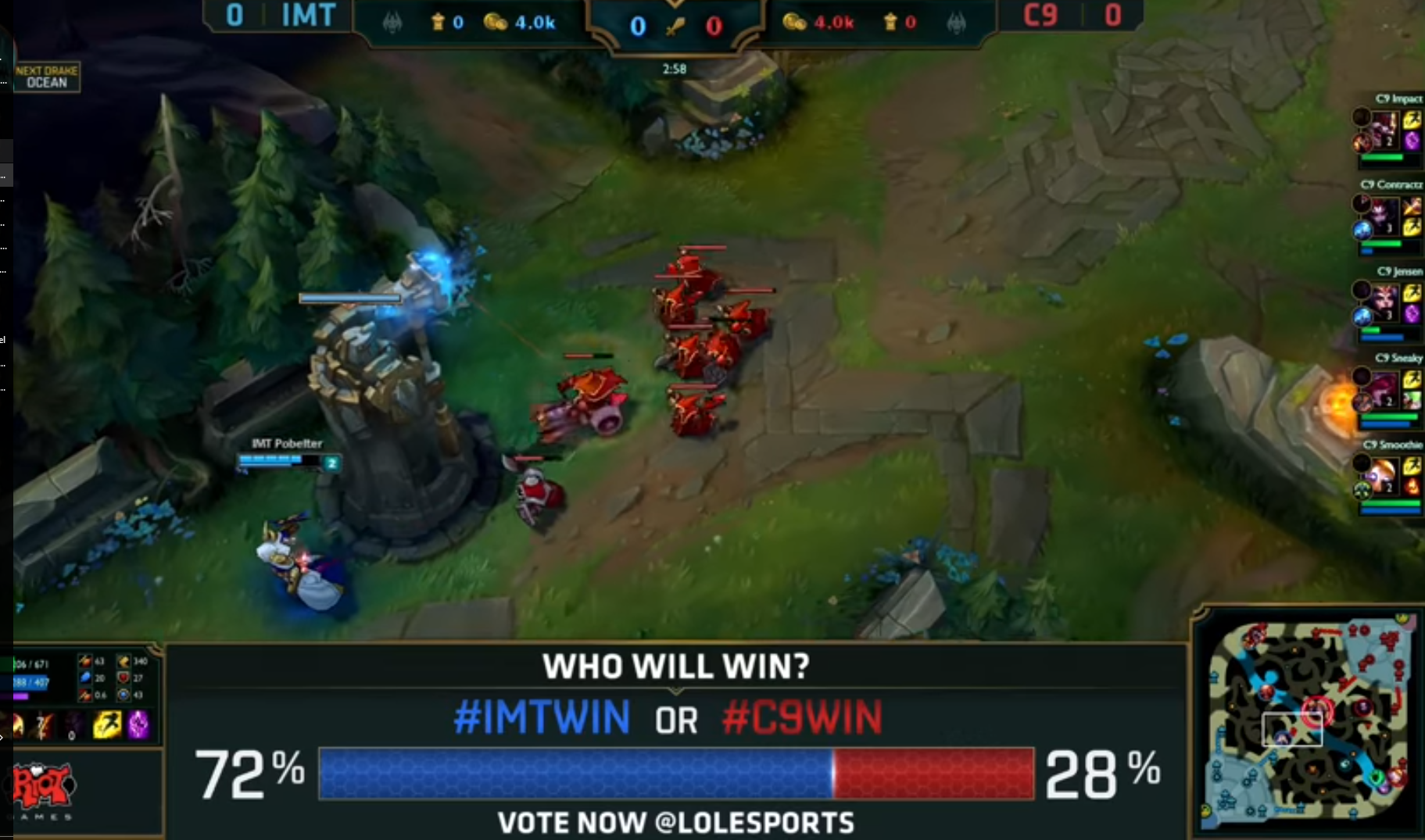 At first, it seemed like Immortals would dominate the opening game. They grabbed first blood in the bottom lane on a nice hook by support Kim "Olleh" Joo-sung, and star top laner Lee "Flame" Ho-jong had a big lead on Renekton.
Their undoing would actually be something that didn't even happen in the game. In the pre-game draft, Immortals took a big risk by picking Kassadin as a counter for mid laner Eugene "Pobelter" Park, after C9's Nicolaj Jensen took LeBlanc with the first pick on red side. Kassadin is a great scaling champion and fits Immortals' splitpush identity, but is risky into LeBlanc early.
Jensen bullied Pobelter on the slippery assassin, forcing Pobelter to recall early and teleport back to lane. When a big fight happened in the top lane, Jensen still had his own TP and used it to blow the game open.
Immortals came out much crisper in the second game, with Flame continuing to play well. A lot of the team's struggles last spring could be pointed to issues integrating and communicating with Flame. They showed tremendous growth in this series as Flame made great use of his teleport while also spending time splitpushing and dominating the matchup with Impact, often without jungle support.
That's because Xmithie basically lived on the bottom side of the map. The Immortals duo lane has also shown a lot of growth. ADC Cody Sun is no longer playing like a rookie, and he and Olleh survived a rough early lane phase by getting a jungle-assisted kill. After that, Immortals shut down C9's duo, especially Andy "Smoothie" Ta, who was an absolute menace on Blitzcrank in game one.
But despite several nice plays, the only person who really had a lead was Flame. And boy did he deliver.
Flame did it all—initiating as the frontline, tanking damage, and killing squishies.
Having forced a third game, Flame ensured that Immortals would walk away from the series with a win. He plain dominated the top lane. Impact's Shen was rendered near-useless, basically just a taunt and an ult, with no ability to push waves or do damage.
But League is a team game, and Flame hardly did it alone. He got a lot of help from the whole team. Xmithie and Pobelter both sacrificed their own farm to get Flame ahead. The duo lane made nice rotations to take down towers, giving Flame's Kled the long lanes he needs to splitpush effectively. In two separate situations, Immortals got two-for-one tower trades by being a step ahead of Cloud9, Jensen in particular.
C9 did eventually find their way back into the game, namely by getting Jensen fed on Orianna. Jensen eventually got to super scary point where he could one-shot nearly anyone and win teamfights by himself. Xmithie had to steal a Baron from Cloud9 just to ensure the game wouldn't end.
But in the late game, C9 just had no answer for Flame. A lot of fans will see this as the game-winning teamfight:
But in reality, Flame put so much pressure on Cloud9 throughout the entire game that something had to give. Jensen and company are not cursed at the Elder Dragon, they're just not as good as Immortals right now. Jensen still can't reliably turn a strong lane phase into influence around the map, and the top lane is a mystery.
As for Immortals, they'll continue their rising trajectory. They have now beaten nearly every top team in NA and will exit the week very deserving of the first-place title.
---
Correction: A previous incorrectly indicated Immortals had blind-picked Kassadin in the first game.