Hearthstone's Rise of Shadows expansion has begun to shape Standard play. This means players now have an idea about which cards feel a little too powerful within the current rotation.
It should come as no surprise that one of the most discussed cards when it comes to nerfs this rotation has been Dr. Boom, Mad Genius. One of the strongest decks out of the gate in this expansion was Control Warrior and Boom's insane armor generation is partially responsible. When speaking with us about his journey to the HCT World Championship, Brian "Bloodyface" Eason said he felt Dr. Boom was one of the strongest cards in the game.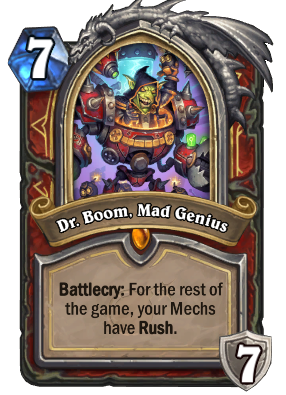 Prior to the rotation of the Frozen Throne expansion, Dr. Boom had far more powerful Death Knight cards to contend with than he does now. Bloodyface's fellow HCT World Championship competitor David "Justsaiyan" Shan also feels Dr. Boom is a problem. According to an interview with IGN, Justsaiyan feels that Dr. Boom, Mad Genius is a problem because of the DK rotation. Justsaiyan even said he doesn't feel like playing Warrior mirror matches because they seem to last so long.
Like Justsaiyan pointed out, Dr. Boom, Mad Genius has far less competition left now with regard to Hero cards. Since cards of similar power to Dr. Boom, like Frost Lich Jaina, Shadowreaper Anduin, and Malfurion the Pestilent, are no longer available in Standard play, Boom is one of the only Hero cards you can use.
Additionally, Dr. Boom has always had one of the more powerful improved Hero Powers. Although it rotates and sometimes gives you a slightly-less desirable power, Boom's ability to gain seven armor nearly every other turn makes him worth it.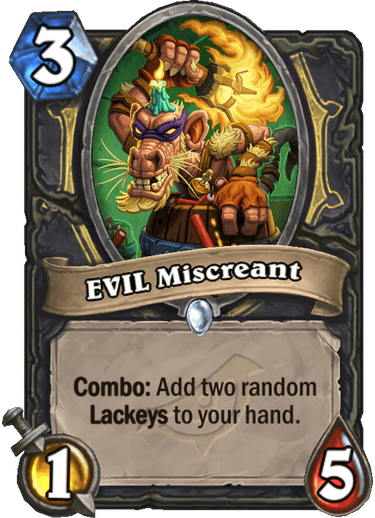 Another card that pros mentioned to IGN was EVIL Miscreant. Hearthstone world champion Casper "Hunterace" Notto said he believes EVIL Miscreant is so strong due to Rogue having such a powerful pool at the moment. Hunterace also said a potential solution could be making the card cost four mana instead of three.
Fellow Hearthstone pro Raphael "Bunnyhoppor" Peltzer told IGN he felt the Rogue class was too powerful as a whole right now. He believes part of the reason for this is due to how good Rogue Legendary minion Edwin VanCleef is. A proposed solution put forward by Bunnyhoppor is to move Edwin to the Hall of Fame. He also thinks making the Rogue spell Preparation reduce the cost of your next spell by two instead of three could potentially help balance the class.
Bunnyhoppor mentioned the card Magic Carpet, and said he doesn't feel like it's an issue now, but it could be if the Rogue class gets nerfed. Magic Carpet is a three-cost 1/6 neutral minion that has an effect that greatly benefits Zoo decks. After you play a one-cost minion, Magic Carpet gives it Rush and plus-one attack.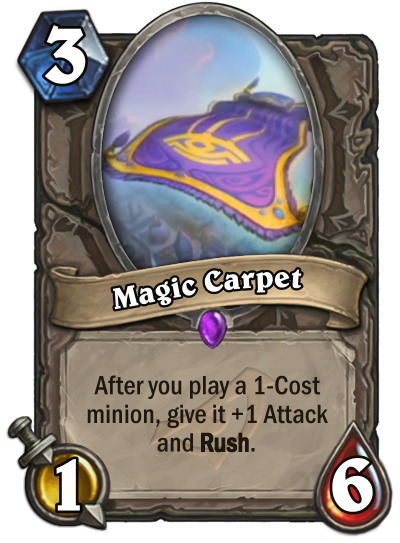 The most common deck Magic Carpet is seeing play in right now is Zoo Warlock. Magic Carpet combined with Warlock's ability to consistently Hero Power draw makes it very easy to amass a board full of beefed-up minions. Zoo Warlock also recovers from board wipe better than most other aggro decks because it can repopulate its hand and board so quickly.
Although it's unclear when exactly Blizzard plans on adjusting cards to balance Standard, we know the pros' thoughts on what should happen during the next round of changes.