Kobolds and Catacombs, Hearthstone's next expansion, is only a week or away from release. It's time to start getting excited about what decks to build.
Almost half of the set's cards have been revealed already, with Mage receiving another spell today.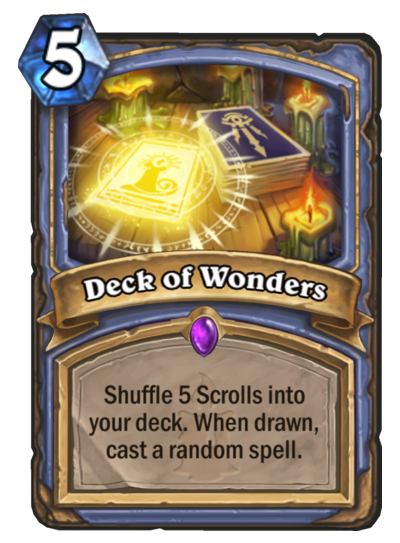 Deck of Wonders is a five mana spell that shuffles five Scrolls into your deck. When those cards are drawn, a random spell will be cast.
The Scrolls won't ever actually enter your hand or be officially played, meaning they likely won't count towards the Mage Quest card. Quest Mage is a little strong right now, so that will hopefully be the case.
So if it doesn't trigger the quest, and there's no control over what spells are cast and how, is it useful? No, it probably won't see any significant play. It's just too random.
Kobolds and Catacombs comes out next Thursday, Dec. 7.