Octavian "Kripparrian" Morosan is arguably the most popular Hearthstone streamer and content creator there is. That's a pretty cool position to be in—but it also comes with some downsides.
One of the those is stream snipers, something big streamers of all games face. In Hearthstone it's particularly bad—the game is slower than most, and has lots of really clear information available if you are able to see your opponent's screen.
Kripp has tried to battle these snipers for a while, changing his battletag name and using a variable delay on his stream. That makes it pretty hard to queue into him. But it was still happening. After suspecting he was being sniped again—by an account genuinely called "sniper", a common name of the culprits—Kripp was determined to see what was going on.
He uncovered a whole clan of users, dedicated solely to sniping his stream.
The account he added had a bunch of other accounts called "sniper" on its friend list, all with different numeric designations. Anonymously, he began talking to the account to try and find out what was going on.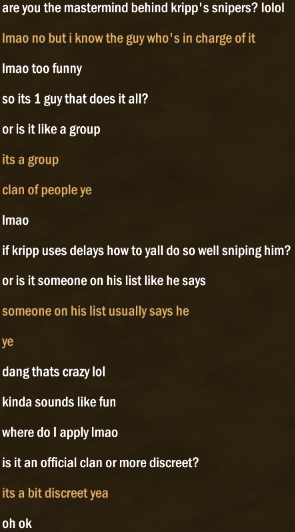 In the chat logs Kripp released, one of the people involved let slip that someone on Kripp's friend list had been giving the snipers a queue to know when to go for him. That's what Kripp had suspected was happening, since the variable delay should have been enough.
According to Kripp, the snipers will also be playing Arena all day to have strong enough decks to try and beat Kripp when they can catch him.
In the video, Kripp says that they have managed to put an end to it for now—though he doesn't go into details on how. He also shows off some footage of a sniper in action, on a stream when he had no delay on.
The story is pretty wild, but it just goes to show the lengths some people will go to. Hopefully Kripp can now back to producing content without the fear of this gang of idiots coming after him.
About the author