With The Witchwood's release date announced earlier today, excitement for the expansion is hitting its peak as we start to see the final cards from the set.
Streamer Jeffrey "Trump" Shih revealed the newest Warrior minion on his YouTube channel today.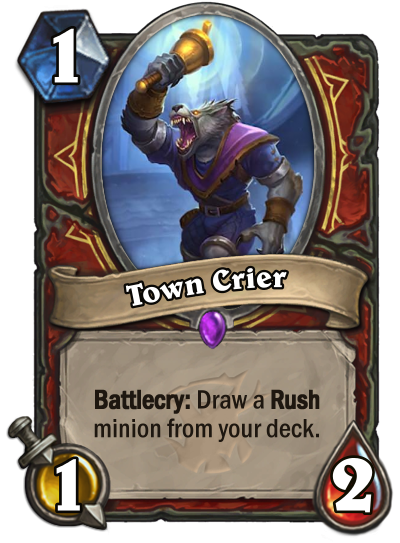 Town Crier is a one-mana minion with a 1/2 body. The stats are okay for a minion of that cost and the card's Battlecry makes it even better. When you play the card you draw a Rush minion from your deck. Warrior is one of the classes that has received a lot of support for a Rush-style deck.
The card will likely be a must for any Rush Warrior deck, since it can potentially draw your strong Rush minions at the beginning of the game as it only costs one mana. With cards like Woodcutter's Axe, Fluffy Wasp, and Darius Crowley all interacting with the Rush mechanic, Warrior is set for a new deck style.
Warrior hasn't been featured in the meta much since the death of Pirate Warrior. Rush Warrior could be the deck type that brings Warrior back into the meta. We will have to wait and see if it gets more Rush support to flesh out the deck more.
The Witchwood will be released on Apr. 12.