Build-A-Bear Workshop is adding Pokémon's biggest diva to its plush toy line.
The superstar singer, which often gets huffy when its audience falls asleep, is an online exclusive for Build-A-Bear Workshop. It's not cheap. If you want the whole getup—sparkly parka, detachable microphone, Build-A-Bear's Jigglypuff trading card, and a sound card—you've got to hand over $52. Just looking for the plush toy? It's $28 for the 10 inch plush without any of the accessories.
Related: Everything we know about Pokémon: Let's Go, Pikachu! and Pokémon: Let's Go, Eevee! for Nintendo Switch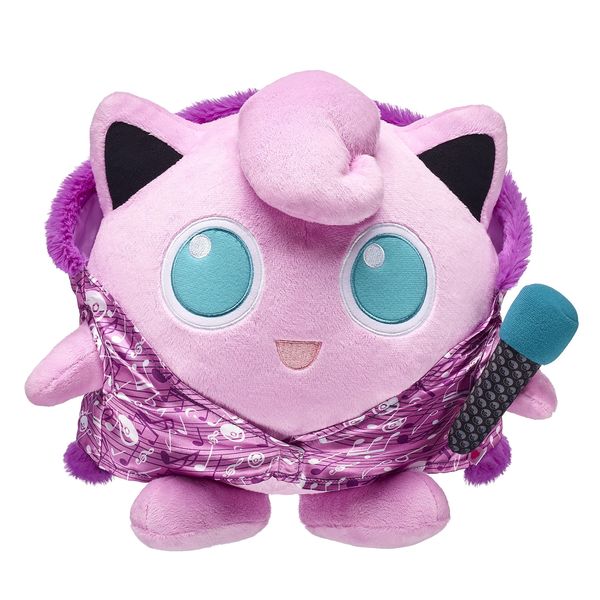 If you want to risk bringing Jigglypuff's soothing lullaby into your home, that'll cost $7.
There's plenty of other Pokémon in Build-A-Bear's collection, each with equally adorable outfits—Eevee, Charmander, Meowth, Squirtle, Pikachu, and Bulbasaur. They're all around the same price, ranging from $43 to $50.
While Jigglypuff, of course, is the biggest news of today, Nintendo fans are still hyped up about the upcoming Pokémon: Let's Go, Pikachu! and Pokémon: Let's Go, Eevee! games for the Nintendo Switch. The Pokémon Company announced the two new games on May 29 during a surprise conference in Tokyo, Japan. Both games will be released for Switch on Nov. 16. Another Pokémon switch title, Pokémon Quest, is already out on the Nintendo console. The mobile version of Pokémon Quest is coming in June.
Jiggypuff should be pleased. It's bound to pop up in both of the new Pokémon games, after all.