Early in 2018, Bungie began lifting back the curtain on the development process of Destiny 2 as a live service game by offering a road map of future updates.
Today, that road map has gotten a big refresh as it now features what's to come over the course of the summer and the next four months in general, leading up to the release of the unannounced large-scale expansion in the fall.
With Warmind's 1.2.0 update deployed, the next update to look forward to in Destiny 2 will come on May 29. Update 1.2.1 will feature improvements to Faction Rallies, Exotic armor sandbox changes, and Crucible Labs.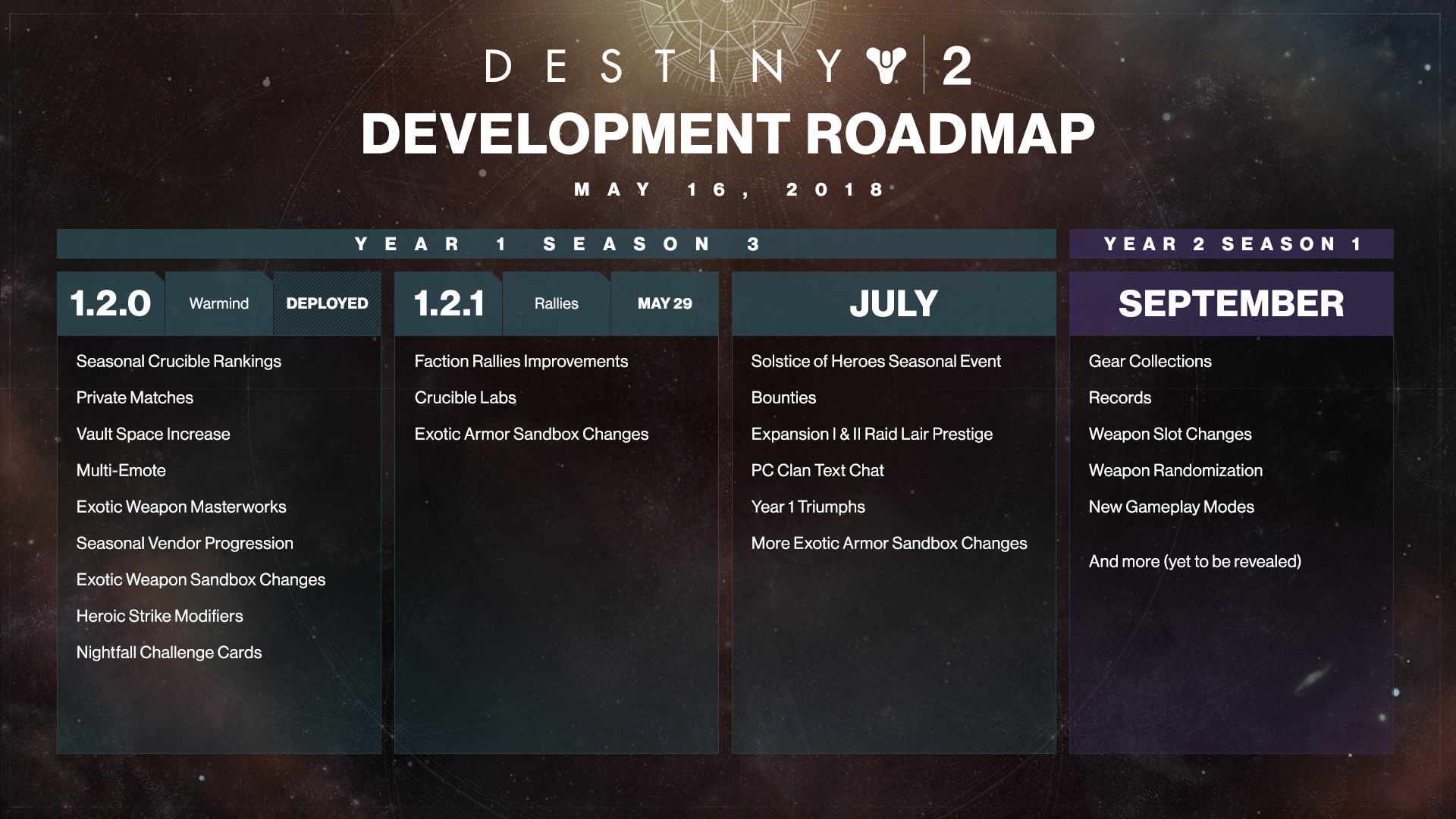 According to design lead Derek Carroll, Crucible Labs is a new feature "intended to give you a peek behind the scenes and a louder voice in our creative process. Crucible Labs will give every player of Destiny 2 access to experimental PvP content. We'll then have a chance to solicit your feedback to guide our final iterations." It sounds a lot like a test server for PvP changes.
Another update looms in July, featuring the new Solstice of Heroes seasonal event. It also marks the return of bounties, Prestige modes for both expansion Raid Lairs, and more changes to the Exotic armor sandbox.
A lot of players will be looking forward to September, however, as year two of Destiny 2 will begin. That large update will include gear collections, records, weapon slot changes, weapon randomization, new gameplay modes, and the aforementioned large-scale expansion.
Destiny 1 became a new game in many players' eyes with its year-two expansion, The Taken King. Odds are that Bungie and players alike are looking to this expansion and the September update as an equally big overhaul of the existing game of Destiny 2.
Expect to hear more about this fall's expansion at E3 in June.