Another week has come and gone, which means that it's once again time to prepare for new challenges in Fortnite: Battle Royale.
The Battle Pass challenges for week four of season four in Fortnite have been leaked. And thanks to Fortnite Tracker, players now know how to prepare for the upcoming seven challenges in an effort to earn more stars and rank up their Battle Pass.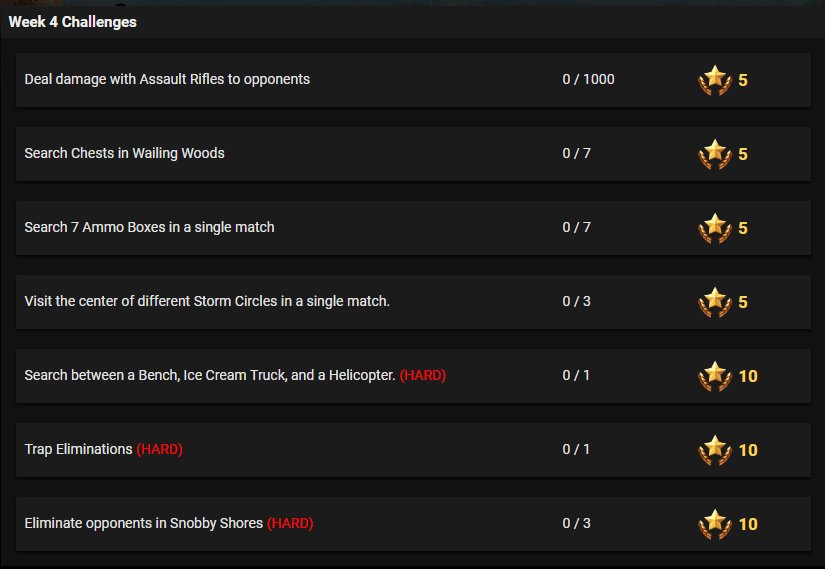 These leaked challenges seem a bit more difficult than the ones from week three, however. The "easy" challenges in week four include dealing 1,000 damage with assault rifles and opening seven chests in Wailing Woods. You'll also need to search seven ammo boxes in a single match and go to the center of three different Storm Circles in one game—which means you'll have to survive for a while to complete these two challenges.
Ironically, the hard challenges for week four might be less strenuous than the "easy" ones. These challenges include searching between a bench, ice cream truck, and a helicopter, getting one trap elimination, and killing three opponents in Snobby Shores.
Related: Fortnite's 4.2 update is now live with a new burst rifle, SMG changes, and apples
Players can complete the first hard challenge by going to Moisty Mire—there will be a patch of missing grass near the treehouse in this swampy destination. Recent nerfs to traps will make getting a kill with one more difficult, however, while the Snobby Shores eliminations should just come down to how many people land at that location with you.
These challenges might be a bit taxing, so most Battle Pass owners will want to try to complete them as quickly as possible. The season four, week four challenges will likely go live in Fortnite on Tuesday, May 22.