Developer Epic Games has revealed detailed information about the Fortnite World Cup 2019. Players who think they can be crowned the best Fortnite: Battle Royale player in the world will be able to compete for a total prize pool of $30 million distributed across a Solo and Duos tournament.
All matches of the Fortnite World Cup 2019 Finals will take place in New York from July 26 to 28.

The great news about this tournament is that players in every Fortnite region will be able to compete in Open Qualifiers to go to the World Cup in July. There will be 10 weekly qualifiers running from April 13 to June 16, each of them with a prize pool of $1 million. There will be five weeks of Solo tournaments and other five weeks of Duos.
Only the top 100 Solo players and top 50 Duos will go to the Fortnite World Cup 2019 Finals.
Eligibility
Fortnite has a young player base. That's why Epic is ensuring that all eligible participants in open qualifiers are 13 years old or older, and that players between 13 and 17 years old must have permission "from a parent or legal guardian" to qualify for the World Cup.

Player's accounts must be "in good standing with respect to any Epic accounts registered by said player, with no undisclosed violations."

Other than that, any player on PC, console, or mobile should be able to take part in qualifiers and fight for a spot to play the Finals in New York.
How to qualify
Starting on April 13, players will be able to see the Fortnite World Cup Open Qualifiers available as a game mode in the mode selection screen. Each qualifier will offer a total prize pool of $1 million, which means Epic will distribute $10 million just in Open Qualifiers for the World Cup.
Players competing from servers in North America, Europe, Asia, Brazil, and Oceania will have separate competitions, standings, and a different number of spots for the Fortnite World Cup.
Epic has revealed that players will need to reach Division Seven, the Champion League, in the Arena Mode to qualify for the weekly Open Tournaments semifinals that take place every Saturday, and then the top 3,000 will qualify for the Open Finals that take place every Sunday.
Players will have to be one of the best in their region. The full number of players qualifying for the Fortnite World Cup Finals is listed below.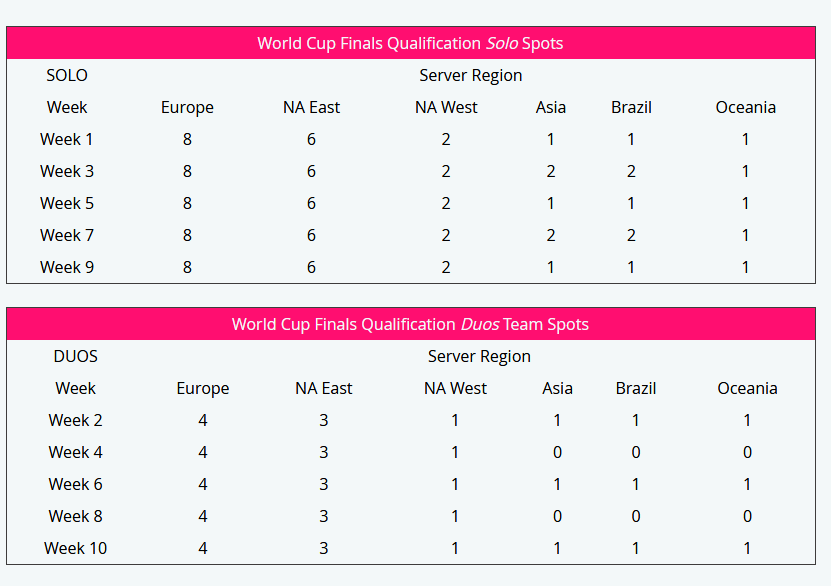 Practicing for the Open Qualifiers
The best way to start practicing for the Open Qualifiers is putting your effort into the Arena Mode during weekdays. Play every event you can to get used to the points system. You can also make your own training schedule and practice in default game modes while tracking your points on your own.
We'll update this story as we have more information on how to qualify for the Fortnite World Cup 2019.