An eventful final day at the PGL Krakow Major Offline Qualifier in Bucharest, Romania ended with six teams moving on to the Valve Major in Krakow, Poland, totaling to eight Challenger teams–both new and old.
Penta Sports was the first team of day five to qualify in their comfortable 16-8 win against Vega Squadron on Train. Cloud9, on the other hand, destroyed FlipSid3 Tactics on Mirage 16-3 to earn their first major challenger spot since MLG Columbus 2016. The last round four high match ended with BIG taking Train over Team Liquid 16-10. Cloud9, Penta, and BIG ended the weekend with 3-1 records. 
In the low elimination matches today, TyLoo was the third team eliminated from major contention due to their 16-11 loss to HellRaisers. HellRaisers would later be relegated by Immortals after a tight Overpass decider match, which ended at 16-13 in favor of Immortals. TyLoo finished the tournament with a 1-2 record, HellRaisers was at 2-3, and Immortals happily concluded at 3-2.
Team Dignitas also had a similar result to HellRaisers. They won their elimination match against Renegades at 16-14 on Mirage, but they would later falter against Vega Squadron, the CIS Minor winners, on Inferno 16-5. Renegades' weekend record was 1-3, Dignitas' attempt at the major ended at 2-3, and Vega edged out at 3-2.
The last match of the qualifier ended in heartbreak for Team Liquid as they lost Mirage in double overtime 25-23 to FlipSid3 Tactics. Despite the North Americans' comeback during regulation, F3 came out on top in the 48th round of the game to prevent a third overtime. Liquid were sent packing with a 2-3 record, while F3 took the last spot at the major at 3-2.  
BIG, Penta, Immortals, and Vega's day five wins allowed them to qualify for their first ever Valve Major tournament. This won't be C9 and F3's first rodeo as Challengers, however.
Shortly after the qualifier concluded, the first round group stage matchups on July 16 were shown on PGL's stream. Those matchups for the first day in Krakow were randomly chosen according to the team's status as either Legend or Challenger, and they are also shown below.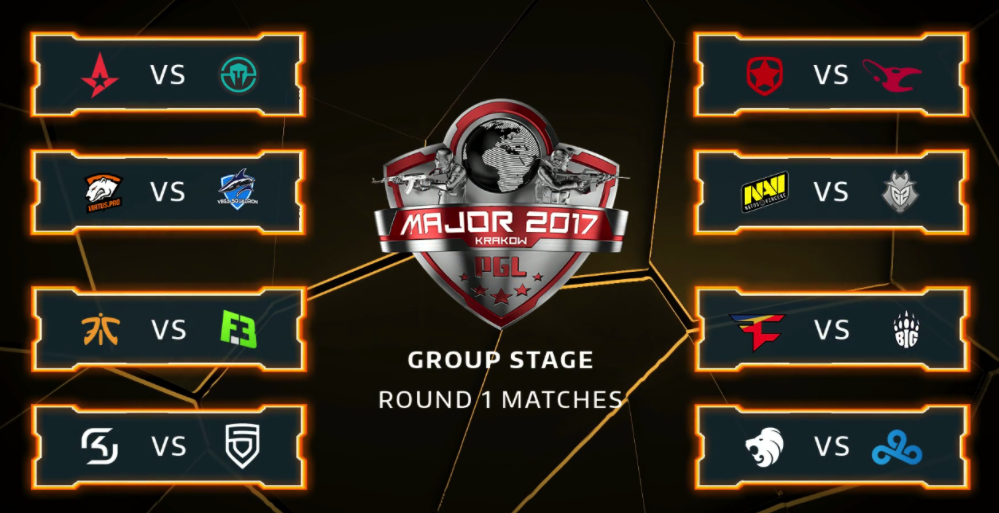 Legends, or playoff finalists from the previous major, are paired with Challengers, and the swiss format takes over from there. The swiss format randomly determines the following matchups by putting two teams with the same record against each other until teams have either a third win or a third loss.
The PGL Krakow Major is set to be one of the most competitive majors in Counter-Strike history, and no top team will be safe from swiss group stage elimination.
About the author