The Major Pick 'Em Challenge is a fun yet dramatic experience for viewers that's unique to Counter-Strike: Global Offensive. Pick the teams that'll win and get a shiny in-game trophy–sounds simple, right? Not really.
You have less than a week to confirm your picks for the Krakow Major, which starts July 16 and runs until July 23, and the playing field for the group stage is one of the most competitive in history. You need 25 points for a bronze trophy, 50 points for a silver trophy, and 75 points for a gold trophy. Getting that gold trophy is easier said than done, so you'll want to minimize the amount of money spent on Pick 'Em stickers and maximize your point totals in both stages of the Major.
The Group Stage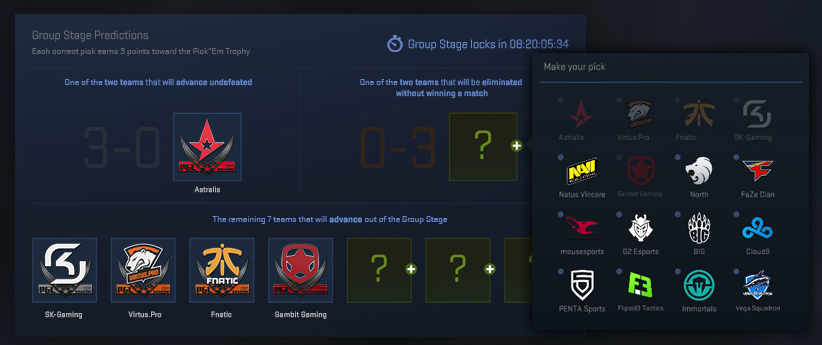 There are nine sticker spots for your group stage predictions. You pick which team will go undefeated at 3-0, which unlucky team will fail at 0-3, and which other seven teams will advance to the playoffs. For each correct pick among the nine stickers, you get three points towards a trophy, totaling to a maximum of 27 possible points.
Since stickers are $0.99 each, you'll want to choose wisely so you won't have to spend more than $8.91 later in the playoffs. To maximize your chances for a good set of picks, it's best to research a team's past performances and speculate how they'll do under pressure in a best-of-one match against their Legend or Challenger team opponent.
How do they compare to the other 15 competing teams? How have they performed in past Major group stages? Is this their first Major? Do they have a recent history of choking? What's their upset potential? Considering these questions will help you decide which eight will survive the group stage and which team will earn the glorious 3-0 record.
As for the 0-3 pick, choose the team who's most likely to not find their stride early on. There's a big chance that their first round matchup could lead to a slippery slope down to 0-3.
Swiss Round One
The Legend vs. Challenger matchups for the Swiss Format are listed below. After round one is complete, teams with similar records, such as 1-0 or 0-1, will play each other in the following rounds until they reach three wins or three losses. Minding a team's possible path through the Swiss Format is also helpful to predicting the playoff eight.
Gambit Esports vs. Mousesports
Fnatic vs. FlipSid3 Tactics
Virtus Pro vs. Vega Squadron
SK Gaming vs. Penta Sports
FaZe Clan vs. BIG
North vs. Cloud9
Natus Vincere vs. G2 Esports
Astralis vs. Immortals
The Playoff Stage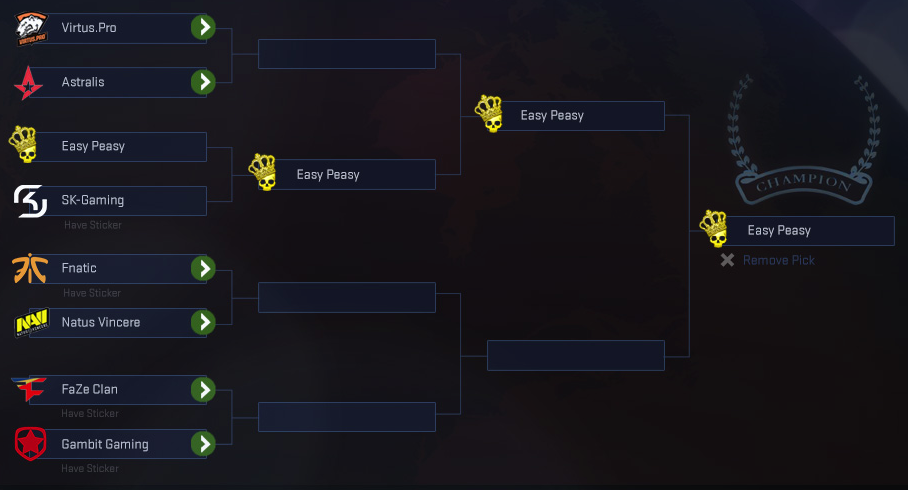 Reward yourself with a pat on the back if at least half of your group stage picks are correct, because that means you're on track to a gold trophy. When the eight playoff teams are determined, the picks get harder. Correct quarterfinal picks give you 12 points, correct semifinal picks give you 10 points, and a correct grand final winner gives you seven points. Once you lock in your playoff winners, you aren't allowed to change them, so choose wisely.
Teams will be playing best-of-three matches in the Tauron Arena in Krakow, Poland, so there's an added factor of mental pressure on players. It wouldn't hurt to research how teams have performed playoff-wise in front of crowds so that you can gauge how well they will do in a best-of-three. Checking out past matches against their opponent and potential opponents in other parts of the bracket would be ideal too. Choke factors, upset potentials, and superimposed "curses" are also huge factors to keep in mind.
The majority of your trophy points should be from your quarterfinal picks, as you can earn up to 48 points with them. A total of 20 points can be earned from both semifinals, but it isn't as gold trophy-friendly as the quarterfinal total.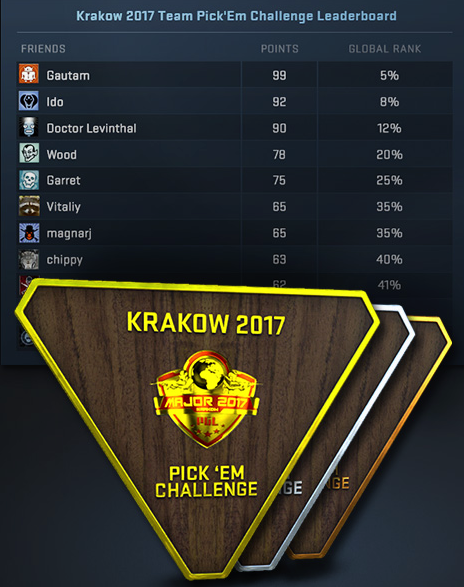 You can win a total of 102 points from the entire Pick 'Em Challenge, so 75 points for gold isn't impossible; it'll just need a exceptional amount of intuition. Good luck and have fun, trophy hunters.