Call of Duty: Vanguard's operators are a diverse, worldwide cast of fictional heroes inspired by real-life ones.
Operators in Vanguard are more than just the skins you can buy. You can also level them up and they have their own unique perks and personalities. For example, each character has their own favorite weapon and using that specific weapon while playing as the operator will give you additional XP.
"Heroism is built upon heroes, individuals with personalities who aren't to be trifled with," Sledgehammer Games said about the operators. "The Operators of Vanguard represent a global cast of countries, cultures, ethnicities, and walks of life. Through Sledgehammer's diverse writing team and an expert World War II historian, these fictional characters are inspired by real people who fought in WWII, and they all have a story to tell."
Players will learn about the operators in Vanguard through an extended background for each of them and the quip system, which will offer "more unique dialogue from these characters that bring out their personalities like never before."
Here are all of the operators that have been confirmed for Vanguard thus far.
Call of Duty: Vanguard operator list
Sergeant Arthur Kingsley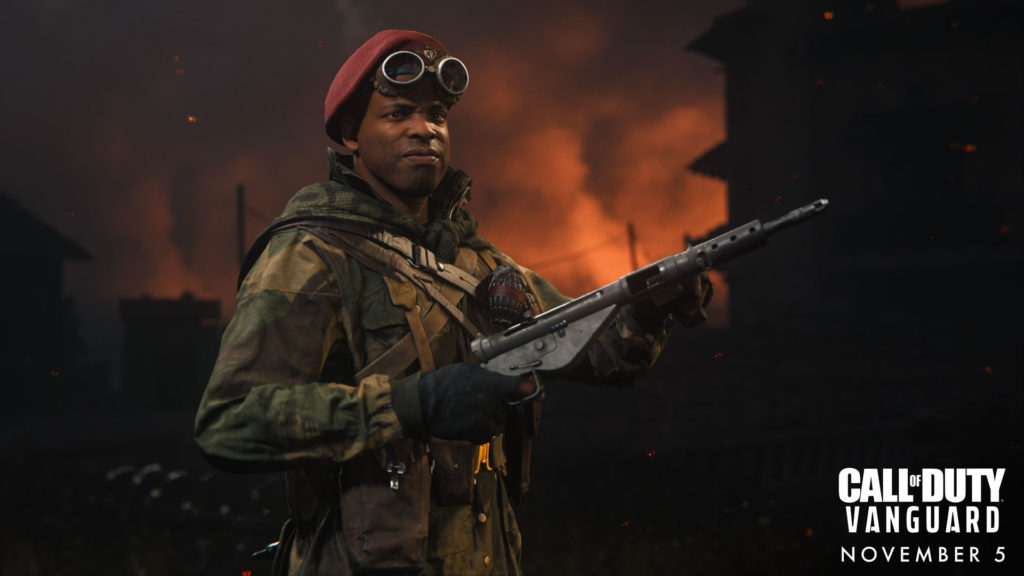 The heart and leader of Task Force One, Kingsley was born in the Douala region of Cameroon before attending University of Cambridge and enlisted in the British Army. A man of nobility whose parents encouraged his multilingualism — he speaks English, German, French, Portuguese, and Bantu, both the Equatorial and Northern dialects — Kingsley saw politics always being discussed at the dinner table, and as a kid, his mother would read him his favorite book, The Three Musketeers, every night.
While Kingsley is a natural-born leader, he fears falling into the traditional patterns of the British Army, over-deliberating at times when his soldiers may be faced with a life-threatening situation. However, that all represents a near-unrivaled care for those who serve beside him, and Kingsley works every day to not only protect them, but also earn their respect.
To his core, Arthur is a kind soul with a warm but mischievous smile. He takes things to heart and harbors deep empathy for those close to him. He loves the comfort and warmth of his home life and family, and longs for peace time to return.
However, Arthur harbors a deep resentment: despite understanding the wrongs of the world, he is unable to right them. To that point, hehas a strong sense of loyalty to fight against the Nazis to help protect his home and put an end to the dangerous ideas Nazism propagates.
Description is from Activision/Call of Duty's blog.
Private Lucas Riggs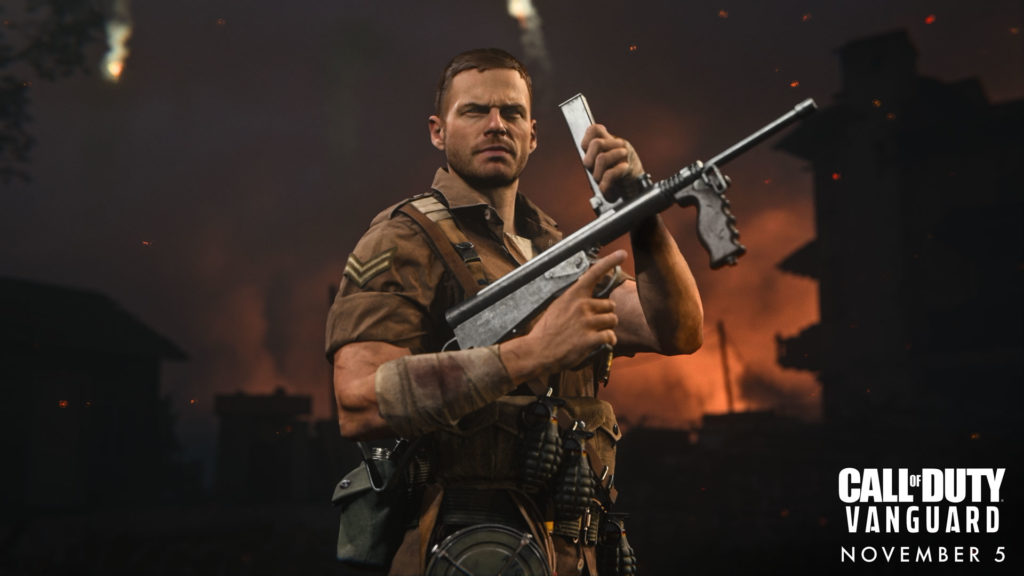 Lucas Riggs prefers actions over words, and although his personality is far from explosive, his method of dealing with threats is highly combustible.
A child of sheep farmers just outside Melbourne, Australia, Riggs worked with his family to tend the herd and collect wool. When World War II began, he didn't hesitate to sign up before conscription was even implemented. He was ready to see more of the world and fight a greater evil than the occasional petty mobster in his area.
Riggs can be described as an enigma – he would not take offense to this distinction, as he understands people just as much as others understand him.
To his allies, Riggs is a gentle giant, often being the life of the party, but not one to seek the spotlight. To his enemies, Riggs is an intimidating and brutal warrior of honor. He stands up to wrongdoers and those who start conflicts with blunt force, ironically done via his specialty within the Australian Army: explosives.
Ultimately, Riggs is the definition of passion within a soldier. Valuing his fellow squad mates and country above all else, he wants to show the world what Australians are made of.
Description is from Activision/Call of Duty's blog.
Lieutenant Polina Petrova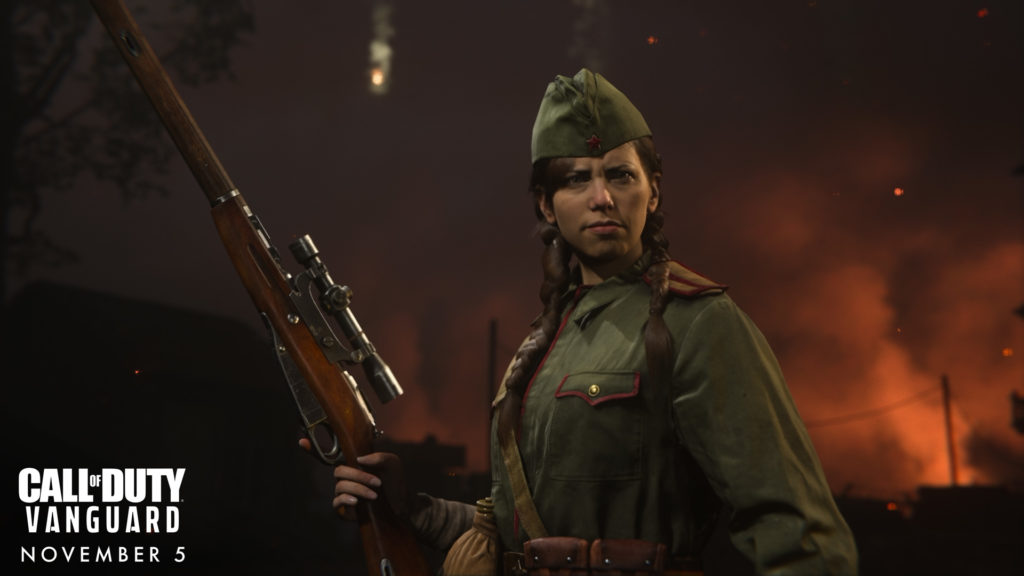 Born and raised in Stalingrad, Polina Petrova is a soldier not by choice, but by a need to defend her country.
Stalingrad was her childhood home, one where she lived many happy memories, including hunting with her father and brother. Although she lost her mother a decade prior to the war, her reality was even more impacted by the brutal Axis invasion of Operation Barbarossa. Using the sharpshooting skills, she learned from her family, Petrova's story is one of vengeance and retribution for all that she and her community lost.
Polina is a woman of few words, but when she speaks, it is with purpose and often leaves a powerful impact. She's content in her own company, only opening up to those she trusts and respects deeply with sharp and educated wit.
Although she barely shares what is on her mind, her actions speak for her opinions. Often, she takes matters into her own hands and never waits for anyone else, especially when her thirst for vengeance takes over and puts her in a blind rage.
Whether by words or action, Polina is driven by a desire to see her home free from Nazi invaders, and she is not afraid to put this personal pursuit above her duties.
Description is from Activision/Call of Duty's blog.
Sergeant Richard Webb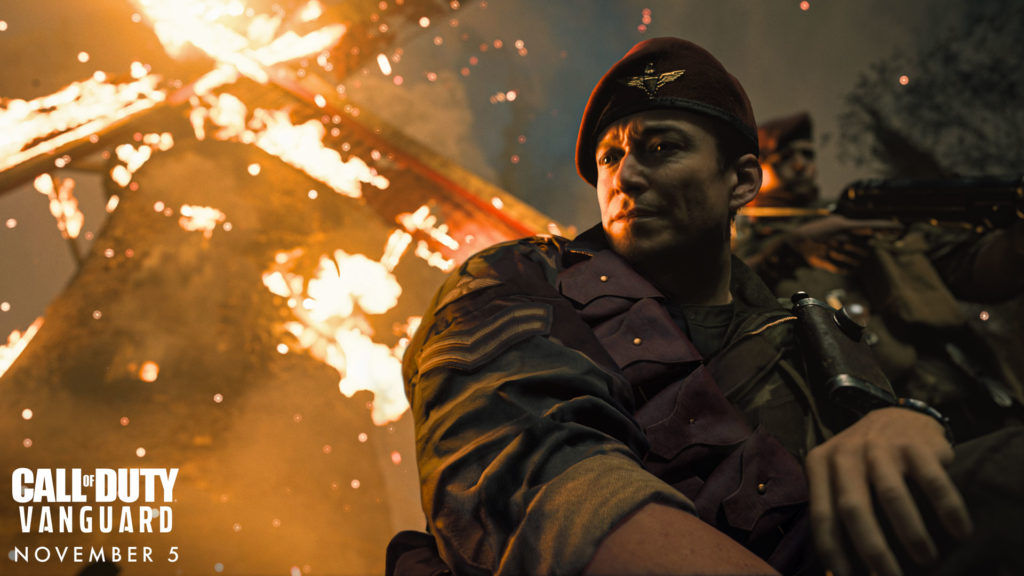 Although he shares the same rank as his squad mate, Arthur Kingsley, Sergeant Richard Webb is Kingsley's right-hand man, friend, and confidant.
Webb grew up in a family of academics, following in his parent's footsteps in pursuing a professorship track at the university where they worked. In doing so, he had no intention of fighting in World War II; he felt secure that his graduate work would make him exempt from service. However, the draft called for him and he reluctantly joined the army.
He knows his country needs him for the war, but he sees no honor in the duty. Rather, he sees soldiering as a job that must be done if there is any hope of life returning to normalcy.
With no illusions of glory nor passion to volunteer for a high-risk assignment, Webb often takes a cautious and calculated approach to every conflict, using his intelligence based in realism to come to a correct decision. Indeed, Webb believes his choice is always right, and his stubbornness derails discussions just as much as his perceived pessimism for how a situation could go wrong.
Webb's defining moment is during Operation Tonga, where his style of leadership and that of Arthur Kingsley reaches a breaking point. What happens then – and Webb's ultimate decision to join Task Force One – is up to you to discover in Vanguard's Campaign.
Description is from Activision/Call of Duty's blog.
Lieutenant First Class Wade Jackson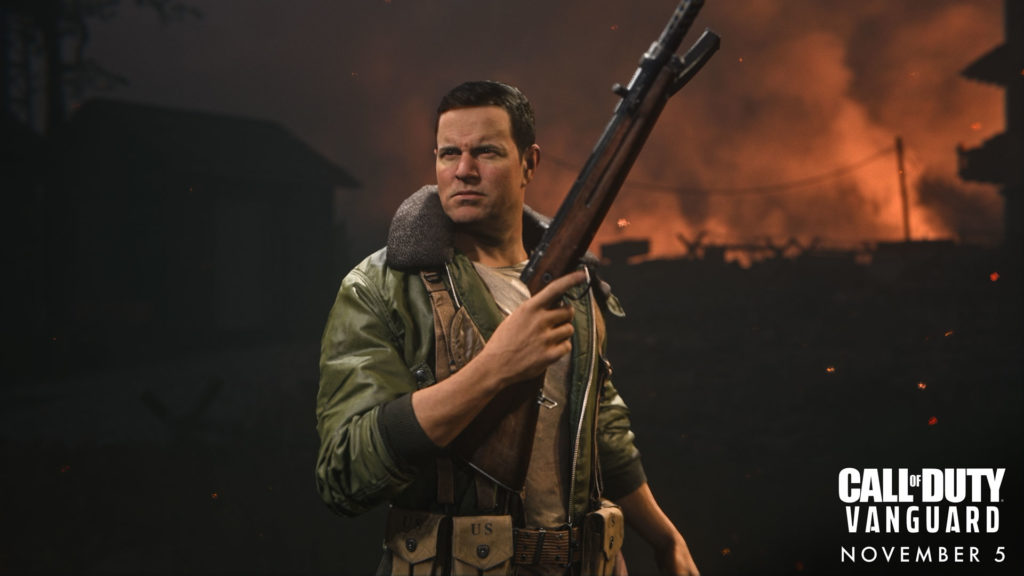 A product of New York, pilot Wade Jackson is more at home in the sky than he is on the ground… And he is adamant on doing all his own stunts, even if the mission does not call for it.
Growing up in Brooklyn as a first-generation American, Jackson is a rebel who often finds himself first to a fight, especially if it's about respect for his family. Bright, yet not engaged with traditional schooling, Jackson discovered his love for speed at the age of 16 through an afterschool repair club. He and his friends often took the vehicles at the shop for joyrides on the newly opened Interboro Parkway, where he would be the only daredevil able to tame the road's dangerous curves at high speeds.
His newfound rigor for adrenaline paid off after high school, when he was accepted into the Navy's enlisted aviation cadet program and earned his pilot's wings in a dive bomber. Since then, he has become a true force in the Pacific.
Charismatic and enthusiastic, Wade enjoys a challenge and relishes the prospect of showing off his natural talents in the spotlight to prove he's the best. He is egotistical and considers himself special, believing he can fix every problem through bold action.
As the daring hotshot of the group, Wade would rather be a lone wolf, but welcomes competent team members if they don't get in his way.
Description is from Activision/Call of Duty's blog.
Daniel Take Yatsu
In the movies, there's often the classic archetype of the cold and unfeeling sniper, calmly dispatching targets one by one. Daniel's no slouch as a sniper, but we wanted to depict him as a protector who uses his marksmanship to support his fellow soldiers. His story is also deeply rooted in one of the most shameful chapters of American history: the internment of Japanese citizens in US concentration camps during WWII. Daniel's entire world was torn apart when his family was sent to the camps, and like many Japanese Americans, he was drafted into the army to protect a nation who did not consider him an equal citizen.  Daniel's feelings about the war and his nation are deeply ambivalent, but he still fights to protect his fellow soldiers and for the nation he believes America could still be one day.
Description from PlayStation Blog.
Padmavati Balan
Padmavati is a woman who lost her homeland twice: once to colonialists, and then to fascists.  Her story is that of a woman whose hope and opportunity for a normal life abruptly vanished when unceasing conflict became a fact of her existence.  Her character is defined by this duality between fighter and peaceful civilian: Padmavati is a fierce soldier adept at jungle warfare, but also a battle-weary nurse who loves to perform poetry and music.  Because she understands the true costs of spilled blood, she eschews a romantic view of warfare, but won't hesitate to demonstrate courage and leadership on the battlefield when called.  She dreams of an India whose fate is determined by the will of its own people and is convinced that they will one day prevail.
Description from PlayStation Blog.
Roland Zelmet
Further information unknown at this time.
---
A ton of new information, including the full list of operators available in the game, will be added to this article once the full game is released on Nov. 5.