The ninth sniper rifle to join Call of Duty: Warzone was a throwback to World War II.
The Swiss K31, or Kar31 as it was known in the real world, was a sniper rifle used by Swiss armed forces between 1933 and 1958. It joined the ranks of weapons in Verdansk '84, and it's still a decent enough option a year later in Caldera or Rebirth Island as part of Warzone Pacific.
In-game, it's described as a bolt-action sniper with "improved accuracy with moderate recoil" and "fast rechamber and aiming speed with a larger ammo capacity." For sniper fans, it's another option in Warzone's ever-growing catalog of weapons, and that's never a bad thing, especially when they can all hold their own in certain scenarios.
Here's the best loadout for one of Warzone's most reliable snipers.
Best Swiss K31 loadout in Warzone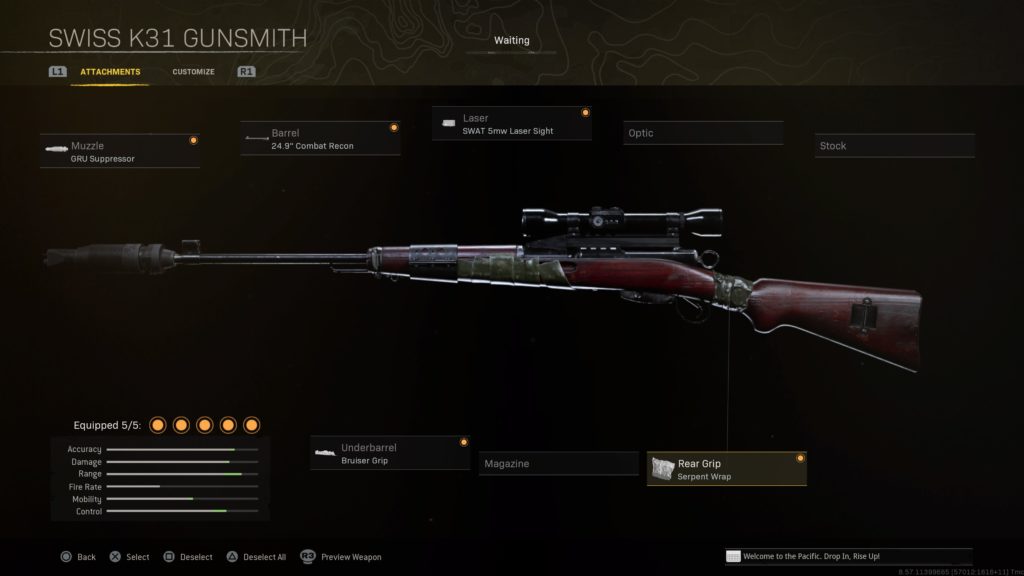 Muzzle: GRU Suppressor
Barrel: 24.9″ Combat Recon
Laser: SWAT 5mw Laser Sight
Underbarrel: Bruiser Grip
Rear Grip: Serpent Wrap
The above attachments will help buff the Swiss's accuracy, range, mobility, and control, all while keeping its solid default scope. You can change up the scope if you want, but sacrificing one of the other acutely chosen attachments will make it falter in other areas, so it's probably not worth it.
When it comes to sniping in this Warzone meta, it's all about speed, especially for Rebirth Island matches as enemies parachute back into the game all around you. With these attachments buffing its range and mobility, you should be in good hands so long as you hit your shots.
The Swiss falters in comparison to other snipers in Warzone, like the ZRG 20mm or even the Kar98k. But it's a fun option to use on Caldera or Rebirth Island if you're looking to shake up your long-range meta.