The moment Call of Duty esports fans have been waiting for is finally here—the schedule for the 2018 Call of Duty World League season has been revealed.
The Call of Duty: WWII season is set to feature a $4.2 million total prize pool—the largest in Call of Duty history.
As soon as WWII is released on Nov. 3, the 2018 season will officially begin with the GameBattles pro point ladder, where players can earn a daily maximum of points that will be used to seed teams at future tournaments.
MLG 2K tournaments will also return to give players more opportunities to earn a larger sum of pro points, and the first 2K for WWII will take place on Nov. 12.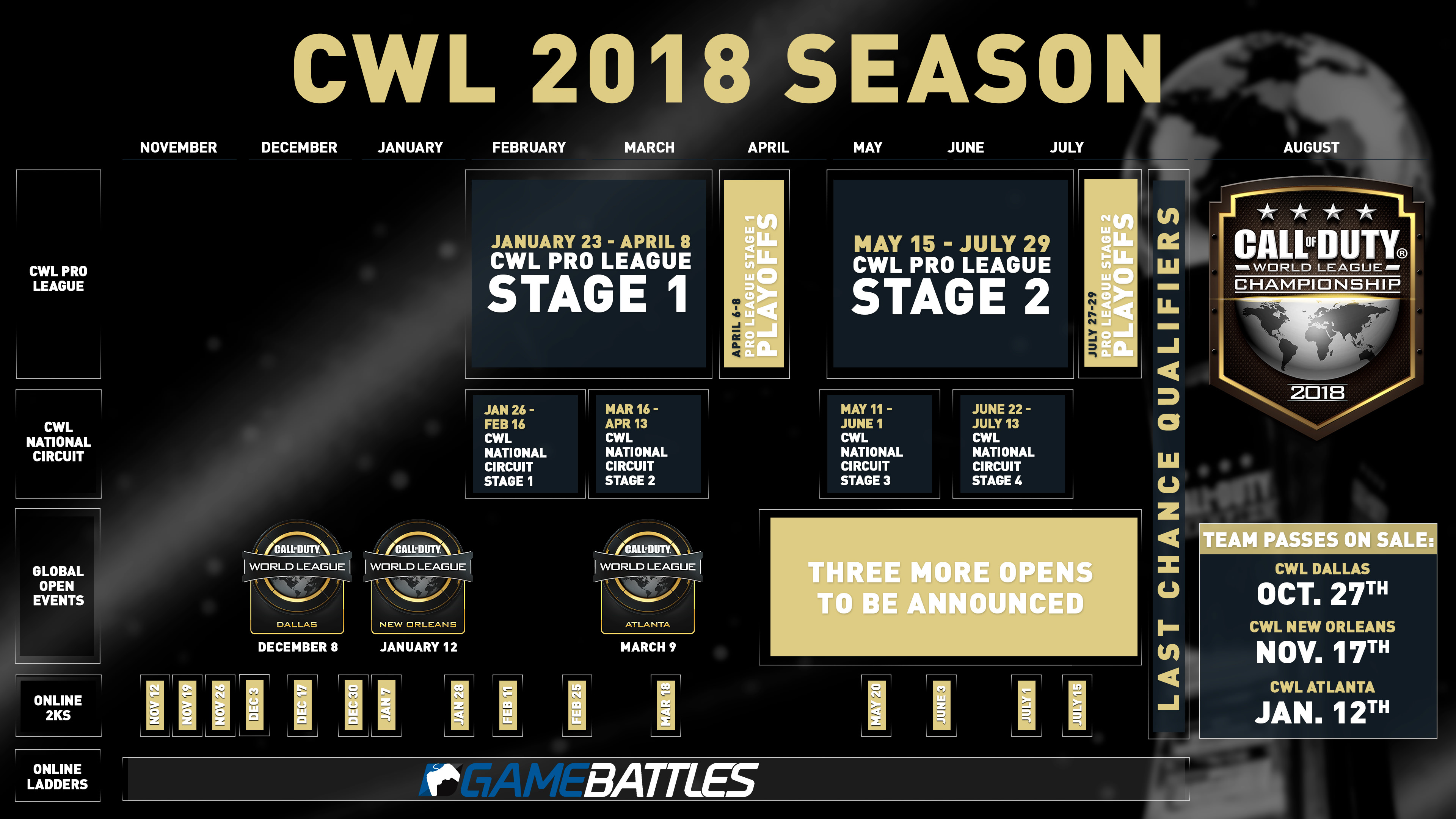 The first major international open event of WWII is the CWL Dallas Open, taking place from Dec. 8 to 10. This will be followed by the CWL New Orleans Open on Jan. 12 to 14, and the CWL Atlanta Open on March 9 to 11. Each of these tournaments will feature a $200,000 prize pool—and three more major open events will be announced at a later date.
The CWL Pro League will return on Jan. 23, featuring the top 16 Call of Duty teams in the world—10 from NA, 5 from EU, and 1 from APAC. These 16 teams will be divided into two divisions, and there will be two stages, just like last year. But the broadcast for the CWL Pro League will take place on Tuesday, Wednesday, and Thursday in 2018.
Stage One starts on Jan. 23, and the playoffs will be held from April 6 to 8, while Stage Two begins on May 15, with the playoffs set for July 27 to 29. $200,000 will be distributed throughout each regular season, while the playoffs will both feature a $500,000 prize pool.
The CWL is also hosting a National Circuit this year, featuring eight online leagues for teams not in the CWL Pro League.
And, of course, the biggest event of the year will return in August. The top 32 teams in the world will battle at the 2018 CWL Championship, which will once again feature a $1.5 million prize pool.
Call of Duty fans are going to want to start planning their trips now, because the 2018 CWL season will be jam-packed with WWII action. And it all starts when the game is released on Nov. 3.