Ranked Play is one of the most highly-anticipated features in Call of Duty: WWII—and now some initial details have been revealed about the game mode.
Twitch streamer Eazi_Dollaz is one of the lucky few who has an early copy of WWII. While he was livestreaming, fans asked him to check out Ranked Play—and when he selected the game mode, a message popped up and revealed a wealth of important information.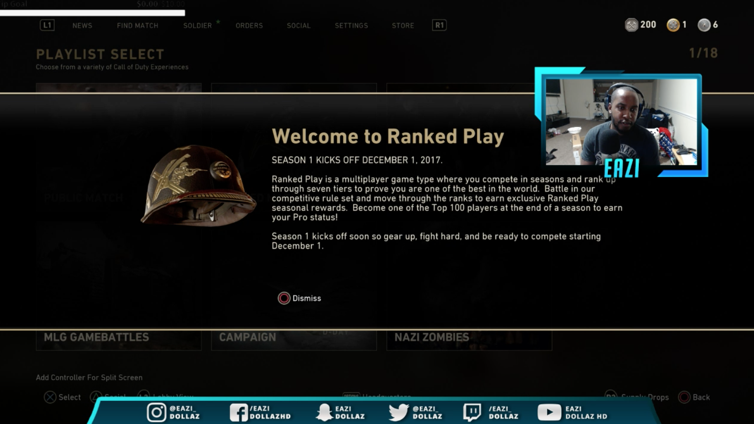 The first season of WWII Ranked Play will begin on Dec. 1, rather than right when the game is released on Nov. 3.
"Ranked Play is a multiplayer game type where you compete in seasons and rank up through seven tiers to prove you are one of the best in the world," the message reads. "Battle in our competitive ruleset and move through the ranks to earn exclusive Ranked Play seasonal rewards. Become one of the Top 100 players at the end of a season to earn your Pro status!"
The idea of a Call of Duty ranked playlist first became popularized in Black Ops II, but the franchise has lacked a similarly-impressive game mode since then. Call of Duty fans are hoping that WWII's Ranked Play will fill this void when the game mode becomes available on Dec. 1.