CoD Points are now available for purchase in Call of Duty: Black Ops 4 on PlayStation 4 via the in-game store or PlayStation Store.
The in-game currency has been used in each CoD title since 2015, and it returns in Black Ops 4 as a way to purchase items or tiers in the Black Market. Players can put their CoD Points toward faster tier progression or Special Orders, which can include tags, outfits, gestures, calling cards, reserves, warpaints, decals, or stickers.
The current Special Orders feature the Bombero Firebreak outfit and the Covert Seraph outfit, respectively. The Covert order is marked as rare and costs 500 points, while the Bombero order is legendary and worth 800 points. These orders will be replaced by new ones in a few days.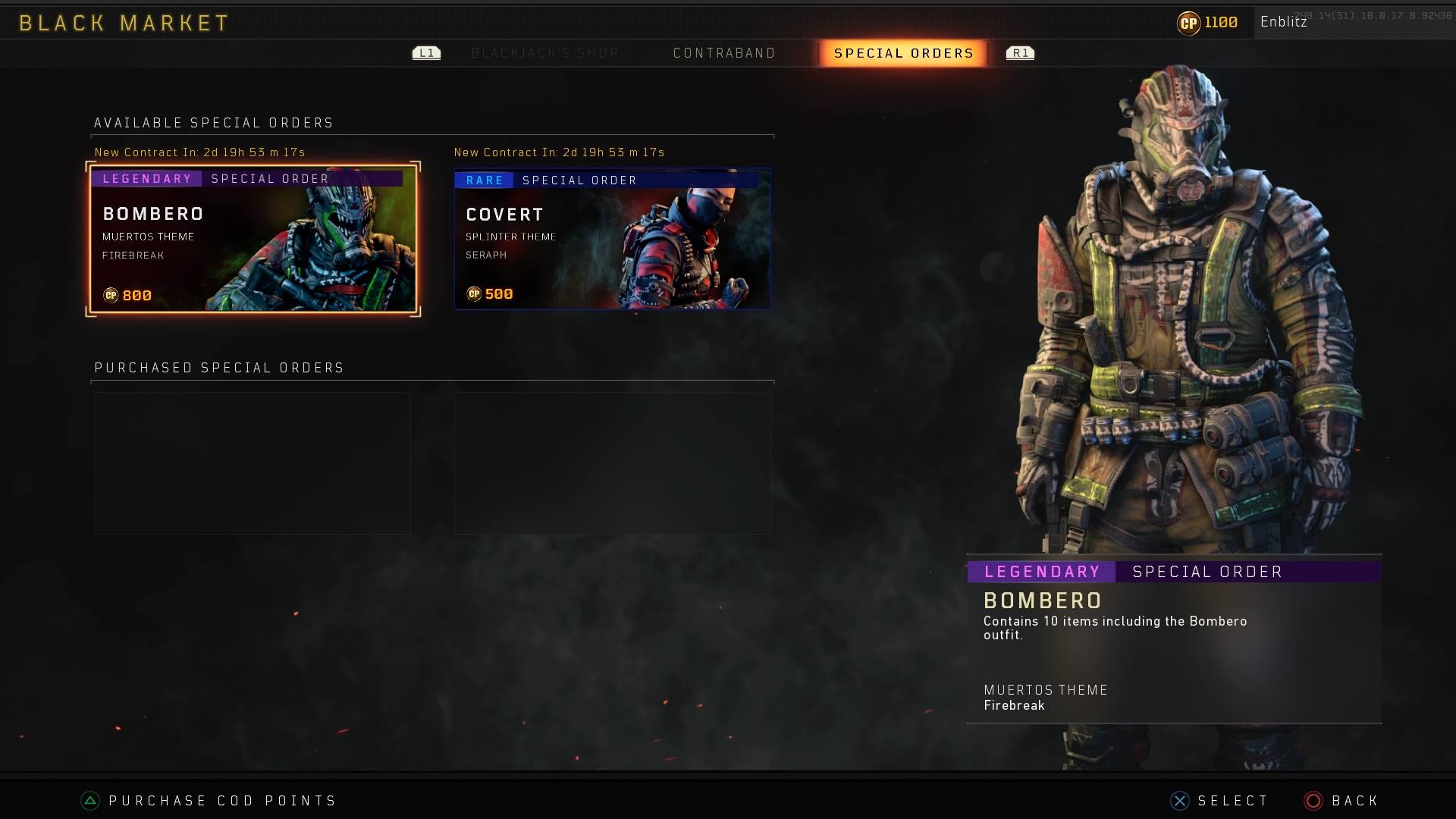 In the game, CoD Points can be purchased in five different amounts. The PlayStation Store has a few more options. The in-game system has the following listings.
200 CoD Points – $1.99
1,100 CoD Points – $9.99
2,400 CoD Points – $19.99
5,000 CoD Points – $39.99
13,000 CoD Points – $99.99
If players wish to move through the Operation: First Strike tiers quickly, they can do so by using CoD Points. Each tier cost 100 CoD Points, meaning it would take 20,000 CoD Points to go from the first tier to the 200th. There are an additional 50 tiers after the 200th tier is reached, but they cannot be unlocked until the first 200 tiers are complete.
The currency is only available on PS4 at the moment, but Xbox One and PC players will have their chance to buy CoD points in seven days due to the exclusivity deal between Sony and Activision. If players had any CoD Points left on previous titles, they will transfer over to Black Ops 4 as well.
H/T Dexerto