Apex Legends players will soon be able to get a sweet piece of loot with Prime Gaming in the form of a skin for the new legend, Rampart, according to the Prime Gaming website.
The skin will replace Rampart's brown hair with blonde and give the legend a purple and yellowish-green makeover.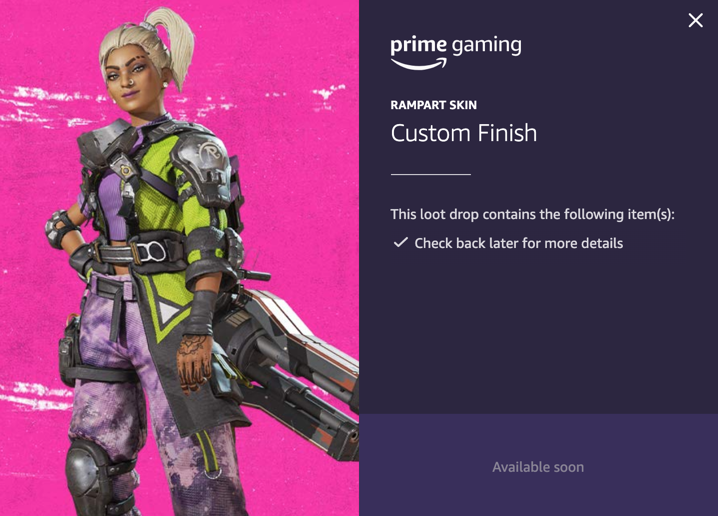 Rampart's new skin is far from the only piece of loot Apex players can get from their Twitch Prime subscriptions. You can also claim a skin for Pathfinder, Swimming Buddy, that turns the wisecracking robot into a lifeguard of sorts, along with a "Mix Tape" gun charm.
Rampart entered the Apex scene at the start of season six earlier today. She specializes in defense and can create multiple "Amped Cover" barricades, which give full cover to those crouched behind it. The top half of the barricade blocks incoming fire but boosts outgoing bullets by 20 percent. 
Rampart's ultimate, her minigun Sheila, fires 20 rounds a second, dealing 14 damage per hit. The only downside to Shield is that the minigun is mounted and requires the legend using it to be stationary. Rampart's passive increases her light machine gun magazine size by 17 percent and decreases its reload time by 25 percent, making the Spitfire and Devotion her obvious weapons of choice.
The new skin for the newest legend on the block will be available to claim on Aug. 21, according to the Prime Gaming website.