The 2022 VALORANT season has come to a close following the conclusion of Champions, with LOUD triumphing over OpTic in the best-of-five grand final. With the season concluded, here's the plan for next year.
Tournament organizer and game developer Riot Games revealed the schedule for the VALORANT competitive circuit in 2023. It will begin with a kick-off tournament, held in São Paulo, Brazil, and feature all 30 international teams from around the world. The event will be held in February to commence the start of the international leagues.
The kick-off tournament will replace the first split of the regular season for the international leagues. This will be followed by a second split later in the year. Then in 2024, the VCT will once again return to having two splits in the regular season.
What teams are competing in VCT 2023?
Here is the full list of official teams for each partnered league.
EMEA: KOI, Karmine Corp, Fnatic, Team Vitality, Natus Vincere, Team Liquid, Heretics, BBL Esports, Giants, FUT Esports
Americas: Cloud9, Sentinels, NRG, KRÜ, Leviatán, LOUD, FURIA, MIBR, 100T, Evil Geniuses.
Asia: ZETA DIVISION, DetonatioN Gaming, Gen.G, T1, DRX, Team Secret, Paper Rex, Rex Regum Qeon, Talon Esports, Global Esports
Teams that do not get selected to partner with Riot, however, will have to compete in Challengers, which is the second tier of competition below the international leagues. Challengers is set to begin earlier than the kick-off tournament in 2023, with the first split starting in January.
Both the kick-off tournament for the partnered teams and the first split of the Challengers leagues for non-partnered teams will conclude in March 2023. The tournaments in Riot's circuit will provide teams with a chance to qualify for Masters and Champions. Challengers teams will also have a chance each year to earn two-year promotions to the top international leagues.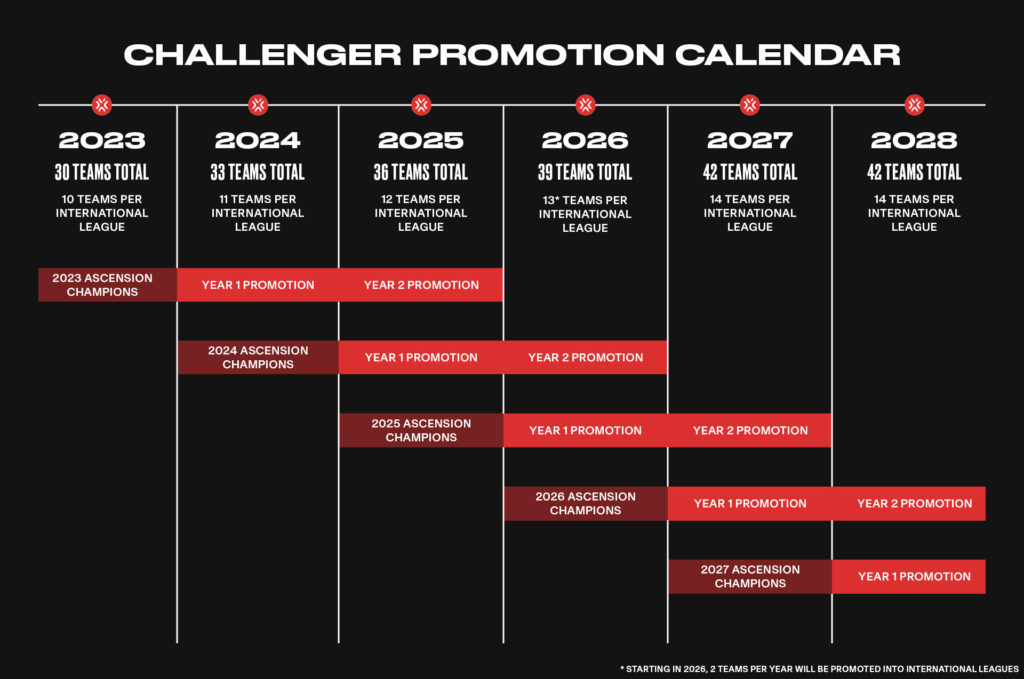 There will be tournaments prior to VCT in 2023, however, with smaller organizers set to host third-party events that teams can compete in. But these tournaments are not affiliated with Riot's competitive circuit.
There is a planned offseason window for October 2022 onwards for third-party tournaments to organize events, so fans won't have to wait long after Champions has concluded later this month to get their VALORANT fix.