After 128 teams competed in last week's VALORANT First Strike Open Qualifier, only eight remain. And the stakes are higher than ever.
The First Strike Nerd Street Gamers Closed Qualifier playoffs kick off today, where the top four squads will advance directly to the regional finals in December. The bottom four will automatically move on to the UMG Closed Qualifier, with the eight eliminated teams relegated to test their luck again at the next open qualifier.
Cloud9 Blue had an impressive showing last week, landing the first seed and taking out TSM and Team Envy in the process. But with eight teams hungry for a one-way ticket to the final event, this tournament is as competitive as ever.
Here's the bracket, schedule, scores, and standings for the First Strike Closed Qualifier.
Bracket and schedule (times are CT)
Group A bracket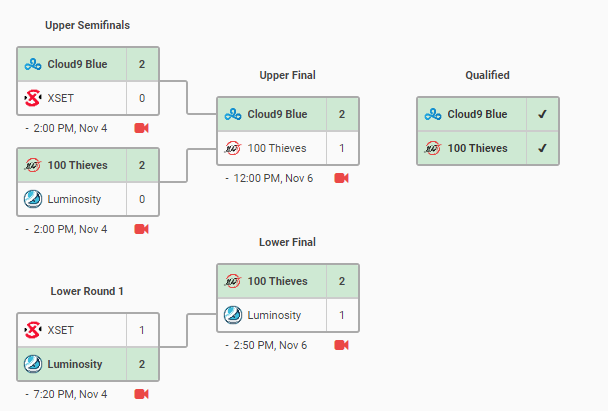 Upper semifinals
Cloud9 Blue 2-0 XSET

Game one – Bind: C9 13-5 XSET
Game two – Ascent: C9 13-5 XSET

100 Thieves 2-0 Luminosity

Game one – Bind: 100T 13-5 Luminosity
Game two – Ascent: 100T 13-2 Luminosity
Lower semifinals
Luminosity 2-1 XSET

Game one – Haven: Luminosity 13-8 XSET
Game two – Bind: Luminosity 16-18 XSET
Upper final
Cloud9 Blue 2-1 100 Thieves

Game one – Bind: C9 13-8 100T
Game two – Ascent: C9 6-13 100T
Game three – Split: C9 13-8 100T
Lower final
100 Thieves 1-1 Luminosity

Game one – Haven: 100T 10-13 Luminosity
Game two – Bind: 100T 13-5 Luminosity
Game three – Ascent: 100T 13-11 Luminosity
Group B bracket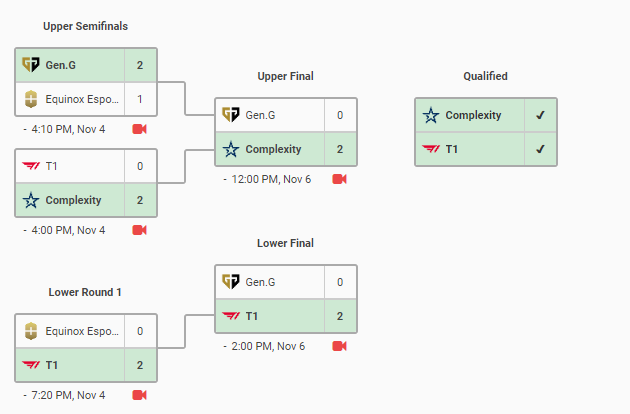 Upper semifinals
Gen.G 2-1 Equinox Esports

Game one – Haven: Gen.G 13-9 Equinox
Game two – Ascent: Gen.G 14-16 Equinox
Game three – Split: Gen.G 13-9 Equinox

Complexity 2-0 T1

Game one – Bind: Complexity 17-15 T1
Game two – Ascent: Complexity 13-9 T1
Lower semifinals
T1 2-0 Equinox Esports

Game one – Ascent: T1 13-4 Equinox
Game two – Bind: T1 13-11 Equinox
Upper final
Complexity 2-0 Gen.G

Game one – Haven: Complexity 13-5 Gen.G
Game two – Ascent: Complexity 13-10 Gen.G
Lower final
T1 2-0 Gen.G

Game one – Ascent: T1 13-10 Gen.G
Game two – Haven: T1 13-9 Gen.G
Group C bracket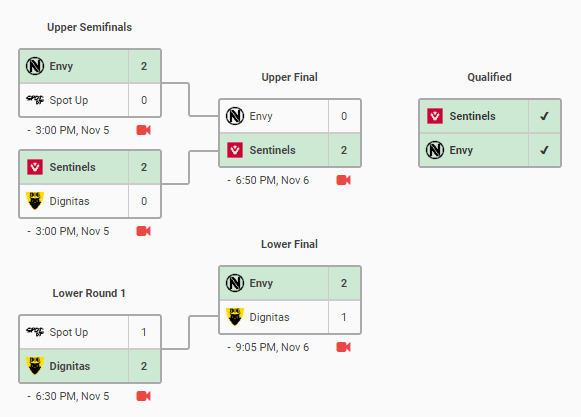 Upper semifinals
Team Envy 2-0 Spot Up

Game one – Ascent: Envy 13-4 Spot Up
Game two – Haven: Envy 13-4 Spot Up

Sentinels 2-0 Dignitas

Game one – Haven: Sentinels 14-12 Dignitas
Game two – Split: Sentinels 13-11 Dignitas
Lower semifinals
Dignitas 2-1 Spot Up

Game one – Ascent: Spot Up 13-7 Dignitas
Game two – Haven: Spot Up 8-13 Dignitas
Game three – Split: Spot Up 9-13 Dignitas
Upper final
Sentinels 2-0 Envy

Game one – Bind: Sentinels 17-15 Envy
Game two – Haven: Sentinels 13-6 Envy
Lower final
Envy 2-1 Dignitas

Game one – Bind: Envy 11-13 Dignitas
Game two – Ascent: Envy 13-4 Dignitas
Game three – Split: Envy 13-9 Dignitas
Group D bracket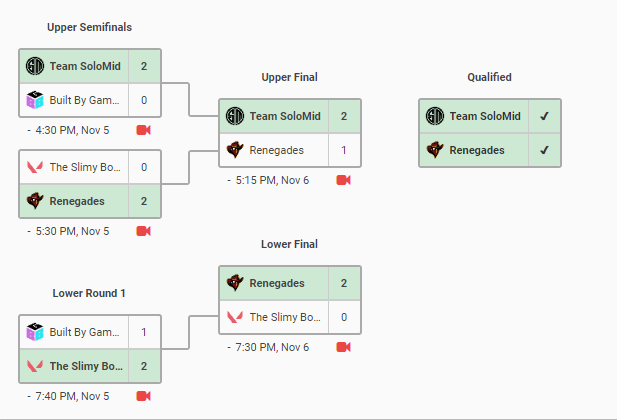 Upper semifinals
TSM 2-0 Built By Gamers

Game one – Ascent: TSM 13-10 Built By Gamers
Game two – Haven: TSM 13-10 Built By Gamers

Renegades 2-0 The Slimy Boogermen

Game one – Ascent: Renegades 13-11 The Slimy Boogermen
Game two – Bind: Renegades 13-10 The Slimy Boogermen
Lower semifinals
The Slimy Boogermen 2-1 Built By Gamers

Game one – Ascent: The Slimy Boogermen 8-13 Built By Gamers
Game two – Split: The Slimy Boogermen 13-6 Built By Gamers
Game three – Haven: The Slimy Boogermen 13-10 Built By Gamers
Upper final
TSM 2-1 Renegades

Game one – Split: TSM 6-13 Renegades
Game two – Haven: TSM 13-6 Renegades
Game three – Ascent: TSM 13-4 Renegades
Lower final
Renegades 2-0 The Slimy Boogermen

Game one – Bind: Renegades 13-3 The Slimy Boogermen
Game two – Split: Renegades 13-11 The Slimy Boogermen
Playoffs
Quarterfinals
Renegades 2-0 Cloud9 Blue

Game one – Split: Renegades 17-15 C9
Game two – Ascent: Renegades 13-9 C9

Envy 2-0 Complexity

Game one – Bind: Envy 13-7 Complexity
Game two – Haven: Envy 13-1 Complexity

Sentinels 2-1 T1

Game one – Bind: Sentinels 13-15 T1
Game two – Haven: Sentinels 13-9 T1
Game three – Split: Sentinels 13-9 T1

100 Thieves 2-0 TSM

Game one – Ascent: 100 Thieves 13-7 TSM
Game two – Haven: 100 Thieves 15-13 TSM
Semifinals
Envy 2-1 Renegades

Game one – Ascent: Renegades 13-11 Envy
Game two – Split: Renegades 4-13 Envy
Game three – Bind: Renegades 3-13 Envy

Sentinels 1-1 100 Thieves

Game one – Bind: 100 Thieves 13-7 Sentinels
Game two – Split: 100 Thieves 8-13 Sentinels
Game three – Haven: 100 Thieves 13-10 Sentinels
Grand final
Team Envy 3-0 100 Thieves

Game one – Bind: Envy 13-2 100 Thieves
Game two – Split: Envy 13-9 100 Thieves
Game three – Ascent: Envy 13-5 100 Thieves