Overwatch is one of the most popular games in the world nearly a year after its launch. Last month Blizzard Entertainment announced that the game has 30 million players.
But Overwatch has yet to fully reach its potential as an esport. Part of that is due to the uncertainty of its future while waiting for the launch of the Overwatch League, but the spectator experience is also something that needs to be improved upon. And Blizzard agrees.
A new job listing for an "Esports Observer" at Blizzard was spotted online, and the main purpose of this new position would be to help improve the game's spectator experience "and drive the in-game camera for Overwatch esports."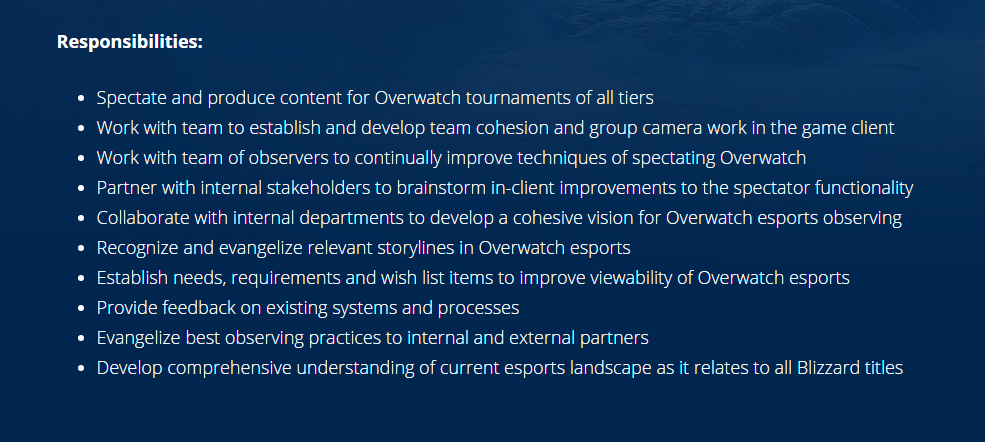 The job's responsibilities include spectating and producing content for Overwatch tournaments, working with the team to establish and develop team cohesion and group camera work in the game client, and more. It lists a requirement of "a minimum of three years of experience in tournament broadcasting and production," among other things.
While Overwatch can be fun to spectate, it can also be pretty hectic for even the most dedicated viewer to understand what exactly is going on in an intense team fight. Compared to other esports titles in the same space, Overwatch's esports viewership numbers have yet to come close.
The spectator experience has definitely improved since launch, including the addition of static cameras and third-person health bars for all heroes, but it still has a way to go. And that's where this new hire should come into play.