The Overwatch community sure does have a good sense of humor. Until now, the jokes and memes have been confined to Twitch chats and Twitter, but thanks to Overwatch Contenders—Blizzard's new development league for Overwatch—they've been given an outlet to shine.
A quick browse through the Contenders' website will greet you with a ton of funny and weird team names and logos. But who has that kind of free time these days? Thankfully for you, we've taken the liberty of sorting through the masses to find the best of the best.
North America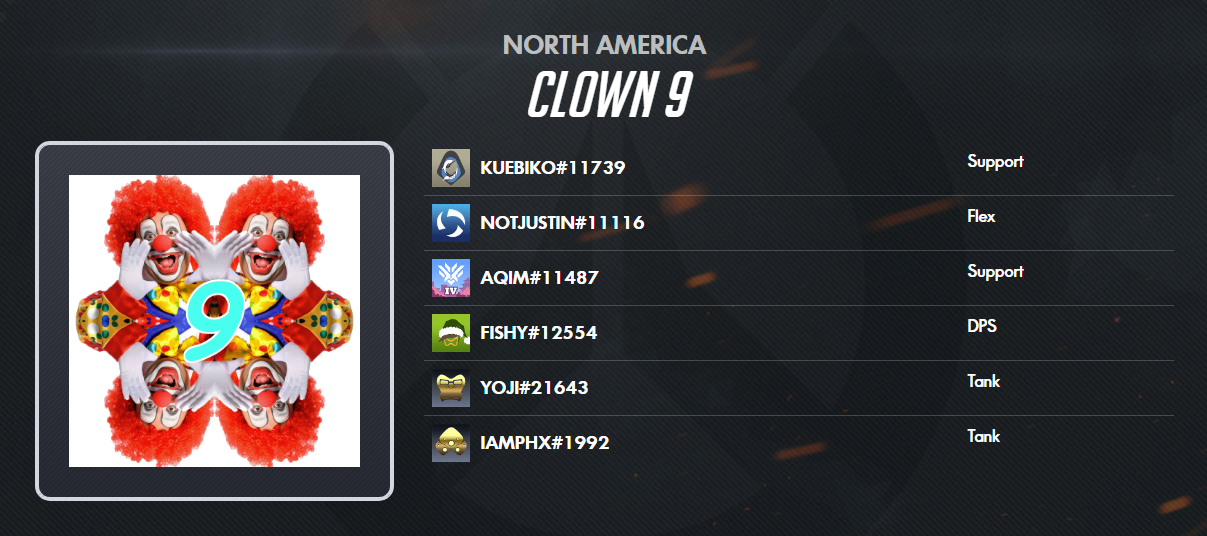 Clown 9
North America's list of 600-plus teams is full of familiar esports names like FaZe, Evil Geniuses, and Luminosity Gaming. Clown 9, however, is contending to become one of the top teams in the region this weekend. We hope they somehow meet up with Cloud9 somewhere in the competition.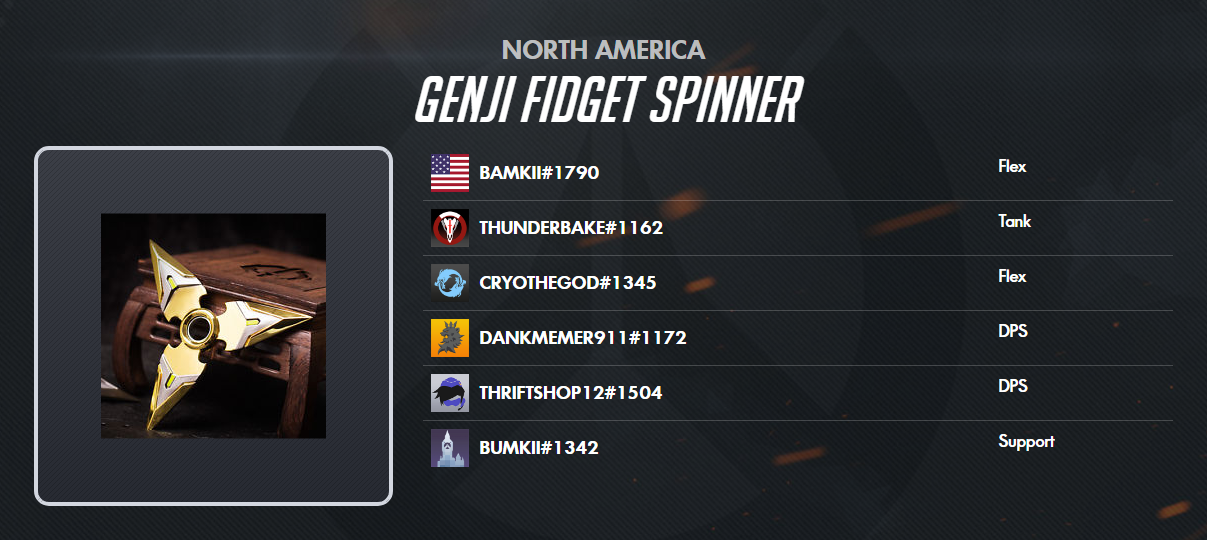 Genji Fidget Spinner
Led by DPS main "DankMemer911," this squad has hopped on board with one of the world's current fads. Fidget spinners were originally made in the 1990's to relieve stress and give people with afflictions like ADHD and anxiety something to focus on, but in 2017 they've become a full fledged meme for some reason. And some enterprising genius has decided to combine Overwatch with the fad to make Genji-inspired shuriken fidget spinners. Incredible.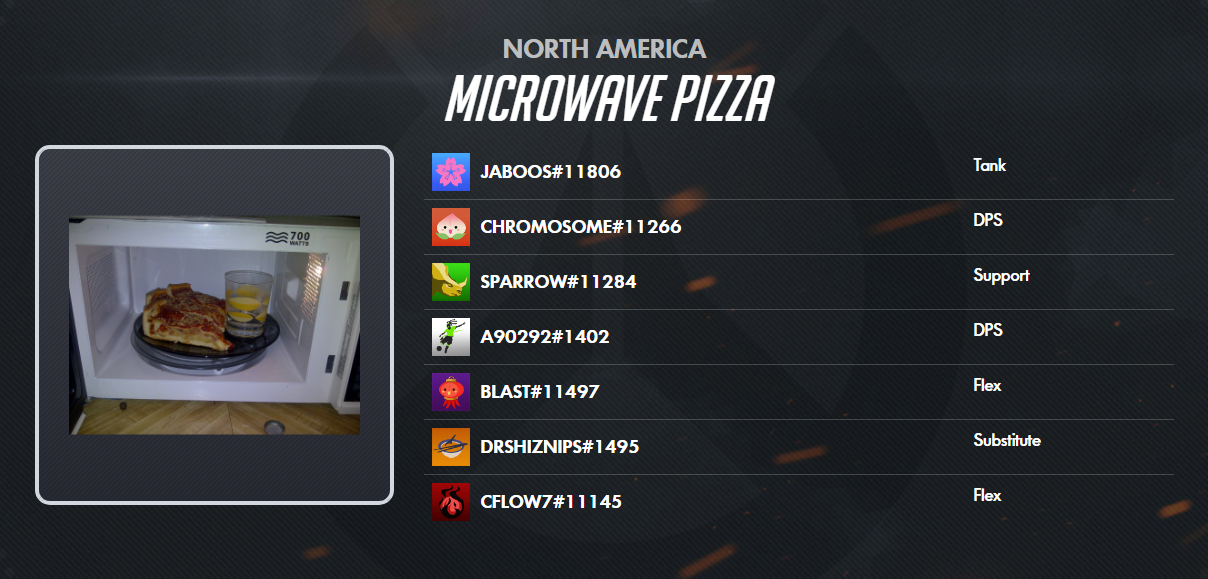 Microwave Pizza
Did you know that if you include a glass of water inside a microwave when re-heating something like pizza, it helps prevent the food from getting soggy? It's true, it's real, and it's a revelation. This team knows. Let's just hope their aim is as crispy as their leftover pizza slices.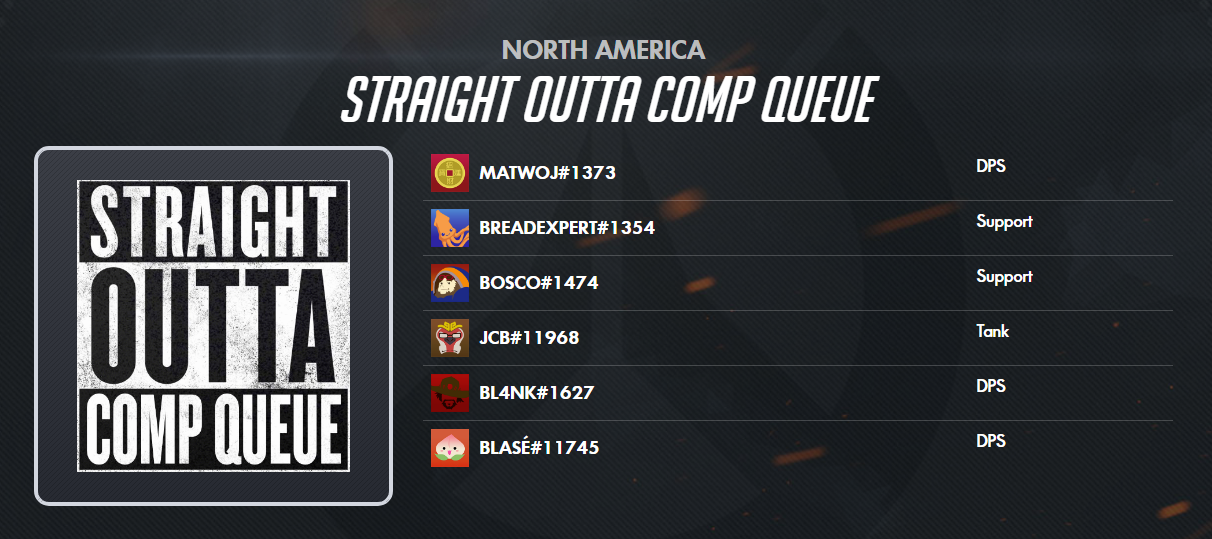 Straight Outta Comp Queue
Ice Cube, Dr. Dre, Eazy E, MC Ren, and DJ Yella would be proud of this squad. These gamers with attitude have arguably the most clever name in the entire list of teams, and deserve all the success that they wish for. Good luck, SOCQ, and hopefully no one leaves the team in its prime over royalty disputes.
Europe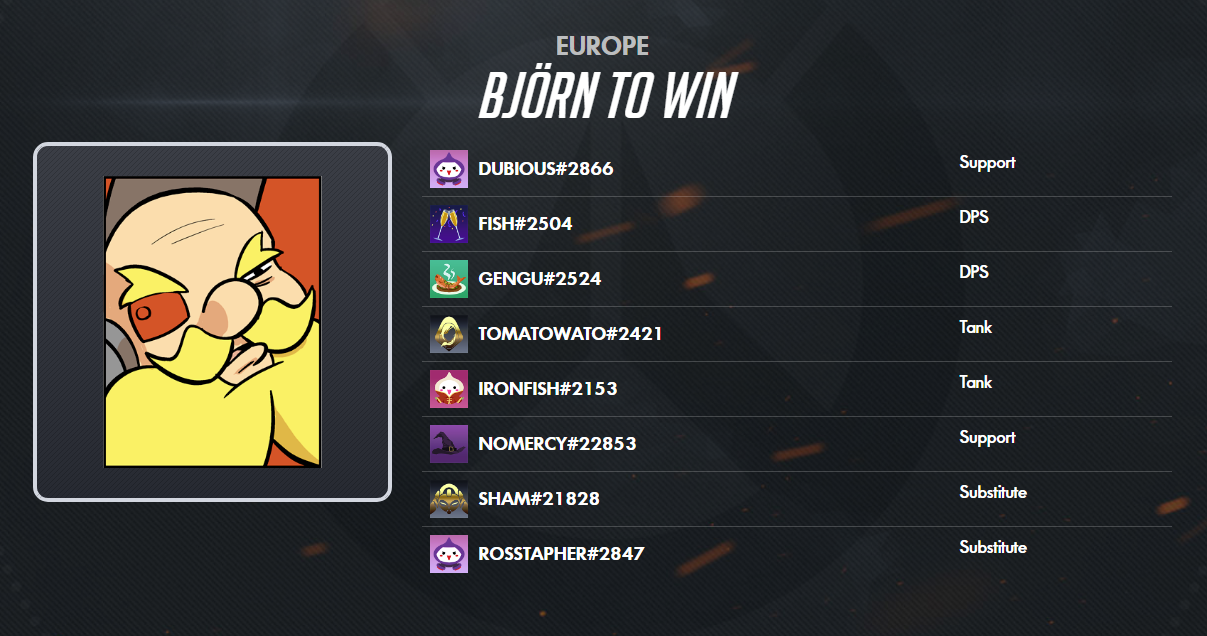 Björn to Win
This one's self-explanatory, but a good play on words is always welcome. Disappointingly, a quick stats database search shows that none of these players have Torbjörn in their top three most played heroes. Hopefully he makes an appearance in one of their lineups, because he has to.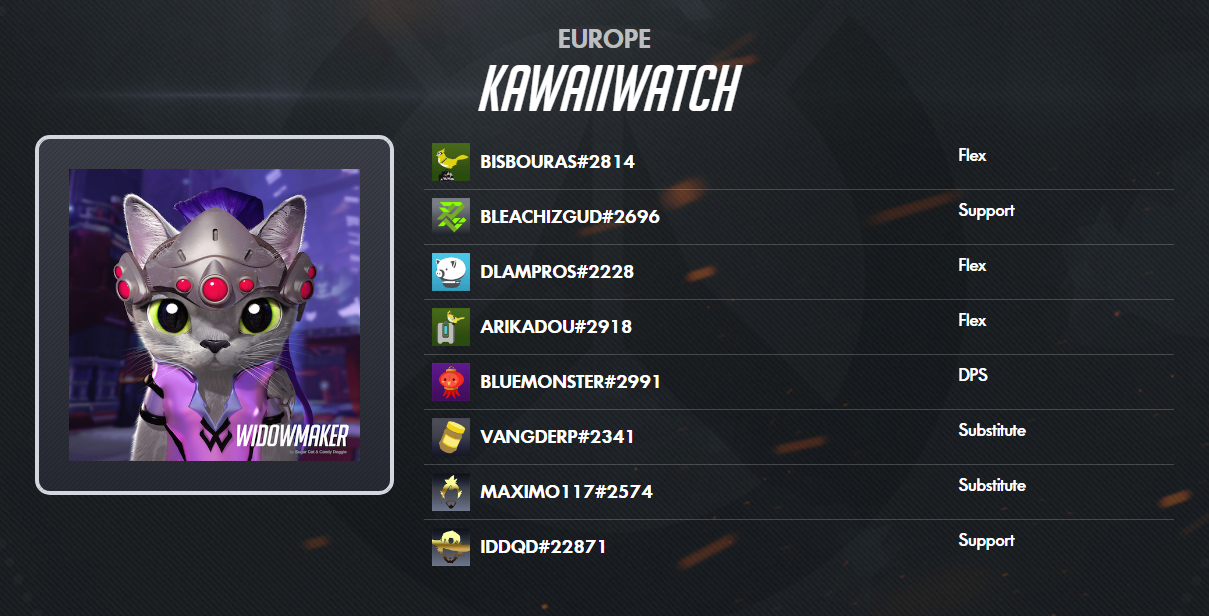 Kawaiiwatch
Would you just look at that big-eyed kitten dressed as Widowmaker? It's so adorable that it almost hurts. Cats and the internet go together like Genji and needing healing, so this team wins an automatic spot on our list. Speaking of Genji…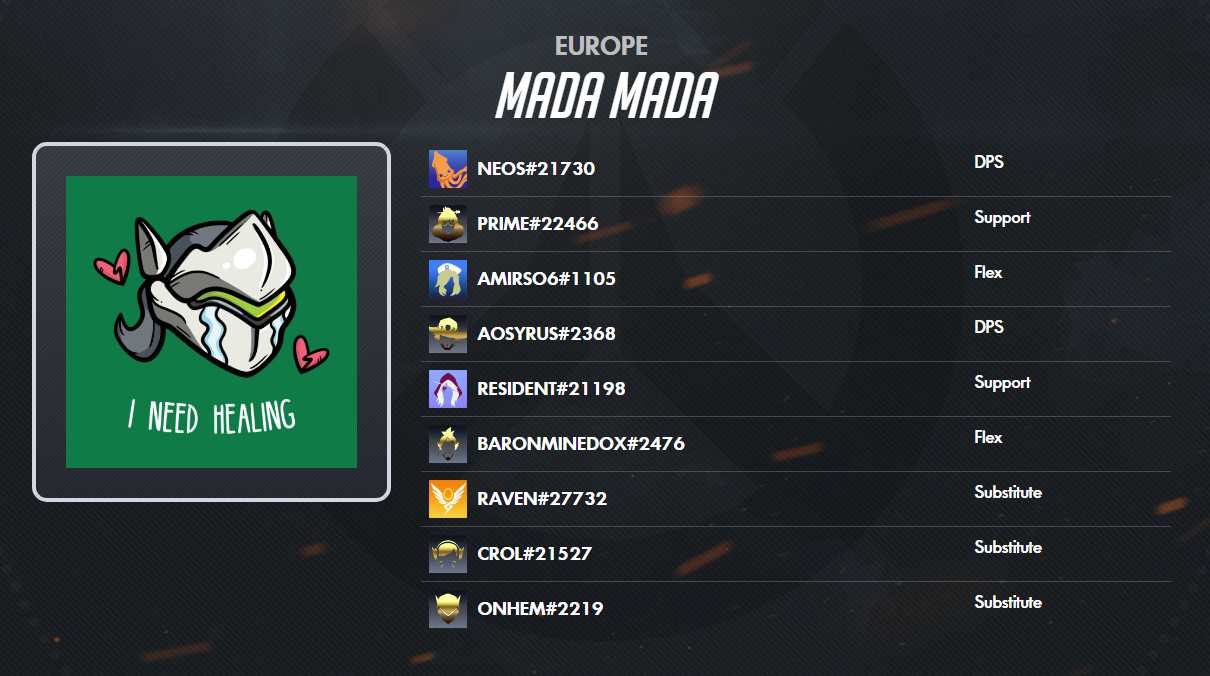 Mada Mada
Genji's "Not Good Enough" voice line is one of the most spammable in the game, as hearing him say "Mada Mada" while he flips around and throws shurikens is always a good time. This team is taking the meme a bit far, however, with three substitutes, just in case the starters don't get the healing they desperately need.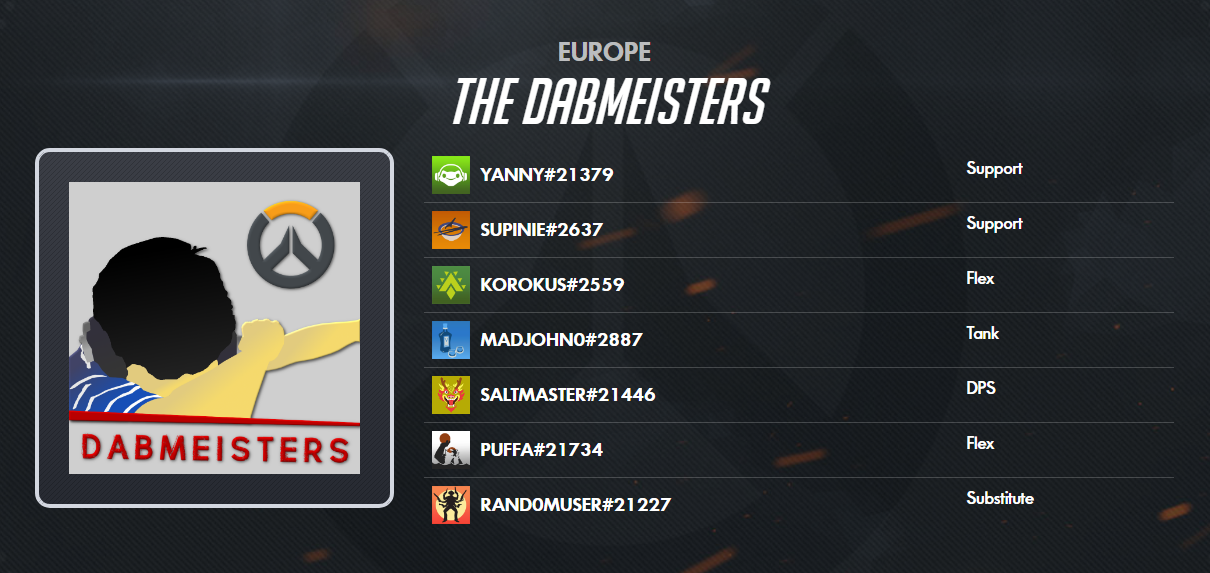 The Dabmeisters
Along with fidget spinners, there's not a more head-scratching fad over the past few years than "dabbing." This team has taken the annoying meme and chosen to associate themselves with it forever. We just hope they thought long and hard about the implications about future job interviews.
---
The NA teams above will be competing this weekend, while the EU teams will fight it out on June 10 and 11. It's hard not to root for some of these squads to make it to the top eight of their respective regions.