Once again, it's time to determine the best Overwatch team in South Korea. Following Tuesday's group draw, we now know which teams will be facing off. While some teams are clear favorites to survive the quarterfinals, others are serious dark horses we can't forget about.
To help you navigate the upcoming matches, here are our predictions for the OGN Overwatch Apex quarterfinals.
Group A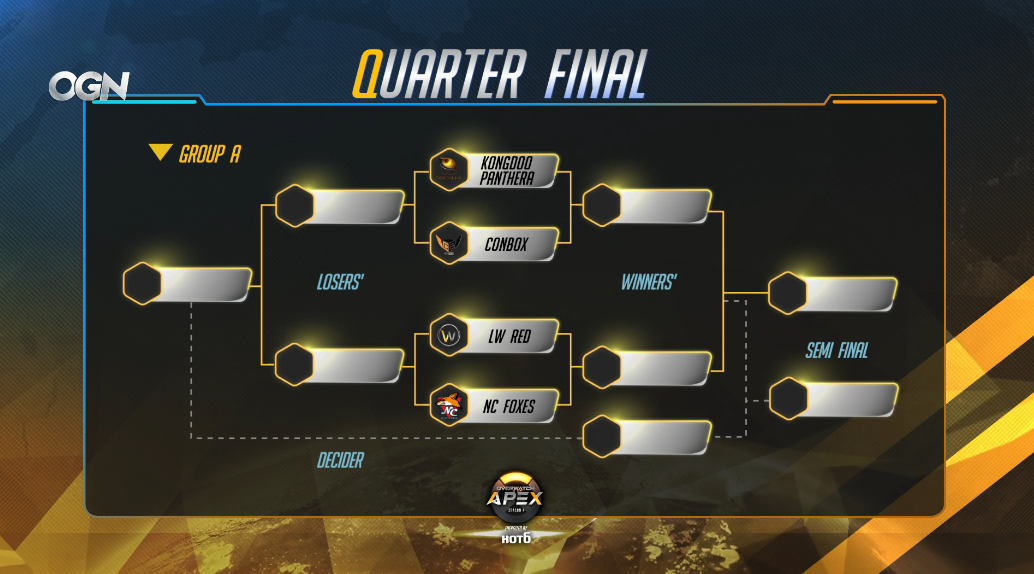 Favorites: Kongdoo Panthera, LW Red
Doomed: Conbox
Dark Horse: NC Foxes
After narrowly losing the finals last season to Lunatic-Hai, Kongdoo Panthera is set on revenge. Their superstar DPS players Kim "Birdring" Ji-hyuk and Kim "Rascal" Dong-jun are among the best in the world, and as a roster, they seem to be a shoo-in for another grand finals appearance. They're in good form at the moment and finishing the group in anything but first would be a shock.
Meanwhile, LW Red is poised to be the latest team to run straight from Apex Challenger to the Apex semifinals. Choi "Wekeed" Seok-Woo has been a potent Doomfist this season, especially in Group C where LW Red went undefeated on their way to the quarterfinals. This team looks strong and is our favorite to leave the group in second place.
Conbox, on the other hand, shouldn't even be in the playoffs. They only won a single series over a flailing Meta Bellum, and were handedly defeated by X6-Gaming. But LW Blue dropping out of Apex gifted them a free series win against a team that would have otherwise thrashed them. They have a strong DPS duo, but losing their captain and excellent tank, Noh "Gamsu" Yeong-jin, earlier this season has noticeably affected their teamplay. There's no chance Conbox take down either Panthera or LW Red, and as such, they're fated to end their run in the quarterfinals.
The potential upset team in this group is the NC Foxes. While they were defeated 3-0 by Kongdoo Panthera in the group stage, the Foxes have proven they won't roll over easily. On both King's Row and Hanamura, they completed the map once, only to fail on the second round attack. If they take LW Red to King's Row—a map LW Red lost to both GC Busan and Afreeca Blue—it could be the start of an upset for the Foxes.
Group B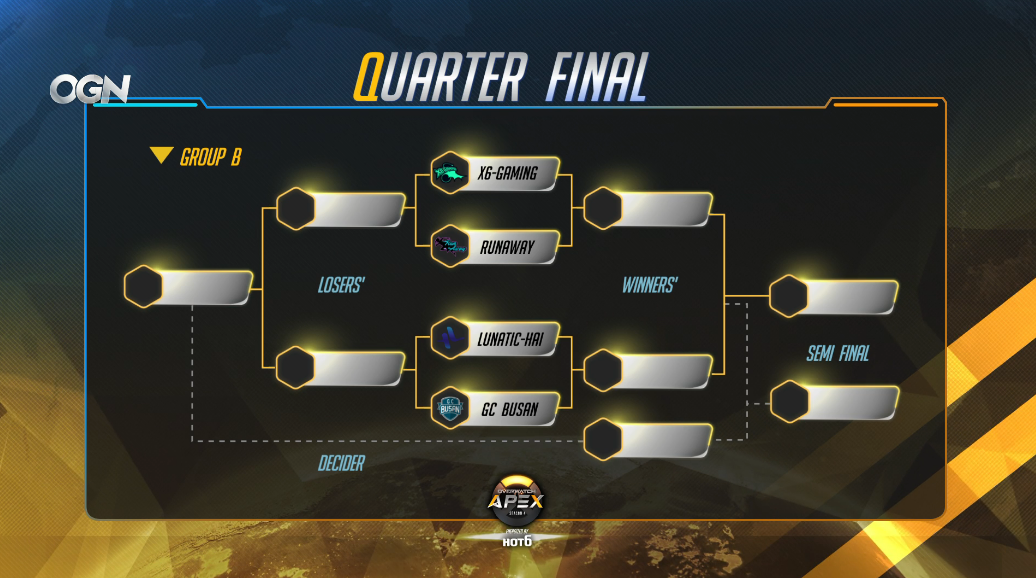 Favorites: Lunatic-Hai, RunAway
Likely Doomed: GC Busan
Dark Horse: X6-Gaming
Group B has a very clear divide between the two teams at the top, and those at the bottom. Both Luantic-Hai and RunAway emerged from what turned out to be the most competitive group in the tournament, and look stronger for it. But unlike the other side of the bracket, who emerges in first place here isn't as clear.
Lunatic-Hai are still the favorites to exit Group B in first, but RunAway have the chance to make this group interesting. In their previous matchup, RunAway's captain, Yoon "Runner" Dae-hoon, played Lucio and four other players were on alternate roles.
RunAway later returned to what appears to be their new standard, with Kim "Kox" Min-soo on DPS and their former star Genji Kim "Haksal" Hyo-jong on Lucio. In this form, Kox is free to play Pharah—a pick we saw Lunatic-Hai struggle against when they played Meta Athena. The matchup between Lunatic-Hai and RunAway will be a major deciding factor for the whole tournament, as it will determine who must face Panthera in the semifinals.
GC Busan, on the other hand, are having a great season—considering their rookie status. They toppled one of the old guard in Afreeca Blue in order to qualify for the playoffs. But sadly, in this company, they're seriously outclassed. Their Tracer player, Park "Profit" Joon-yeong, isn't at the same level as the others in this group. And with how central she is to the current meta, it's a notable weakness they won't be able to avoid.
X6-Gaming is, by many metrics, a very good team. They are experts at playing around their team captain and Soldier 76 player, Kim "GodsB" Kyeong-bo, as X6 plays over double the Soldier 76 than the average Apex team. They enable him to be backline artillery by moving the divers back and forth, protecting him as needed.
This clear identity means they have become masters of that one style. If Lunatic-Hai and RunAway continue to experiment with their rosters, there's a chance X6-Gaming's dedication to their chosen style could allow them to pull off an upset against the better teams.