New York Excelsior DPS Kim "Pine" Do-hyeon's absence from the Overwatch League's second stage was noticeable. The pink-haired McCree player seriously impressed during stage one, with casters and fans dubbing him the human highlight reel.
A specialist with McCree and Widowmaker, Pine was substituted in and out when New York needed his precision and foresight. He helped New York take second in the Overwatch League's first stage, and fans were surprised by his absence.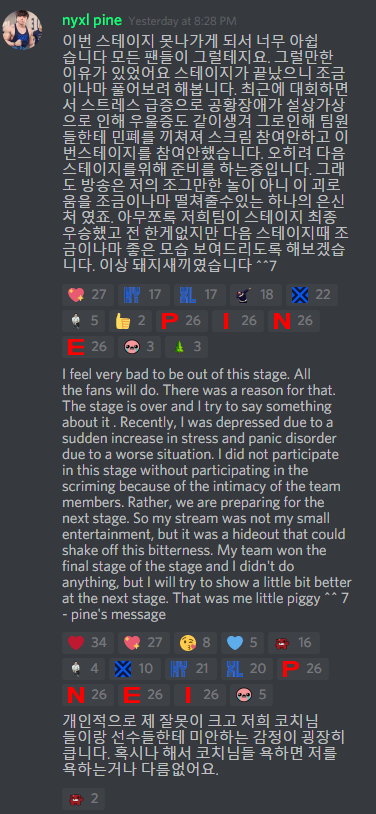 Related: NYXL's Pine has a history of excellence that spans back to TF2
"I'm sorry for not attending this stage," Pine wrote in his Discord server, translated by Robin K. "I am sad, and I'm sure all the fans are. There was a reason for that. Since the stage is over, I want to talk about it for a bit."
Pine revealed that he's been diagnosed with "a panic disorder on top of depression." The stress of the Overwatch League exasperated that, and he didn't practice in scrimmages or on stage. "I'm preparing for the next one," he added.
"Anyways, our team won the stage and I didn't do anything, but I will try to show my best form next stage," Pine said.
Though Pine has been playing video games professionally for years, he was a popular Team Fortress 2 player before joining LW Red and Blue, the pressure of the Overwatch League is immense. Overwatch League players are regarded on a global stage, their actions under a microscope. It's something Overwatch League teams are going to have to figure out—how to keep their players happy and healthy on the game's biggest stage.
New York secured the Overwatch League's stage two title against the Philadelphia Fusion on March 25. Despite Pine's absence, the New York team pulled off a stunning reverse sweep to take the title and $100,000.