Like most live service games, Overwatch features a variety of fun skins that adorn its playable characters. Each hero has a variety of common, rare, epic, and legendary outfits, the last of which are the most difficult to find and purchase. Legendary skins often change a hero's appearance entirely, giving them a new look based on lore, seasonal events, or other fun inspirations.
Since the game's release in 2016, each hero has had the chance to accrue quite a few legendary skins. Blizzard has confirmed that all skins from Overwatch will carry over into Overwatch 2, so it's more important than ever for players to find and equip their favorite legendary skins to show them off once the new game drops. If you're looking for inspiration, you've come to the right place.
Here are the best legendary skins for each Overwatch hero.
The best legendary skin for every Overwatch hero
Ana – Snow Owl
Ana has several well-designed legendary skins, but Snow Owl stands out as the most unique. Available during the Winter Wonderland event, the skin dresses the support sniper in an icy-white and blue owl suit, fitting perfectly with her character design as a sniper. A purple and silver recolor is available in the form of Night Owl.
Ashe – Warlock
Ashe's best legendary skin is Warlock, a Halloween skin that transforms her and B.O.B. into magical entities. Ashe's fantasy-inspired outfit glows with fiery power and features esoteric runes, while B.O.B. has been turned into a lava golem who is bound to the Warlock's will. It's a colorful and dramatic departure from Ashe's usual skins.
Baptiste – Funky
Baptiste's Funky skin proves that not all legendary skins have to be serious. This skin, which was available during Anniversary events, gives the healer a disco-inspired outfit that features bell bottoms, a gold chain, and a fantastic afro. It also turns his healing backpack into a lava lamp, which will never not be funny.
Bastion – Coffin
If you're looking for something spooky, look no further than Coffin, one of Bastion's Halloween skins. Coffin transforms Bastion into a creepy robotic entity made of discarded coffin parts, including a flapping lid, cushions, and a casket that leaks green foam. His head has been turned into a lantern, while his constant companion Ganymede is nothing but a skeleton of a bird. This head-turning skin is sure to scare others during Halloween.
Brigitte – Shieldmaiden
Shieldmaiden is a beautiful take on Brigitte. Released during the 2018 Anniversary event, Shieldmaiden gives the healer long, braided blonde hair and a brown bear-themed shoulder piece. The skin also includes plenty of nods to stories of the Vikings in its design and aesthetics. It's a skin any Brigitte fan should have.
Cassidy – Lifeguard
While it's not one of Cassidy's more serious skins, Lifeguard is a lot of fun. The summer-themed skin turns his trademark revolver into a water pistol and gives him beachy blond hair and a silly beach towel. He wouldn't be a true lifeguard without a whistle and some swim trunks, both of which are included in the skin. We'll leave it to you to figure out what the "SAMF" on his belt stands for.
Doomfist – Talon
Talon isn't one of Doomfist's flashier skins, but it's that same understated power that makes it his best. His enormous gauntlet is still the focal point of the skin, but it's been dressed up in silver and red metal with imposing-looking spikes on the knuckles. Doomfist himself is dressed in metal armor with red face paint, giving him a fierce and deadly look.
D.Va – Cruiser
D.Va has such a large number of excellent legendary skins that it's difficult to pick just one as her best. Cruiser takes the top spot thanks to its 1950s-inspired garb, which sees D.Va sporting a pink bandanna, hoop earrings, and pin-up girl outfit. Her mech is redesigned as an old, baby blue cruiser, fully equipped with red tail lights and bright green accents. As is usual for Blizzard's focus on details, the mech also includes a pine tree air freshener.
Echo – Stealth
As one of Overwatch's last heroes, Echo doesn't have quite as many legendary skins as other heroes do. Nonetheless, the ones she does have are excellent, especially Stealth. Despite being one of her base legendaries, Stealth is an impressive skin that makes the flying robot look a lot like her Omnic counterparts. It has an edge on Camo thanks to its more interesting color scheme, and its aim-like facial structure turns the normally smiling robot into a lethal machine.
Genji – Karasu-Tengu
If you want a skin that will leave players asking what hero you're using, check out Karasu-Tengu. This imposing skin is normally available during Halloween Terror events. It turns the cybernetic ninja into a purple bird-like creature, complete with glowing orange eyes and two feathered blades. The clawed feet and beaked face only add to the sense of terror. Since this skin isn't explicitly Halloween-themed, it's great for use year-round.
Hanzo – Scion
This skin had Hanzo fans swooning when it was released during an Archives event. Scion gives Hanzo a dapper vest-and-tie combo with pinstripe pants and a rolled-up white shirt. While his hip flask and watch give the appearance of an above-board businessman, the arrows stowed in the quiver on his back are there to remind everyone that Hanzo still has plenty of bite.
Junkrat – Beachrat
Beachrat is one of Junkrat's funniest skins, and not just because it turns his R.I.P.-Tire into an enormous pool float. While Beachrat looks like it should have been released during the Summer Games event, it actually came out during a Winter Wonderland event. Australia is baking in high temperatures during the end of the year in the Southern Hemisphere while the Northern Hemisphere faces chilly temperatures, inspiring this skin's release window. The skin itself is also a ton of fun thanks to the singed tips on Junkrat's hair and the bright orange pool floaties it gives him.
Lúcio – Equalizer
Equalizer Lúcio is without a doubt one of the coolest skins in all of Overwatch. It's one of the only skins that has an animated element: the equalizer on his pants matches his personality and changes color to reflect which song he's playing. While some of Lúcio's other skins give him more of an appearance overhaul, Equalizer's uniqueness and fun appearance set it apart.
Mei – Pajamei
While we're all used to seeing the heroes of Overwatch dressed up in professional wear and futuristic costumes, sometimes it's fun to see what they look like while wearing more casual gear. Pajamei gives Mei a fun set of polar bear pajama pants, a Summer Games sweatshirt, and two oven mitts to keep herself warm. It also features an adorable new hairstyle for everyone's favorite frozen scientist.
Mercy – Witch
Like D.Va, Mercy has some of the best legendary skins of any Overwatch hero, so it's difficult to choose just one of her skins as the best. Witch originally appeared during one of the earliest Halloween Terror events and has been available for several years now, but that doesn't diminish its excellence. It's one of the most popular Mercy skins out there and has maintained its status against competing skins thanks to its dramatic witch hat, pumpkin earrings, and crimson wings.
Moira – Venus
Venus is one of those skins that doesn't necessarily need to be tied to lore or to a season to give its featured hero a fantastic new look. Venus dresses Moira in a plant-inspired outfit, complete with large flower-shaped bell sleeves and vine-green hair. It's a great contrast from her more mechanical and futuristic skins, and there really isn't anything else like it on any other hero.
Orisa – Forest Spirit
Released during an Anniversary event, Orisa's Forest Spirit skin brings an earthy and mythical spin on an otherwise industrial Omnic tank hero. The skin is elegantly crafted and features golden accents that highlight its green and brown color palette nicely. The particle effects on the creatures adorning her horns give a final ethereal touch to this natural-looking skin.
Pharah – Aviator
Pharah has a natural air of "cool" about her, and Aviator helps enhance that. While it's not as dramatic or unusual as some of her other skins, the everyday-ness of Aviator plays up her best visual characteristics. Flying around in a pair of aviator sunglasses and mechanical wings will make anyone feel like the ruler of the skies.
Reaper – Lü Bu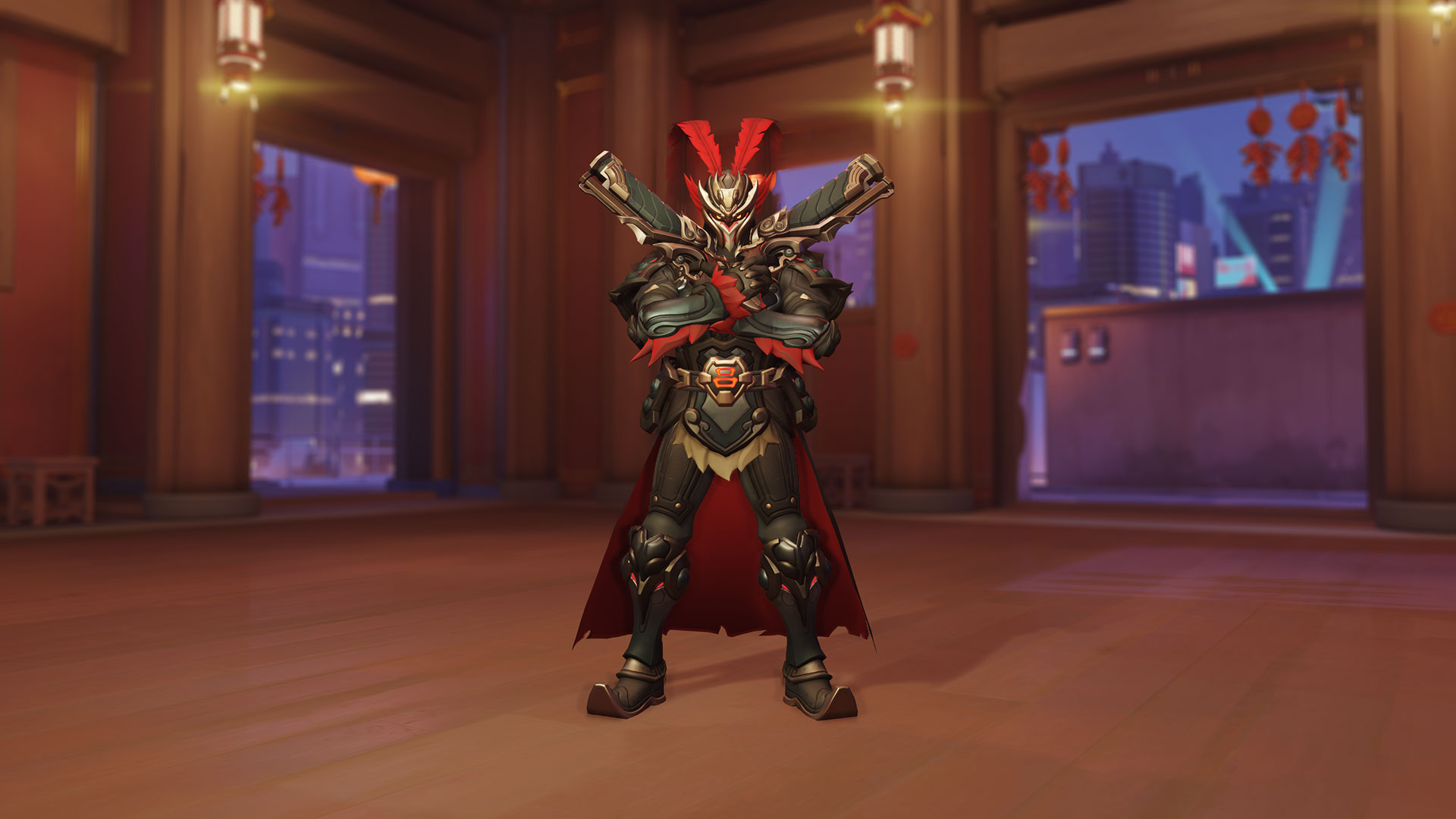 Themed after Lü Bu, a Chinese military general and warlord born in 161 AD, Lü Bu Reaper is the one of the character's sleekest skins. The red-and-black skin sports two long feathers out of Reaper's helmet, which helps it stay true to the character's dark personality while also incorporating Chinese history into its design.
Reinhardt – Crusader
Reinhardt's Crusader skin was released after the premiere of the Overwatch short "Honor and Glory." Crusader is intricately designed, giving fans of the game an insight into Reinhardt's look before he became the shield-bearing hero we all know and love. Its detailed shoulders and gauntlets feature birds in flight, the perfect metaphor for a charging Reinhardt. Also, who can resist young Rein's long blond hair?
Roadhog – Ice Fisherman
All of Roadhog's skins, even the non-Halloween Terror ones, are a little creepy. Ice Fisherman is no exception: it dresses up the huge tank as a walrus with a harpoon, ready to capture anyone who crosses his path. His shoulder is adorned with fish bones and his outfit features more than a few fishing hooks, making him a terrifying enemy to face off against in battle.
Sigma – Flying Dutchman
Flying Dutchman turns Sigma into the famed captain of the deep, complete with ghostly green skin, shipwrecked armor, and sea urchins as weapons. While more than a few heroes have a pirate-themed skin, Flying Dutchman stands out thanks to its complete overhaul of Sigma's looks and its recognizability in battle.
Soldier: 76 – Grillmaster: 76
Jack Morrison has a few interesting legendary skins, but Grillmaster: 76 is definitely the funniest one. As a member of the Summer Games collection, the skin comes fully equipped with bottles of seasoning and a pair of tongs so players can take their barbeques to the next level. His apron, which reads "Raise the steaks," was potentially Blizzard's response to the community deciding to give 76 a dad joke-like personality.
Sombra – Face Changer
Like Lúcio's Equalizer, Sombra's Face Changer is an animated skin that changes the mask over her face on a moment's notice. From sugar skulls to dramatic painted looks, you never know what Sombra will look like next—and she likes it that way. The skin also features a dramatic purple and black hat with green accents and intricate purple robes that accentuate the skin's majesty.
Symmetra – Dragon
Another of Overwatch's most popular skins, Dragon startled everyone when it burst onto the scene as part of a Halloween Terror even several years ago. It completely changes Symmetra's look, swapping out her usual robes and visor for draconic horns, hoop earrings, and a fiery winged bodice. It's her best look by far, even when compared to years' worth of other skins.
Torbjörn – Magni
Blizzard games often feature crossovers between games to celebrate the developer's many universes. Torbjörn's Magni skin references the Magni Bronzebeard character from the World of Warcraft universe, reimagining the hero as a powerful king. His solid-gold hammer, mechanical arm, and armor call to mind royalty, but his eye patch reminds anyone who may cross him that he's still a great warrior.
Tracer – Graffiti
Even though Tracer boasts a huge number of legendary skins, Graffiti Tracer easily stands apart from the rest of her outfits. Sporting a blue hoodie and gas mask, this skin's guns are equipped with spray paint to match her silly and mischievous personality. Her paint-splattered tights and bright blue hoodie are the final pieces on this fun, youthful skin.
Widowmaker – Talon
Talon gives Overwatch players some insight into the sniper's look before she turned into the sniper we all know and love today. While she may be lacking her iconic blue skin in the Talon skin, it makes up for it with blueberry-colored hair and dramatic, completely non-functional armor. The skin almost gives off James Bond vibes.
Winston – Werewolf
Yet another Halloween Terror skin to make the list, Werewolf transforms Winston into (what else?) a werewolf, complete with a shaggy mane and hairy arms. The shackles around his wrists and the wooden armor on his chest suggest that someone tried to contain him, but there's no doubt that he's on the hunt once again. If you look at the back of the skin, it also features a silly little tail.
Wrecking Ball – Jack-O'-Lantern
Equipped with leaf legs and guns, Wrecking Ball's Jack-O'-Lantern skin replaces his mechanical ball with a giant ghoulish pumpkin. The mech's legs have been replaced with vines, and its front lights are now lanterns. What's even better about this skin is the fact that Hammond himself is dressed in a costume of his own: a potato sack that's been tailored to take on the appearance of a bat-like scarecrow.
Zarya – Totally '80s
Zarya's Totally 80's skin will have anyone who experienced the 1980s in stitches. Its neon color scheme, leopard-print tights, and thick leg warmers make it easy to picture Zarya as a demanding exercise coach from a few decades ago. Toss in brightly-colored gauntlets and a big blond hairdo, and Zarya is ready to crush her next workout.
Zenyatta – Nutcracker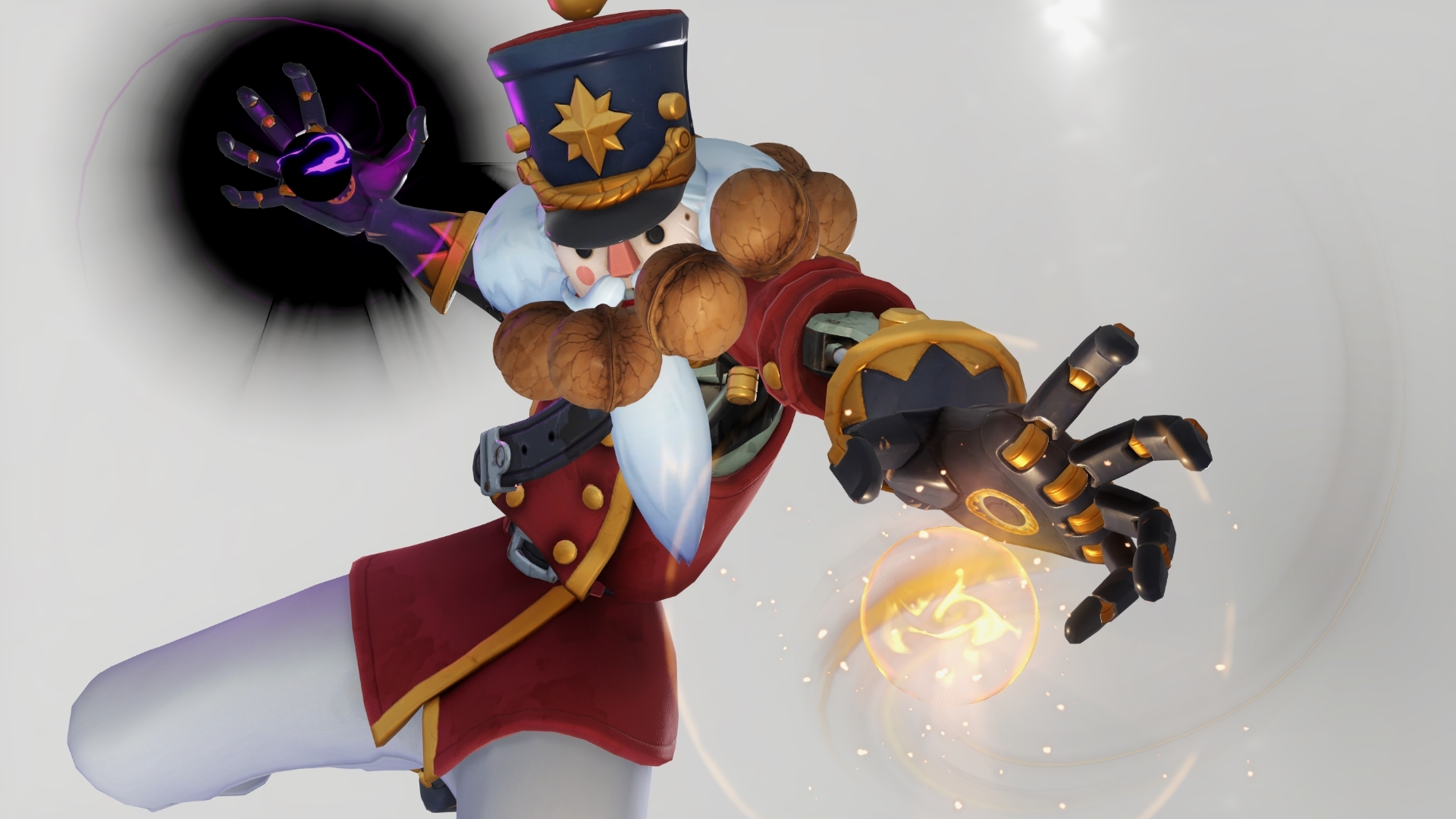 Everyone's favorite Omnic monk has a plethora of amazing legendary skins, but Nutcracker takes the cake. Released during the first Winter Wonderland event, Zenyatta's Nutcracker skin reimagines the support hero as a Christmas toy dressed in a red coat and top hat. To complete the look, Zenyatta chucks walnuts at his opponents in place of orbs. It's just silly enough to make everyone on the battlefield laugh.