MVP. Champion. Winston Savant. Miro.
His high was coming down. He had just stepped off the biggest stage of his life, a stage that he had just be crowned champion upon. Up on that stage, he had a smile across his face; it was hard not to. At one of the largest gaming events of the year, he had just been crowned the MVP and champion in the esport he had just recently dedicated himself to.
On that stage, he was surrounded by thousands of cheering faces, all of which were looking up at him, and the rest of Team South Korea, applauding the unstoppable devastation they committed against Russia's representatives. But he was no longer on that stage.
He was walking to the press area where, just like after every match he and his teammates won, they would field questions from the media. Just like every other time South Korea took questions, he sat back from his microphone, silent, instead allowing his coach Tairong to answer for him.
This time was no different. He went up onto the platform Blizzard had constructed for the players to answer questions from and sat down. As was usual, he leaned back from the microphone, and his eyes found something in the distance to focus on and they glazed over.
But maybe, just maybe, this time was different. His eyes snapped back into focus. A smirk crossed his face. He had just finished crushing the rest of the world and had been named the most valuable player of the tournament.
He was a champion.
Getting Acquainted
No player in Overwatch has a long storied history on LAN yet. But in terms of results, Miro is about as successful as he could be. Miro's debut on LAN started at the APAC Premier, where he shocked the world with his Winston play. APAC became a tournament that was to be decided by the matchups between Lunatic-Hai and Rogue.
The European and Korean powerhouses began their tournament runs against each other. Lunatic-Hai took the series in a confident 2-1, a showing that left many assuming they were now the favorite. After this, Miro and his teammates faced the Chinese team IG.Red and easily swept them into the lower bracket with a 2-0 victory.
Meanwhile, Rogue was still hunting. Down in the lower bracket, they took both series in convincing 2-0 victories as they began to hit their stride. In the match to decide the seeding from their group, Rogue would once again face Lunatic-Hai.
In their initial meeting, Rogue at least kept it competitive, taking a map, but Lunatic-Hai seemed to have found another level. Miro continued to showcase his unique positioning and calculated aggression as he disrupted Rogue's flow and enabled an easy 2-0 for his team.
Before the group stage was even over, we already knew who the stars were for Lunatic-Hai. Nearly every player had distinguished themselves as contenders for some of the best in the world, but Ryujehong and Miro were a cut above. They continued their dominance in the playoffs; sweeping their quarterfinal match against Vici Gaming 3-0, and crushing the North American team NRG 3-1.
On the other side of the bracket, Rogue was still lurking. Not to be held back from glory, Rogue found their next level. They had similar playoff results to Lunatic-Hai as they defeated Afreeca Blue 3-1, and taking down the Chinese team NGA Club 3-0. As such, the stage was now set, for the third time in the tournament, Rogue would do battle with Lunatic-Hai in order to determine the champions.
But as we saw, this match was much different. Over the course of the tournament, Rogue had refined their play and was ready to fight the rematch. Tviq took this series to cement himself as one of the best flex-DPS players in the world. As a unit, Rogue set him up over and over on both Genji or Reaper to shred Lunatic-Hai apart. The Korean squad had no reliable answer to the aggression of Rogue and, for the first time, found themselves on the losing end, falling in a crushing 4-1, and ending their first LAN just short of the title in second place.
With APAC over, Lunatic-Hai returned to Korea without a title and by all accounts they seemed eager to tear someone apart. Unfortunately for the NA roster of Team EnVyUs, they were to be their first victims. Miro was an absolute hero for his team, especially on Temple of Anubis, where he abused the numerous high ground spots to approach his enemies from unexpected angles. Although they faltered on Numbani against HarryHook's infamous Soldier 76, Miro and the rest of Lunatic-Hai was clearly dominant as they took a 3-1 victory against the previously undefeated nV.
How To: Have an MVP Performance
With still so little LAN experience under his belt, Miro now traveled to BlizzCon to take place in the Overwatch World Cup. In hindsight, we now know, but this tournament was set to be his playground, and he ruled over all who faced him.
Korea was seeded into Group C alongside Finland, Australia, and Taiwan. The Blizzard created narrative was that Korea was a team to not take lightly. Whereas if you believed what you were told, the final was almost set to be Finland against Sweden, with Sweden destined to be the champions.
But Miro and the rest of Korea wasn't ready to follow the script. Both Finland and Korea, to no surprise, easily crushed Australia and Taiwan. So when they finally faced each other, it was for the number one seed from their group. And instantly, it was obvious Miro was prepared.
Finland tried to anti-strat Korea by predicting where their defensive holds would be, however they didn't expect Miro to change it up so heavily. He played his already famous Winston and shut down Taimou's Widowmaker almost singlehandedly. He exerted so much pressure on Taimou that the Finnish player switched heroes in an attempt to even affect the match.
This was the story of the entire tournament. Could any team properly deal with the pressure Miro exerted on their backlines? And even if they could, would he have bought so much time that his team had ample time to left click on their opponent's heads and win the fight regardless? As we saw, the answer to both questions was no.
Miro and his aggressive tank play carved a path through each and every team that Korea faced. They swept every single opponent they faced, taking 2-0 victories against Australia, Finland, the United States and Taiwan. The tournament favorites of Sweden proved to be cannon fodder for Korea and they fell 0-2 in the semifinals.
Even in the finals, Russia, with their star player Shadowburn, didn't even come close, and quickly fell 0-4, with the entire best-of-seven taking under an hour, that included commercial breaks. The closest Korea came to losing even a single map was against the United States when a bug literally prevented Ryujehong from moving, meaning he was picked off for free, giving the U.S. a huge tempo lead.
Korea swept the entire event, refusing to drop even a single map, and Miro was a huge reason they did so. He was rightfully awarded the tournament MVP for distinguishing himself as easily the best Winston in the world. While so far his career has made for a beautiful storyline, we're left with more questions then answers. What distinguishes Miro's play that made him so shockingly effective against every team he faces? In this piece, I intend to explain exactly that.
Calculated, All Planned. Promise
The aspect of Miro's play that the casters at the World Cup were the quickest to highlight was how frequently he dove his opponents and how rarely he died. What made this even more surprising was that he was also the primary tank player for Korea, so he did not have a Reinhardt in the front lines sharing the damage soaking burden with him.
Instead of playing that second front line hero, Miro worked around shield timings. The two shields he had available to him were of course Winston's dome, and Zarya's bubble, both of which increased the time he was able to stay in the enemy team with less fear of being taken down. Miro certainly wasn't the only Winston to receive Zarya bubbles, but he played with them better than most.
When he would receive a bubble, he was less likely to use his own dome to absorb damage. Not immediately dropping his own bubble extended the time he was safe from enemy damage, which let him cause more havoc.
Because he was safer for that extra couple of seconds, it meant that his jump was always available when he needed it. He could go in, stay safe for several seconds, and then jump back out when his rocket pack had recharged. This was a key part of how he was able to dive alone so frequently and not die.
The abnormal amount of time Miro spends in the enemy backline zapping players means that he often does more damage than he blocks for his team. The extra damage he deals means that Miro's Winston has Primal Rage available significantly more frequently than other Winston players, and every time he uses that ultimate, he has a huge impact.
Losing His Temper
Primal Rage is an ultimate that enables even the most passive of players to suddenly become a disruptive force. Winston sets aside his Tesla Cannon in favor of his bare hands and instead of zapping his foes, he bats them aside with his savage blows. This means that any time a Winston who is using his Primal Rage finds himself in the enemy backline, they will be able to sow chaos as they literally throw their enemies about.
In this aspect of his Winston play, Miro is nearly identical to many other top players. He can often be found in his enemy's face, slapping them to death. But once again, Miro finds another way to distinguish his play as he abuses two specific reset mechanics of Primal Rage, which both allow him to continue pushing the limits of how hard he can dive onto his foes.
The first mechanic is the health reset, where no matter the health Winston is at when he uses his ultimate, his health goes to 1000, double his normal health total of 500. Many Winston players make the mistake of desiring the disruptive knockbacks too heavily, and cast their ultimate before the fight begins. But instead, Miro uses the health reset like his third shield.
His normal play pattern of using the shields is now augmented. Once the shields wear off and he begins to take potentially lethal damage, only then does Miro use his ultimate. This means instead of just gaining 500 health, he often gains well over 800 as he pushes his limits to be even more difficult to kill than Winston already is.
Not to be forgotten, the second reset mechanic is on Winston's jump. Miro uses this mechanic in a way no other player does. Most Winston players we see use the jump reset as a way to re-engage after they have already used the jump pack. But what Miro does differently is he uses the reset as a way to not just re-engage, but extend the range at which he can engage.
If you were to ask most players the question, "can Winston use his jump while already mid-air?" many would correctly answer yes. If you were to then ask, "can you use the reset jump mid-air?" you would be met with more hesitant answers, as it isn't a mechanic we see often. It allows the Winston player to fly immense distances if desired, ideally to preemptively engage their opponents.
Miro does just that. On king of the hill maps especially, he uses this mechanic to fly from the point all the way to his enemy's spawn point. He then bats them around to stall for time and allow his team to regroup, respawn, or heal back to full strength. He also does this in key moments, like on Temple of Anubis.
Several times at the World Cup, Korea would full hold their opponents at the first point, meaning all they had to do was take one point to win. After clearing the first point, Miro would immediately use the double jump to fly across the entire map from point A to point B and use the knockback to prevent his enemies from even attempting a retake, thus securing the win.
Miro as a player understands the limits of his chosen hero, but abuses certain mechanics in his available kit to push those limits past what we often even think is possible. But it's what he does when he pushes those limits that captures our attention the most.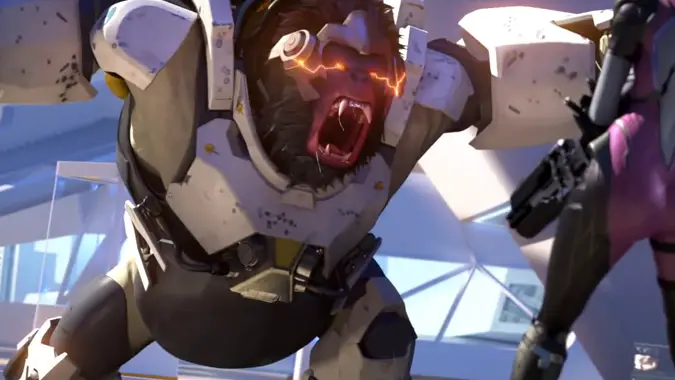 Target Locked
Miro has an uncanny ability to find his enemy's strong points, and turn it into their biggest liability. His relentless and calculated aggression is often channeled onto just a couple of key targets. But, the removal of just those key targets as we see is so frequently enough to cut the legs out from underneath a team.
When Team Korea faced Team Finland, Taimou opened up on his pocket pick, Widowmaker, and in doing so, sealed his fate. Miro dove upon him time and time again, completely preventing Taimou from impacting the game. With his body and shields, he never allowed Taimou's Widowmaker a window to find the shots he needed. Miro was so effective that he eventually forced Taimou onto Reaper in a desperate, but futile, attempt to change the outcome of the match.
But it's not just against DPS players that Miro can remove so effectively. Going back to the World Cup, this time in the finals against Russia, Miro was the deciding factor in stopping Shadowburn. He did this not by chasing Shadowburn's Genji, but instead, focused in on a different target, this time Rubikon's Ana. Rubikon had no chance of avoiding Miro, and was killed repeatedly. This meant that Shadowburn was lacking the Nano Boost he had become accustomed to and was unable to have the same impact without it, leading to Russia's defeat.
Miro's Winston consistently impacts the match by pushing his boundaries to remove the enemy threat. But the question that's still left is how on Earth does he actually reach his opponent's backline so reliably?
Die, Die, D…. Peanut Butter?
Especially in recent months when we think of heroes and players who approach from unexpected angles, our minds most often go to Reaper. They frequently utilize small ledges and hidden angles to make up for Reaper's lack of in-fight mobility and begin the engagement already at an optimal range for his shotguns. Miro employs many similar tactics to surprise his foes and take the initiative in the fight.
He will often put himself into classic Reaper positions, like small ledges above choke points where he can drop down into the enemy team from. This is an important distinction to make, as he often stands above his foes and uses the high ground to zap players that are just barely in range. But it also shortens the time the enemy team has to react to him. Instead of it being very visually telegraphed that Miro is flying at you, he suddenly appears in your backline.
This often means that he drops dead in the middle of his foes, which allows him to zone out the enemy DPS and supports. The fact that Miro doesn't have to contend with enemy tanks leaves him in a situation where he is freely able to absorb focus and be an offensive carry force for his team.
His positioning is the final piece of the puzzle, together with how well he abuses Winson's kit, plays around his shields, and selects his targets, comes to finish the picture. And once that picture is clear, we see it forms to be the best Winston player, and the best primary tank player, in the world.
Do You Believe?
Now those are both big claims, and your reaction should be hesitant. You need to examine how you think about tank players in Overwatch, and if Miro fills the role you envision. If it doesn't, that's fine, but to me, he is the best example we currently have in Overwatch of how to play the role of a primary tank.
He creates the most space for his allies, especially on Lunatic-Hai, he must. On his home team of Lunatic-Hai, he suffers from having to compensate for a lackluster DPS player who requires more time to do the same amount of work. All of the reasons I've listed above combine to make an aggressive Winston, who forces his enemies to deal with him.
He made his name on Winston, but his Reinhardt is still one of the best in the world. He still zones aggressively, pushing forward and frequently dropping his shield in favor of his hammer. We tend to focus more on his Winston though, because his mobility affords Miro the room to be creative. But on both heroes, he forces his enemies to deal with him as an offensive force in his own mind.
If they ignore him, he will tear them apart himself. But if they do decide to deal with him, he so effectively pushes the limits of how long a tank can survive. The time he buys allows the rest of his team to thrive, and forms one of the deadliest rosters in the world. A roster that Miro leads into battle.
MVP. Champion. Winston Savant. Miro.
We're still in the budding stages of Overwatch, both as a game and as an esport. It is far, far to early to call Miro an all-time great, so I warn you against leaping to conclusions. But what we have seen for now is a spectacle to behold and we should revel in Miro's glory.
Miro's future within Overwatch certainly looks bright, and luckily for us all, Overwatch's future looks equally as bright. I can't wait to see where this story goes.
---
Who else do you think is in contention for the best Winston in the world? Comment below or tweet your answer to us @GAMURScom.
GGs, Elbion
Follow the Author: @tuffsj
Image Credits: Blizzard Entertainment