Street Fighter V's premiere end-of-year event, the Capcom Cup, is nearly upon us.
The 2018 Capcom Cup will be heading to Las Vegas in the middle of December and it's one of the biggest fighting game tournaments in the world. It's the final event in the Capcom Pro Tour series, with the 32 best players from around the world facing off for one of the biggest prize pools in FGC history.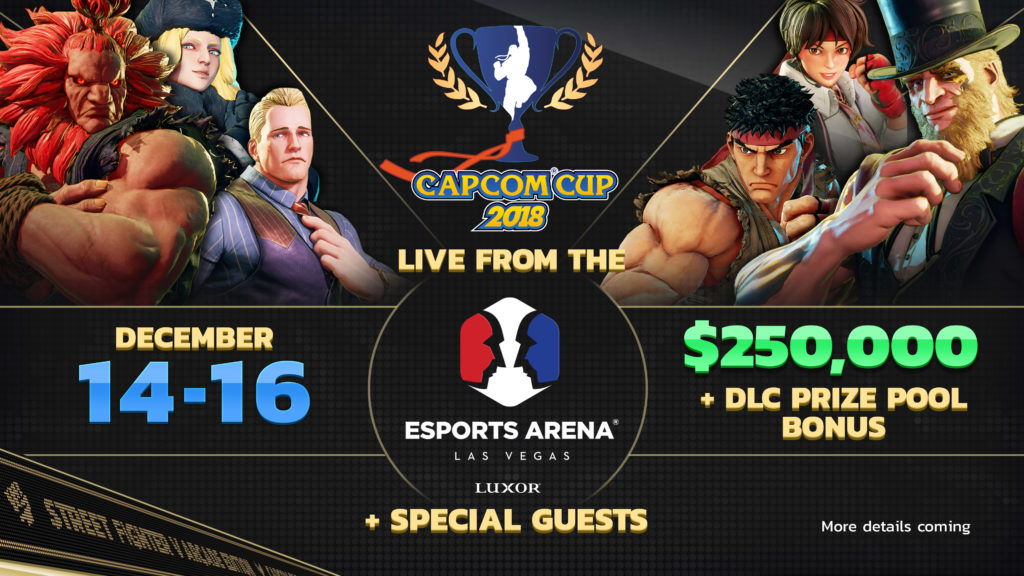 To make sure you don't miss anything, this guide should help make sense of everything going on this December.
When is it happening?
Capcom Cup 2018 kicks off Dec. 14 to 16 in Las Vegas' Esports Arena.
On Friday, Dec. 14, the Last Chance Qualifier will begin. The Last Chance Qualifier is a small tournament held just before the main event where the winner gains entry into the main Capcom Cup event as the 32nd seed.
On Saturday, Dec. 15, the main event will begin, with the top eight finals starting on Sunday, Dec. 16.
What's the prize?
Prize money is the main thing on offer for those competing at the Capcom Cup.
It's one of the biggest prize pools in the FGC, with the champion receiving a minimum of $250,000. Capcom has also released a special Capcom Pro Tour DLC pack for Street Fighter V which funds more money for the prize pool.
How can I watch the Capcom Cup event?
The Capcom Cup event will be livestreamed on the CapcomFighters Twitch page, similar to previous years.
The actual schedule, including times for matches, will be posted at a later date.
Where can I keep track of everything that's going on?
Just like with previous years, the Capcom Cup and its bracket will be available on the Capcom Pro Tour website. You'll also be able to track how your favorite players are doing and check on the progress of the event as a whole over the weekend.
What else can we expect from the event?
Capcom will surely show off the next DLC season pass for the game as we head into season four, which means a wave of new DLC fighters are on the horizon.
We could also potentially see other game announcements during or after the finals, just like last year when Capcom announced the Street Fighter 30th Anniversary Collection.
What exactly will be shown off, though, is anyone's guess. So be sure to watch the event throughout the weekend for any potential surprises.