The League of Legends World Championship is right around the corner, bringing some of the best teams to South Korea to prove that they can be world champions.
Before things kick off, however, teams need to know who they're playing against, which is where the Worlds Play-In and Group draw comes into action.
Both the Play-In draw and Groups draw will take place on Sept. 23 at 7am CT. There, the 24 teams taking part will learn who they're up against throughout October on their quest to win the title.
Play-In draw
The Play-In Stage starts on Oct. 1 and ends Oct. 7. Twelve teams will be looking to win their respective groups for a shot at earning a spot at the Worlds Group Stage, which begins on Oct. 10.
How are teams seeded?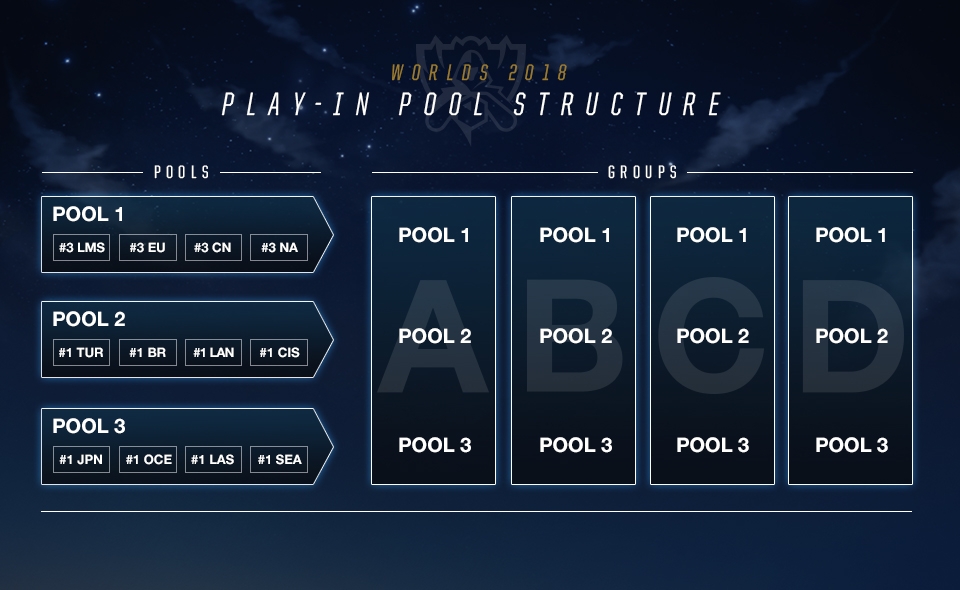 The 12 teams taking part in the Play-In Stage are split into three different pools based on the last two years of competitive results internationally.
The Play-In pools at a glance
Play-In Pool
Teams
One
G2 Esports
Cloud9
EDward Gaming
G-Rex

Two
SuperMassive eSports 
KaBuM! e-Sports
Infinity eSports 
Gambit Esports
Three
DetonatioN FocusMe
Kaos Latin Gamers
Dire Wolves
Ascension Gaming
The EU LCS third seed G2 Esports, NA LCS third seed Cloud9, LPL third seed EDward Gaming, and the LMS third seed G-Rex all go into pool one in the draw.
Pool two consists of Turkey's SuperMassive eSports, Brazil's KaBuM! e-Sports, Latin America North's Infinity eSports, and the CIS region's Gambit Esports. 
Pool three has Japan's DetonatioN FocusMe, Latin America South's Kaos Latin Gamers, Oceania's Dire Wolves, and South East Asia's Ascension Gaming.
How does the draw work?
One team from each pool will be placed into either Group A, B, C, or D. All four teams from pool one will be drawn first, followed by pool two and then pool three.
The three teams in each group will then face off against each other in the Play-In Stage for a shot at making it to the Group Stage.
Group draw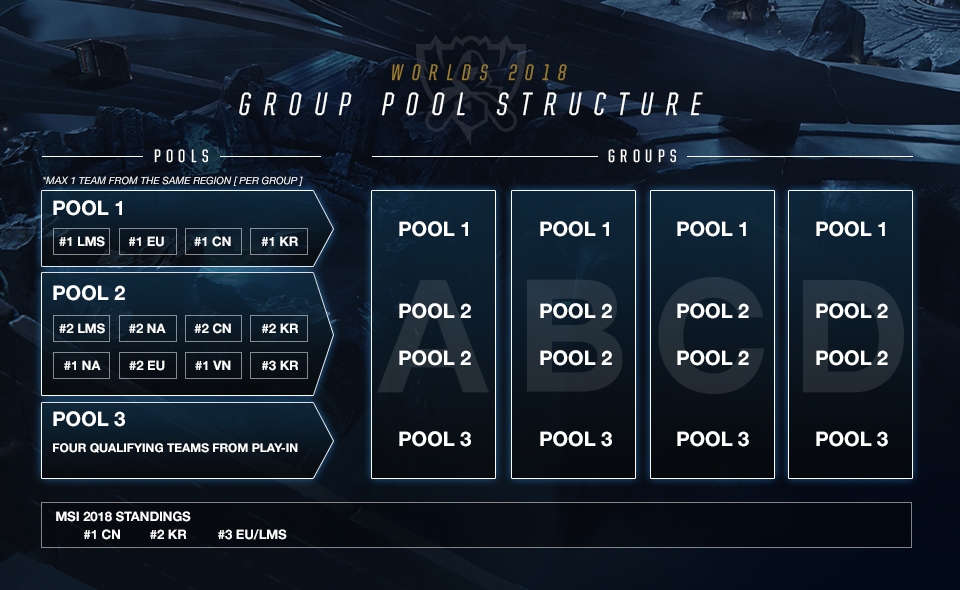 Groups will begin on Oct. 10, with 16 teams looking to qualify for the knockout stages by finishing either first or second in their respective pool. The Group Stage ends Oct. 17 with knockouts beginning on Oct. 20.
How are teams seeded?
The 12 teams that qualified for the Group Stage along with the four teams to qualify from the Play-In Stage will be split into four different pools that will be placed into four groups.
Out of the five major regions, the four that performed the best at this year's MSI are given slots in pool one for their first-seeded teams, while the worst performers' (the NA LCS) first seed are placed into pool two.
The Groups pools at a glance
Groups Pool
Teams
One
Fnatic
Royal Never Give Up
Kt Rolster
Flash Wolves
Two
Team Vitality
Team Liquid
100 Thieves
Afreeca Freecs
Gen. G
Invictus Gaming
MAD Team
Phong Vũ Buffalo

Three
Play-In winner one
Play-In winner two
Play-In winner three
Play-In winner four
The EU LCS' Fnatic, LPL's Royal Never Give Up, LCK's Kt Rolster, and LMS' Flash Wolves all enter pot one after winning their respective region's summer title.
Pool two then consists of the EU LCS' Team Vitality, the NA LCS' Team Liquid and 100 Thieves, LCK's Afreeca Freecs and Gen. G, the LPL's Invictus Gaming, LMS' MAD Team, and Vietnam's Phong Vũ Buffalo.
That leaves the four teams that qualified via the Play-In Stage to make up the final four slots in pool three.
How does the draw work?
The group draw on Sept. 23 will only place teams from pool one and two into groups. The teams that have yet to qualify for the third pool will then be drawn into existing groups after the final Play-In elimination match on Oct. 7.
Unlike in the Play-In draw, however, the Group draw has certain rules. For starters, a group can't have more than one team from the same region in it. So if two EU LCS teams were drawn in the same group, for example, then the second EU LCS team would move to the next available group.
On Oct. 7, when pool three teams are added to the existing group, it's possible that the draw can become invalid in a few situations.
In these instances, checks are carried about before the draw to see which teams can go where. Teams could be automatically placed into one of the four groups even before the draw begins, or during it, if they can't go anywhere else.