Riot Games' League of Legends is the most popular game in the World. That's true for casual and professional gaming. This year's Worlds peaked at 14.7 million concurrent viewers, which is insane. In total, 43 million unique viewers watched the finals. To put things in perspective, UEFA expected about 300 million viewers for the European Championship final this year. Yet, these amazing figures don't answer expectations when compared with the annual developments over the last years.
Let's go all the way back to get the bigger picture.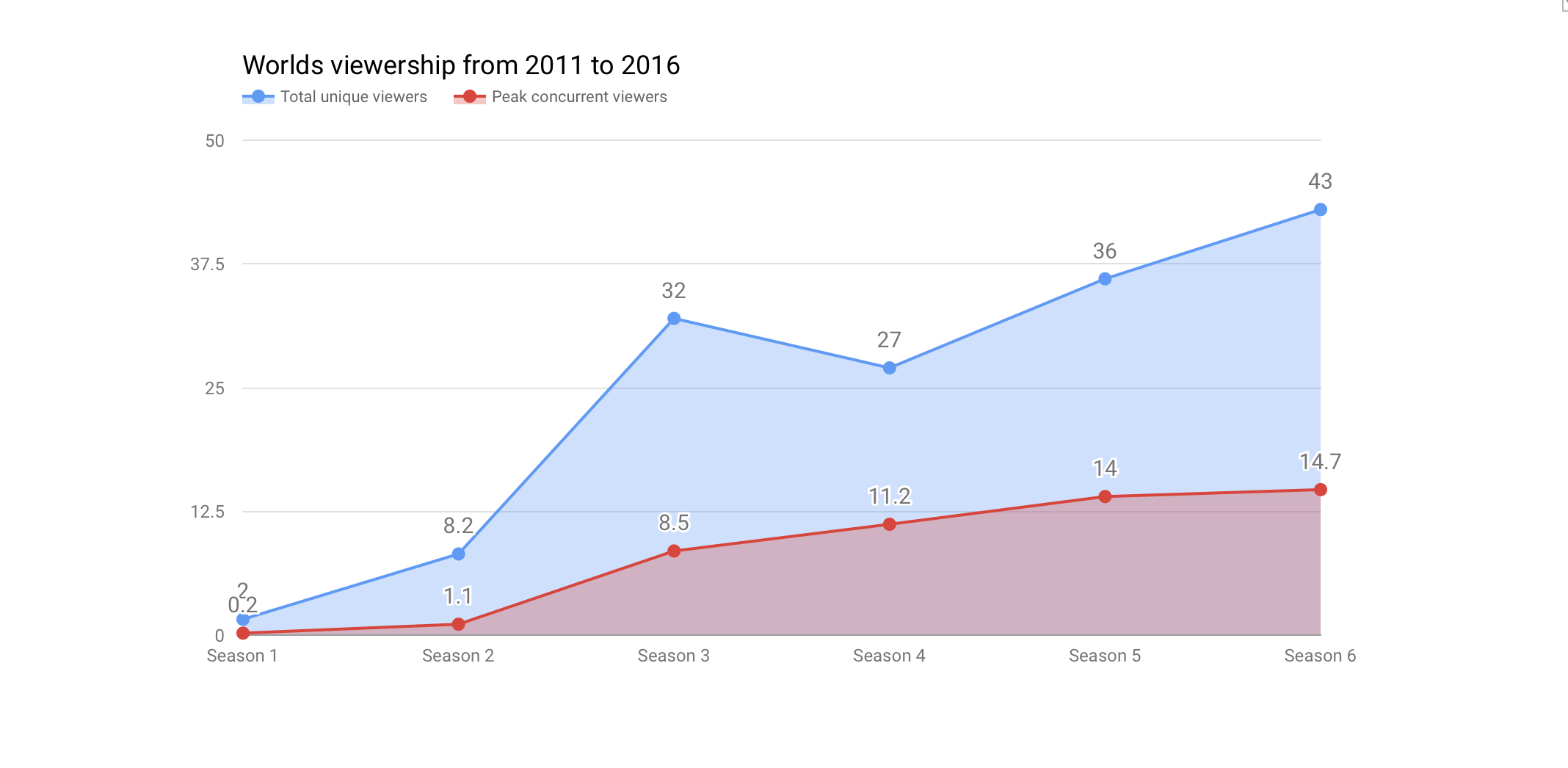 League's viewership growth is slowing down. Up until Season 3, the annual growth rates were out of this world. The figures grew between 300 and more than 600 percent from one year to the next. Season 4 saw a slump. While the peak concurrent viewership grew for about 30 percent, the total unique viewers declined by 15 percent. Season 5 pointed upwards again with growth rates of about 30 percent in total viewers and 25 percent in peak concurrent viewership. And finally, this year barely reached 20 percent growth in total unique viewers and only 5 percent growth in peak concurrent viewership.
Again, this year's figures are not bad at all. But they are worse-than-expected. And if you ask me, Riot seems to be hiding that fact behind a wall of smoke. Just take a look at how the company communicated this year's numbers compared to the previous year's. Less words, more glitter. Instead of a press release like in the last years, Riot published a fancy infographic with its numbers, also including things like the size of the production, game statistics, charts, graphics, pictures.
From Season 1 to 3, Riot focused on reporting the hard numbers, namely, the total unique and peak concurrent viewers. In 2014, coincidentally the year where total viewers declined, Riot suddenly also started reporting "cumulative daily unique impressions"—that number was 288 million—and also used "total hours watched" for the first time—179 million. Both metrics deliver impressive figures and that's what they're meant to do: impress. Neither cumulative daily impressions, nor total hours watched are really useful stats. The first is inflated by counting the same viewers repeatedly, the second is completely out of scale. 180 million hours are more than 20,000 years. What's the message?
And both metrics were prioritized by being mentioned before the hard numbers. It's also worth mentioning that, in 2014, the "climb" in peak concurrent viewers gets explicitly framed that way, while the sentence about the decline in total unique viewers clearly misses a word. Riot avoids to say "…, down from 32 million in 2013."

And then, there's the 2015 announcement. Riot boasts about its numbers: A record-breaking year for the company in every instance, even "history-making." Where's all that euphoria in 2016? All gone? Only a "GG" for an "amazing and humbling journey" is left. The following graphic is cold as ice compared to the "blew our expectations away" eulogy from 2015. It seems to be burying the important numbers between production porn and in-game statistics.
League of Legends is still in a prime position. According to Riot, the game has 100 million monthly active users. It made $1.6 billion in revenue last year. But this certainly can't hide the fact that the competitive side of things has stalled. Part of the reason why Worlds 2016 was worse-than-expected viewership-wise is that competitive League was kind of boring to watch this year. A Korean team, expectedly, took the World Championship again, only 56 out of 113 champions were picked and banned, and fan-favorites from EU and NA disappointed.
League esports is under pressure in 2017. On the one hand, the competition from other esports titles is getting more fierce. Blizzard's franchised Overwatch league looks very promising, at least on paper. Competitive CS:GO gained a lot of momentum last year, even if the aftermath of the gambling scandals was a harsh blow. And then, there are internal issues to solve. Team owners in the LCS want more options to monetize, the game's development and balancing is a constant challenge, and, last but not least, Worlds needs to be bigger and better—because that's what's expected from the industry leader.