Marketing research firm eMarketer said advertising revenue for American esports will reach $214 million by 2020 in its first esports and gaming report.
The eMarketer study states that monthly esports viewership in the U.S. will reach 30.3 million, an increase of 18 percent over 2018.
Esports viewership on Twitch and YouTube is also projected to increase by 50 percent through 2023, reaching 46.2 million people.
The report compiled data from several other studies and analyses, including one from the U.K.-based company, PwC.
Total global esports revenue exceeded $800 million in 2018, with $277 million coming from sponsorships and $181 million from media rights contracts. Consumers spent $55 million on event tickets, the smallest of the five revenue streams designated by PwC.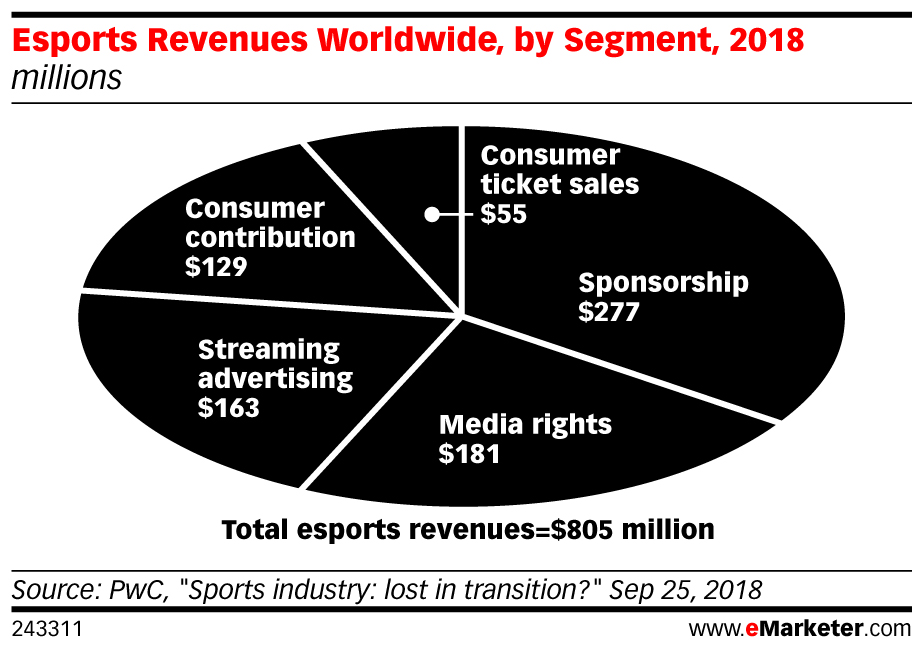 The stream to keep an eye on is apparently media rights revenue since PwC projected it will grow 11.5 percent by 2022 to approximately $449 million. That's more than twice as fast as the 5.5 percent growth rate expected from the sponsorship and advertising revenue streams.
These projections look promising for businesses looking to enter the esports space. Combining them with Newzoo's prediction of global esports revenue reaching $1.1 billion in 2019 (26.7 percent increase over 2018) makes it likely more non-endemic brands will be jumping in soon.