Apex Legends just launched its first-ever weekly challenges as part of its second battle pass.
The challenges, offering a series of rewards from Battle Pass levels to EXP, task the player with completing a set amount of missions weekly until the end of season two.
While Fortnite and other battle royale games have been doing this for a while now, this is Apex Legends' first ever set of challenges— and they are pretty lackluster.
Each player will all have their own unique weekly challenges to complete but they all ask a player to shoot so many headshots with a weapon or deal damage or do something with a certain character. For example, here is our weekly challenge: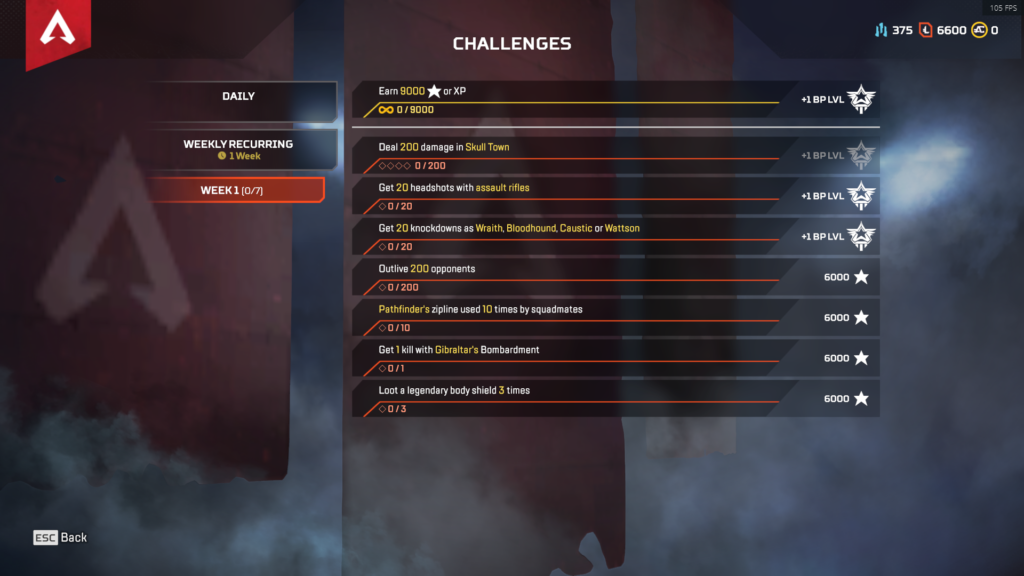 Deal 200 damage in Skull Town – 1BP Level
Get 20 headshots with assault rifles – 1BP Level
Get 20 knockdowns as Wraith, Bloodhound, Caustic, or Wattson – 1BP Level
Outlive 200 opponents – 6000 Stars
Pathfinder's zipline used 10 times by squadmates – 6000 Stars
Get 1 kill with Gibraltar's Bombardment – 6000 Stars
Loot a legendary body shield 3 times – 6000 Stars
Most of the challenges reward the player for doing specific actions in games, but most of them are just around firefights. There isn't anything like dropping in a certain area or completing a set task or hiding a hidden gimick that really make them stand out.
Still, its good at least to have challenges, unlike last season, so this is a step in the right direction.