Final Fantasy 15 is crossing over with an unlikely title. Assassin's Creed is headed to the Square Enix RPG later this August, Ubisoft announced today.
Ubisoft published a blog post detailing Final Fantasy 15 DLC themed around Assassin's Creed earlier today at gamescom, the . First on Aug. 30, Final Fantasy 15 players who own the Dream Egg from the Moogle Chocobo Carnival will see an Assassin-themed outfit for Noctis.
Then, on Aug. 31, the free Assassin's Festival DLC hoists signs and banners across Lestallum, transforming the town for the event and adding in new events for players to explore. Plus, there's another Assassin's Creed outfit in the festival DLC, as well as themed items and features. The upcoming Assassin's Festival DLC also adds new abilities that allow Noctis to move and behave like an Assassin, down to some of the series' abilities. An upcoming announcement trailer details the DLC's features.
There's no word yet whether Assassin's Creed Origins will receive any themed Final Fantasy DLC as of yet. Easter eggs found throughout the Assassin's Creed Origins announcement trailer and Origins' gamescom trailer, however, feature shout outs to Final Fantasy, and a November trailer for Final Fantasy 15 also has an Assassin's Creed reference, according to Ubisoft. So while it remains unclear if Origins will receive crossover DLC, it seems likely based on the trailers' content.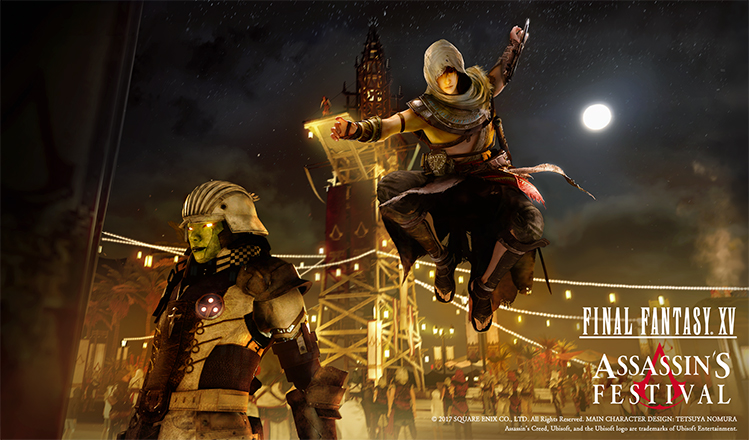 The Assassin's Creed-Final Fantasy crossover began after an informal meeting nearly three years ago at Tokyo Game Show, in which developers from both franchises praised each others' work. The official announcement during gamescom was since commemorated with official artwork, showcasing the crossover between Assassin's Creed Origins and Final Fantasy 15.
"This collaboration is the result of being huge fans," Origins director Ashraf Ismail said in Ubisoft's post. "There's a lot of respect between the two teams and we couldn't be more thrilled with the opportunity to pay homage to each other's work."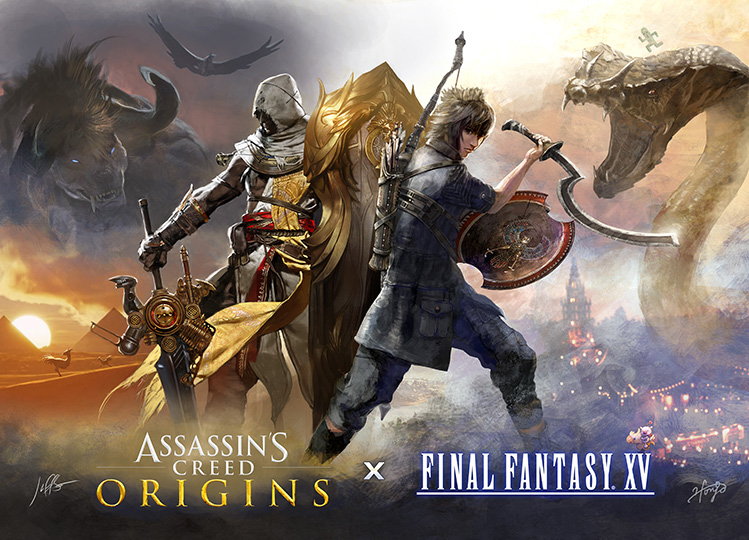 Assassin's Creed Origins launches on PlayStation 4, Xbox One, and PC on Oct. 27.