It feels like everyone is excited about the launch of Blizzard's Overwatch League, which brings together 12 Overwatch teams from across the world for a months-long tournament series.
Hype is at all-time high for Overwatch, and it's impacted the most unlikely of place—porn website YouPorn. We already knew that a lot of folks like Overwatch porn, but some like Overwatch League more. Overwatch-related porn searches were up on Jan. 10, the day Overwatch League officially launched, according to YouPorn. But the searches for Overwatch porn peaked on the second day, Jan. 11.
Related: Turns out people are still really into Overwatch porn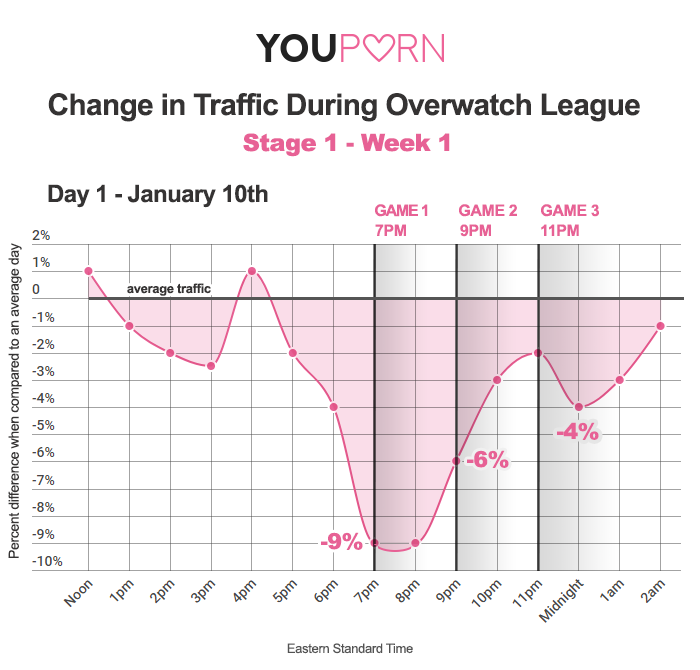 "Since Overwatch came out in 2016, it has consistently been one of the top 20 most popular term searches for us," YouPorn said. "The numbers show that there was a 26 percent increase in Overwatch-related searches beginning on day one."
But during the Overwatch League itself—specifically during the San Francisco Shock vs. Los Angeles Valiant match—YouPorn's total traffic decreased by nine percent for one hour. The numbers continued to stay below average, but slowly went back up. It's far too early in the Overwatch League, and too little data, to concretely say that the Overwatch League is the pure reason for the dip in YouPorn's traffic, but across the first week, the numbers are consistent.
The Overwatch League continues again tonight at 5pm ET.