Musician and illustrious Twitch streamer T-Pain got his daughter Lyriq an Overwatch birthday cake this year. Are we invited to the party?
T-Pain asked Georgia-based cake shop Cakes by Darcy to create the cake with the likeness of Overwatch hero Jesse McCree. The two-tiered cake is topped with a Funko Pop!–styled McCree, with "Happy birthday Lyriq" emblazoned on the front. A big Overwatch logo anchors the cake's base laser, surrounded by a barrage of golden bullets.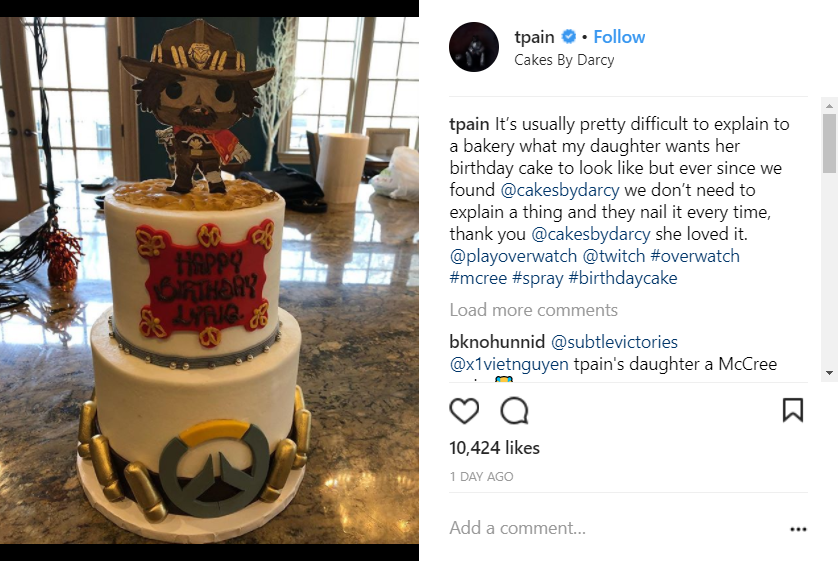 Yep, checks out. That's an Overwatch cake.
T-Pain's daughter Lyriq started playing Overwatch after watching him play. Apparently, she's already "waaaay better" than T-Pain, too. When Kim "Geguri" Se-yeon was confirmed as part of Overwatch League's Shanghai Dragons, T-Pain tweeted in celebration. "It gives me faith that she'll be accepted into a world that we both love so much," he said.
She's even played on stream with T-Pain—of course, as McCree.
What we're saying is, T-Pain's daughter is obviously within the next generation of Overwatch League pros. First step, Overwatch League birthday cake. Next step, the big leagues. That's how this works, right?