The Overwatch Open concluded today, live on national television featuring a promising series between North America's Team EnVyUs (NV) and Europe's Misfits. For the chance at a $100,000 dollar prize and the title of champion, the teams went to battle. In case you missed any of tonight's action, we're here with your recap.
Map 1: King's Row
While traditionally thought of as a strong map for NV, the Misfits had other ideas. They tore through NV's defense, lead once again by Soon's Reaper, and pushed the payload through the entire map in near record timing. NV seemed to not understand how to play against Reaper and had both DPS and support players ignoring how close they were to Soon. This was likely a symptom of playing in NA, which has a distinct lack of Reaper talent.
NV had a mountain ahead of them. Misfits had over four minutes left to attack again, and NV struggled to even capture the first point. They slugged their way through the map and managed to finish, but with no time remaining. Meaning that in order to just force a tiebreaker they would have to hold Point A for four minutes.
NV put up a fight and held off several assaults from the EU team, but after attempting to stall the capture they did fall. Misfits took an early lead, going up 1-0 in the series.
Map 2: Nepal
As EnVyUs lost the first map, they were allowed to select the next match and they wisely chose Nepal. Famous for being one of the best king of the hill teams in the world, they were hoping to bring the series back and even up the score.
On king of the hill it is critical to have a Tracer. Her mobility allows her to survive on the point, and the close quarters favors her pistols. Unfortunately for Misfits, this means Soon was taken off of Reaper because he is the best Tracer player they have. Soon noticeably struggled to find his tempo, and was continually shut down by Roadhog piloted by none other than Taimou. He flipped a switch in this map and was constantly hitting hooks. Taimou created man advantages for NV in the blink of an eye over and over, pulling them back into the map. When some damage was called for, he swapped onto his famous McCree to continue his demolition of Soon, trading in his hooks for headshots and hitting just as many.
On the back of Taimou's individual play and their overall teamwork, NV closed out Nepal 3-1, bringing the series to a tie set 1-1.
Map 3: Watchpoint Gibraltar
Misfits are no fools. They know how dominant EnVyUs can be on king of the hill maps, and had just received a fresh stinging reminder. So for their map choice they brought it back to a map with a payload, right in their wheelhouse.
Initially, it looked good for NV. They crushed through most of the first area, but made a critical mistake right before entering the hangar phase. In the final skirmish, they used several unnecessary ultimates as the fight was already won. These missing ultimates would mean they lost the next full engagement, and with it their momentum.
After losing their initial momentum, NV seemed unable to adapt. Taking a few fights before InternetHulk went onto his Winston to reach the high ground of the shuttle. But when he did this, the rest of the NV squad was cut off and demolished by the McCree of Nevix. Misfits gave up a bit more ground as the round wore on, but held NV inside the hangar, just short of taking the second point.
Tasked with only taking two out of three areas of the map, the situation was looking up for the Misfits. And indeed it was to be so. NV put up a fight, but they seemed lost. It was on this defense that NV's lack of a strong Reaper player was most apparent, as they were unable to abuse the defenders high ground advantage Gibraltar offers properly.
It was another dominant victory on a payload style map for the Misfits, putting them on tournament point ahead 2-1.
Map 4: Lijiang Tower
Unsurprisingly, for their second map choice, EnVyUs selected the second king of the hill map in the pool. Playing for their tournament life, NV faced elimination and the possibility of losing another event they went in to as the favorites.
NV continued to struggle with Reaper, both playing with one and against one. Taimou picked up Reaper when the teams met on Control Center, and he even went to the high ground with Death Blossom ready. However, unlike when Soon or Akm dropped into an enemy team, he didn't find an opportunity to wipe up several players. Taimou instead got chunked out and forced away while his team fell to pieces.
The only point NV managed to capture was based off of a mistake from the Misfits, as their players forgot to stay on the point in overtime. Besides that, Misfits were the dominant squad. They worked around their ultimates better than NV and came out ahead 3-1 on Lijiang, winning the grand finals and being crowned as the champions of the Overwatch Open.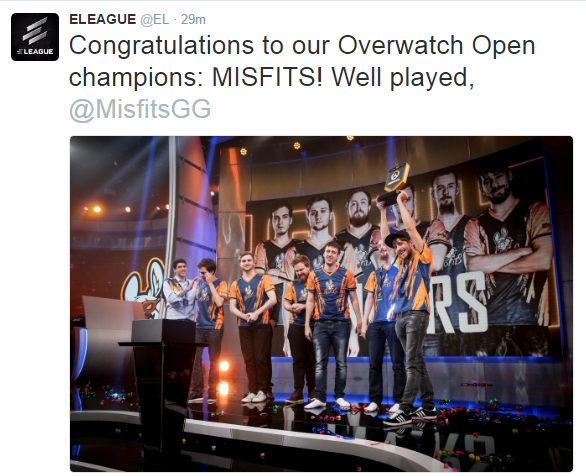 ---
Do you think Misfits is the best Overwatch team in the world? Comment below or tweet your answer to us @GAMURScom.
GGs,
Elbion
Image Credit: www.twitter.com/EL