After Overwatch's latest comic, Searching, was released on Sept. 27, a few of the game's biggest mysteries have been revealed.
The comic, which is a direct sequel to Overwatch animated short Infiltration, sees Zarya off on a mission to find Sombra for Volskaya Industries CEO Katya Volskaya. After traveling the world with no luck, Zarya has to team up with an omnic hacker, Lynx Seventeen.
It has a lot of lore packed into its pages, with some filtering in from Overwatch's writers. Here's a breakdown of this comic.
Orisa and Efi Oladele in Numbani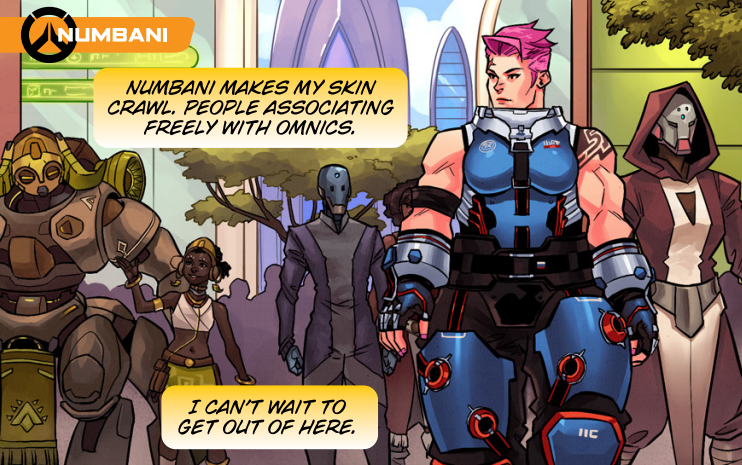 Zarya crossed paths with fellow Overwatch hero Orisa and Efi Oladele, Orisa's creator, while searching for Sombra in Numbani. They're likely still unknowns to each other, but this panel makes it clear that they've encountered each other, even if they didn't realize it.
The 11-year-old inventor entered Overwatch's lore in February through an in-lore newspaper article that highlighted her accomplishments as a creator. Later, she created Overwatch hero Orisa as a way to protect her city from Doomfist. Oladele and Orisa are a perfect representation of Numbani, a city where humans and omnics live together in peace. That's exactly what Zarya hates about the place, however.

Overwatch lead writer Michael Chu confirmed after the comic's release that Lynx Seventeen, the omnic hacker Zarya meets in Numbani, is Overwatch's first non-binary character. "In the Searching comic, Lynx Seventeen is gender neutral," Chu said. "Lynx would prefer you refer to them with 'they/them.'"
This is a detail that most likely missed while reading the comic, as there's no real way to know. Gendered pronouns are not used for Seventeen, though Zarya does call them "it." Chu's tweet is the only place in which Seventeen's gender-nonconforming identity is recognized.
Alejandra is back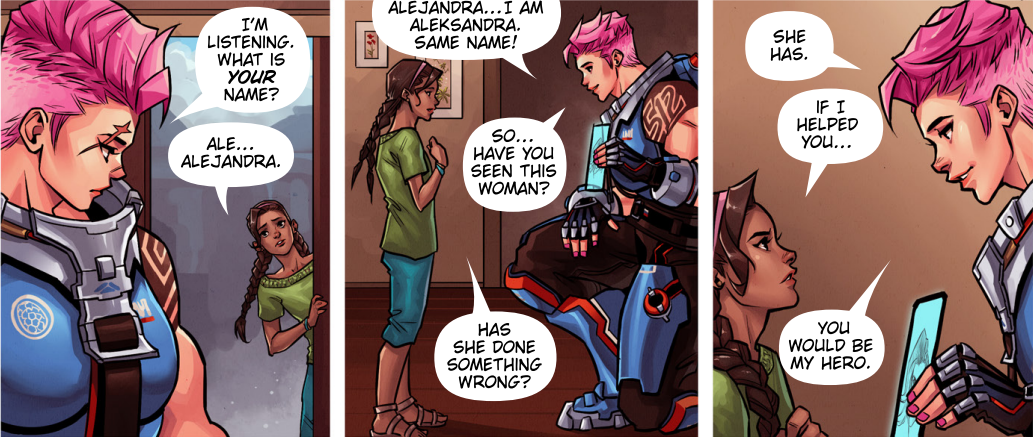 Alejandra first shows up in Overwatch animated short Hero. She's the kid that Soldier: 76 saves from the Los Muertos gang, and now she's here to be a hero of her own. We don't know much about her or how she knows where Sombra is, but she's the reason Zarya stumbles upon the hacker.
Sombra's name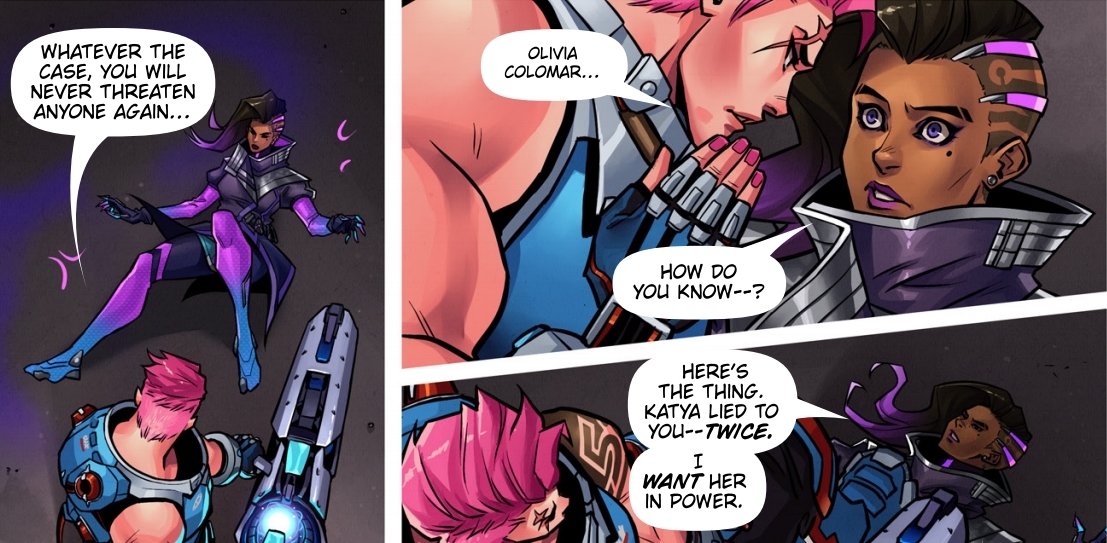 Zarya figured out one thing no one else has: Sombra's real name, Olivia Colomar. We don't know how she got this information or what it means for Sombra, but it's out there now. It's possible that Alejandra gave Zarya this information, but nothing's been confirmed just yet.
Something big is about to happen

We've known this for a while, but it seems like Blizzard is amping up to something big, especially after Doomfist's introduction. Sombra says it in Searching: "There's something bigger going on. It will affect everyone. Everything." We don't know what this big thing is, or if Talon is involved, but it's coming.