Competitive play between eight teams began today, featuring gameplay in Legends of Runeterra, Teamfight Tactics, and League of Legends for the Twitch Rivals European Spirit Blossom Rift Series.
The Sprit Blossom Rift Series features eight teams in Europe and North America with a total of 96 streamers competing for a total prize pool of $200,000. Day one of the tournament showcased an LoR tournament on July 15, followed by a TFT tournament on July 16. League of Legends gameplay took place over the course of two days, from July 22 to 23.
Related: Everything to know about Twitch Rivals Rift Series Spirit Blossom tournaments
The NA region featured a number of top streamers in LoR, TFT, LoL. Team captains for the eight teams were chosen by Twitch Rivals, while the other five team members were drafted by the captains. Teams compete in the multi-title series for a chance to earn the Twitch Rivals European Spirit Blossom Rift Series championship title and up to $30,000.
Legends of Runeterra
A total of 40 NA players competed in the LoR event today, the first of three tournaments in the Twitch Rivals Spirit Blossom Series. A number of players were favored, ranging from top streamers and Pro players like Swim, Hyped, and Bruised by God. Also joining the top ranks was LoR caster Cassanova, along with Dog Dog, and Souless.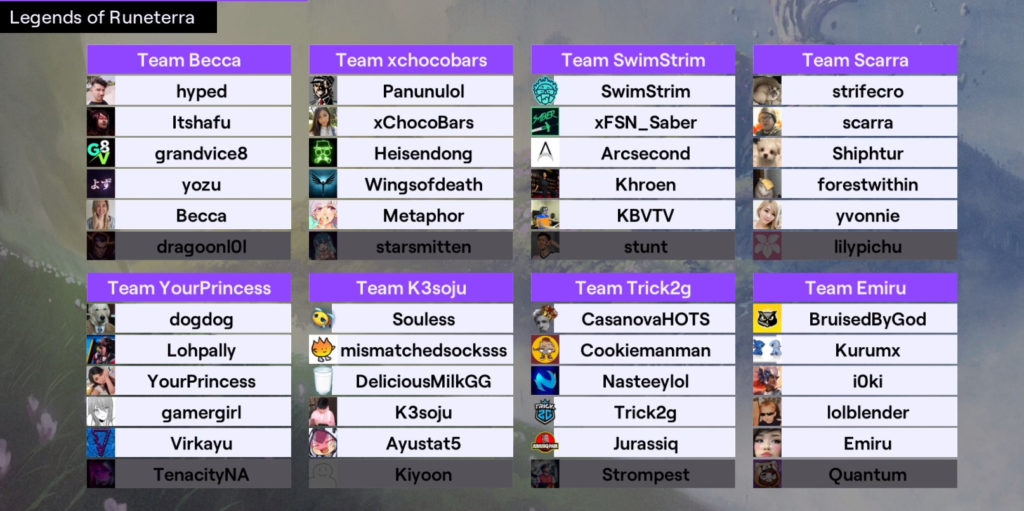 Each block awarded the teams points based on standings. First place in block A, for example, earned a team 300 points while in Block E it only awarded 100 points.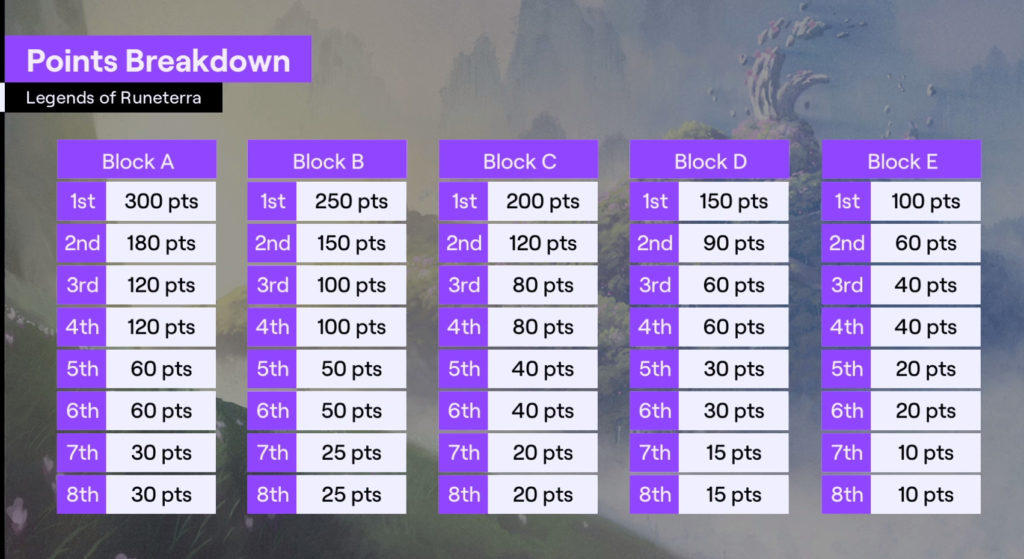 Team Evil Geniuses Swim brought a few "spicy" decks to the tournament today and was on his A-game throughout every match, earning himself a victory in the finals against Hyped from Team Liquid.
Swim was prepared for today's tournament, taking time off from streaming and training with a group of top-ranked LoR players over the course of the last week. Also prepared was Team Soju, a heavy favorite in the TFT tournament. Mismatched Socks went undefeated in today's tournament while Delicious Milk and Soju finished first in their blocks.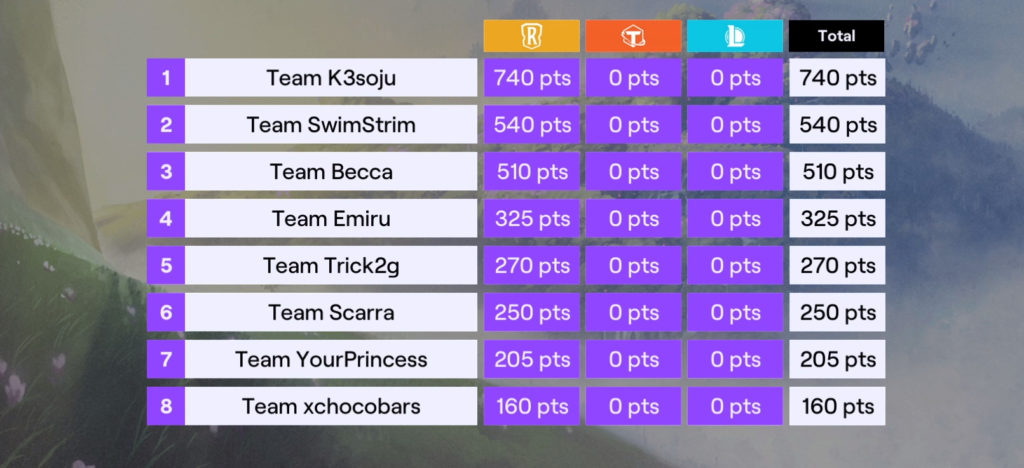 Related: Twitch Rivals Spirit Blossom Legends of Runeterra EU standings
TFT
Teams were split into five lobbies, eight players per lobby. Players competed in four waves, followed by a fifth wave for the top-eight points leaders. Each wave awarded points based on standings. The top three TFT players advanced up a lobby while the bottom three competitors moved down. Winners in lobby one earned more points than the other lobbies at the end of the tournament for a grand total of 5,000 points.
Lobby one
First: 75 Points
Second: 60 Points
Third: 55 Points
Fourth: 50 Points
Fifth: 45 Points
Sixth to eighth: 40 Points
Lobby two
First: 50 Points
Second: 45 Points
Third: 40 Points
Fourth: 35 Points
Fifth: 30 Points
Sixth to eighth: 25 Points
Lobby three, four, and five
First: 35 Points
Second: 30 Points
Third: 25 Points
Fourth: 20 Points
Fifth: 15 Points
Sixth to eighth: 10 Points
Fifth bonus wave
First: 100 Points
Second: 80 Points
Third: 70 Points
Fourth: 60 Points
Fifth: 40 Points
Sixth: 30 Points
Seventh: 20 Points
Eighth: 20 Points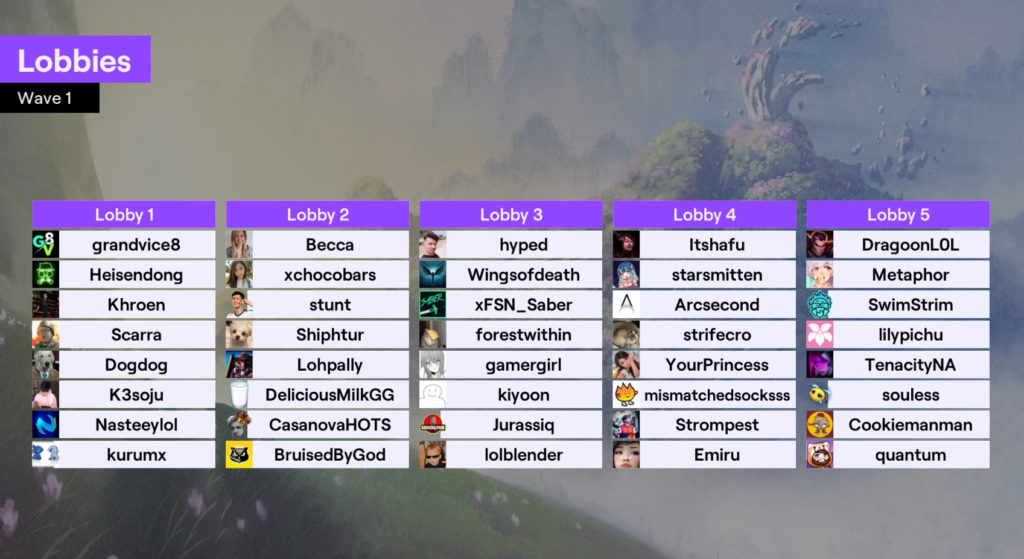 Team captains used placement strategy when assigning players to lobbies, seeking to maximize points earned throughout the tournament. Favorites for the TFT tournament included Grandvice8, Khroen, Dog Dog, and Soju.
Soju and Kurumx were the top performers over the course of four waves, followed by Grandvice8 and Khroen. Lohpally and Delicious Milk were also able to place in the top eight while Hyped climbed all the way from lobby three to make top-eight, and compete in the final bonus round wave.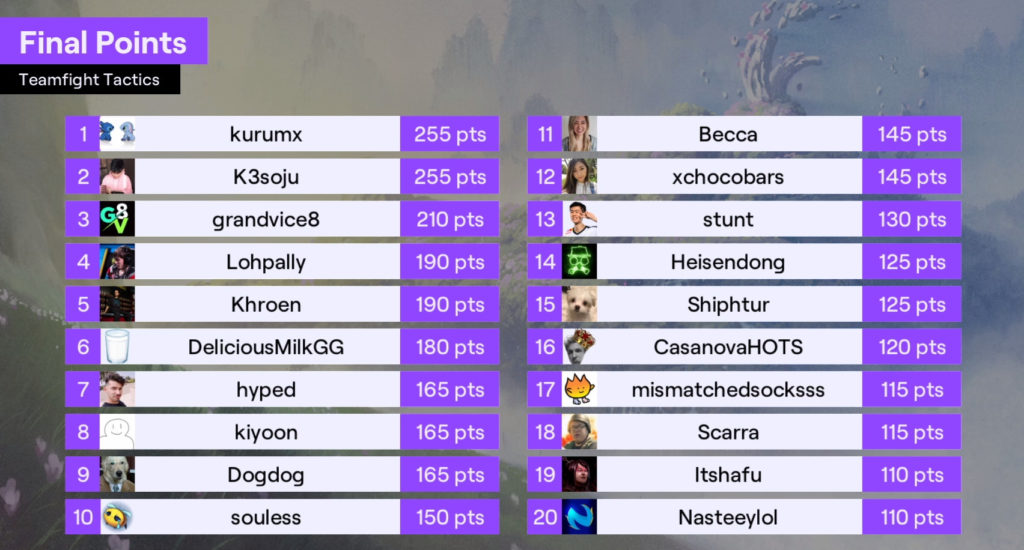 Soju's team that three competitors in the final lobby, while other teams didn't have a single player who made the top-eight to earn extra points for their teams. Hyped ran a strong six Vanguard and Mystic comp, but the final lobby was all about Soju running Jinx Blaster/Brawler and "the boys."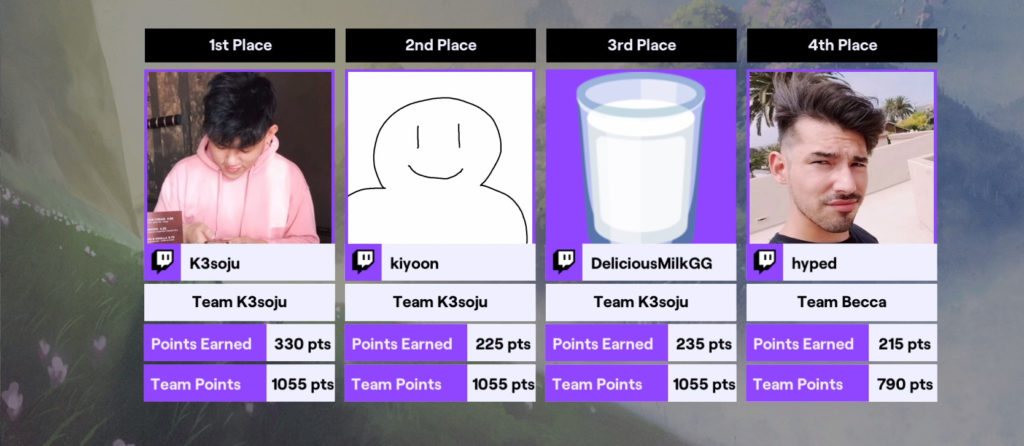 Heading into the League of Legends tournament Team Soju had a staggering lead of almost 400 points overall thanks to the sweep in both TFT and LoR. In second place was Team Becca, followed closely by Team Swimstrim.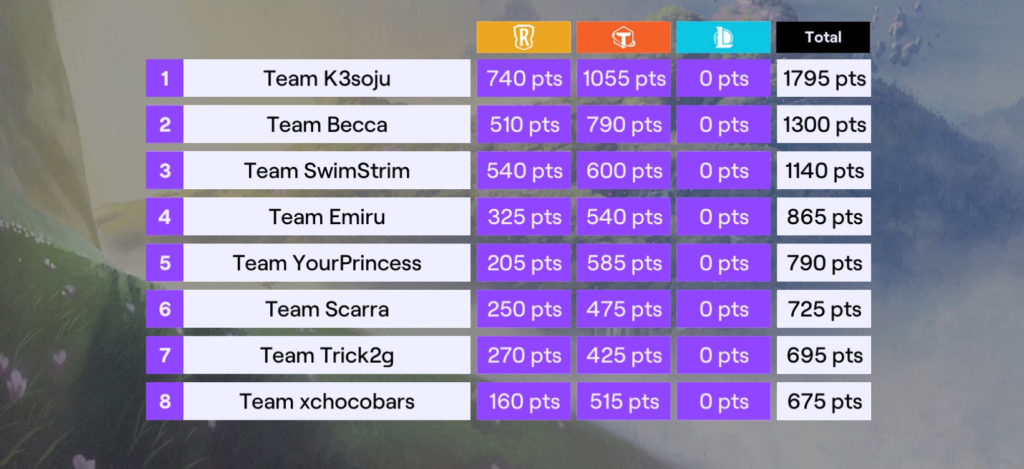 League of Legends
The League tournament had eight teams that were split into two main groups to battle in best-of-one tournament draft games, with the top two squads from each group advancing to the semifinal playoffs. Each match win was worth 125 points and a total of 7,000 points were available for teams to earn in the League portion of the Spirit Blossom Rift Series. The tournament was played over the course of two days.
Day one consisted of six double round-robin rounds with the eight NA teams divided into two groups.
Team Trick2g and Emiru were the favorites heading into the League portion of the tournament, while Team Soju, Becca, and Swimstrim needed to pull off some wins to keep their top placement in the overall standings. Team Swimstrim managed to go 4-2, but the story of the day was Team Trick2g and Team Emiru going undefeated at 6-0.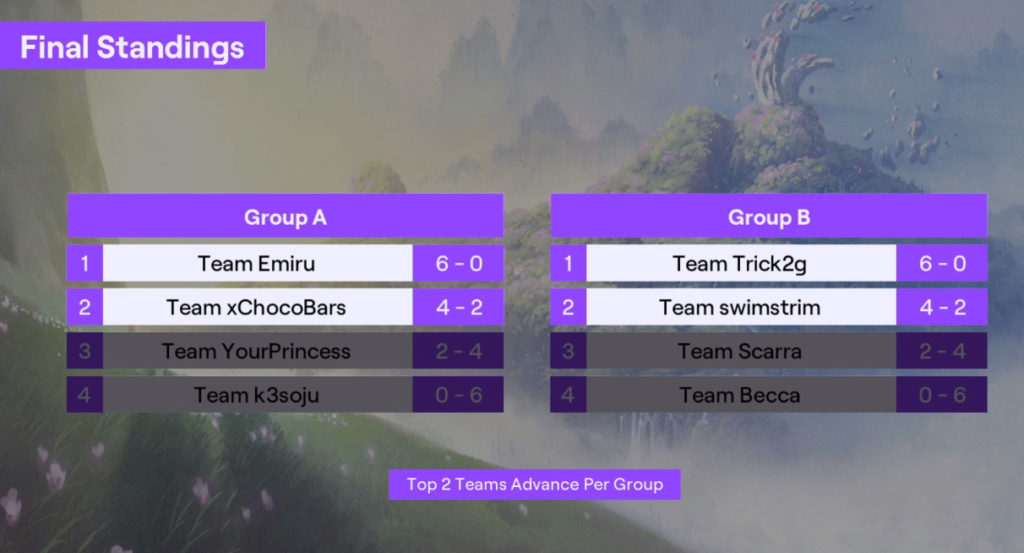 Day two was set to feature Team Emiru against Team xChoco Bars in the Group A semifinals, while Team Swimstrim faced off against Team Trick2g in Group B. Heading into the second day of League action, Team Soju remained at the top of the overall standings but will likely drop following the playoffs. And the point difference between the four teams advancing was minimal.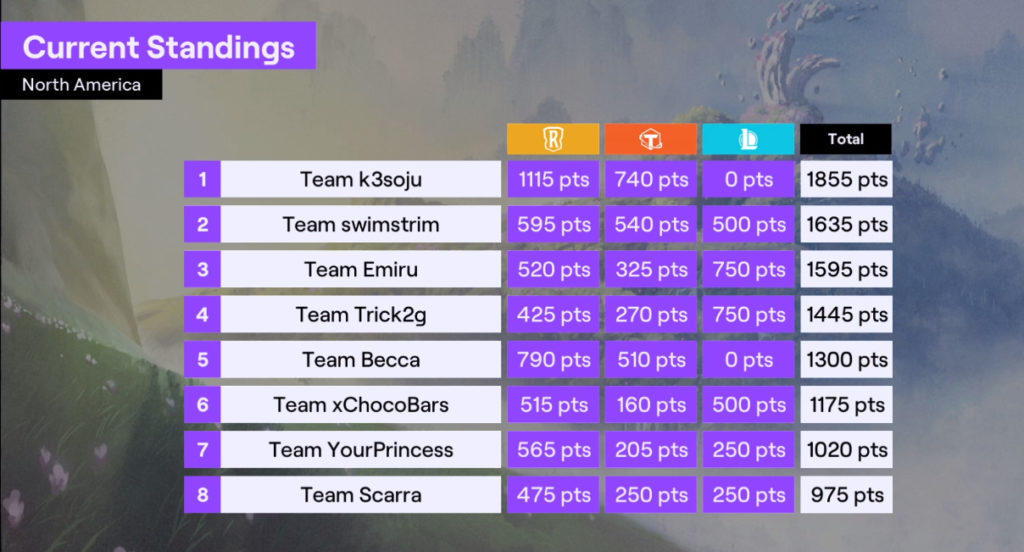 The second day of LoL featured semifinal matches with team Emiru and team Trick2g favored for the finals. Team Emiru beat team swimstrim in the first best-of-three game but fell to them in the next two games. Team Trick2g continued their undefeated streak, however, sweeping Team xChoco Bars and advancing to the finals to face of against team Swimstrim.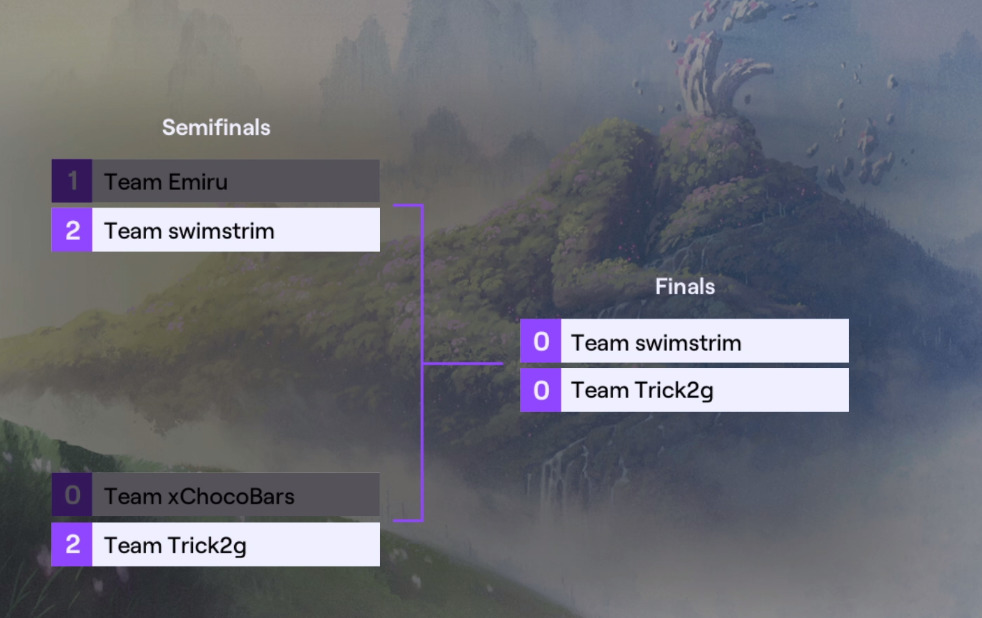 Team Swimstrim was ready for the undefeated team Trick2g, sweeping them 2-0 in the finals and winning the Twitch Rivals North American Spirit Blossom Rift Series.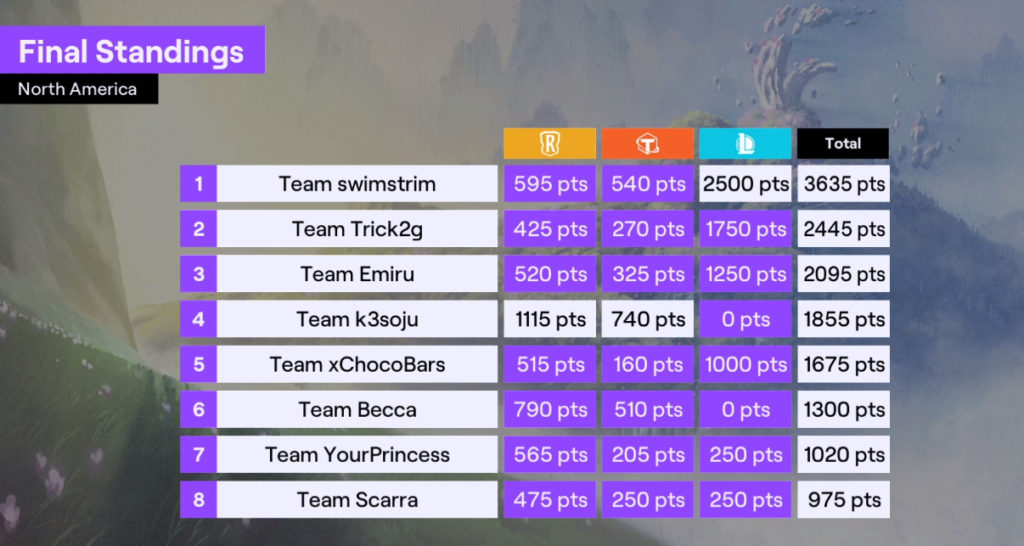 Despite team Soju winning both the LoR and TFT tournaments, scoring a total of zero points in LoL left them in fourth place overall. Team Trick2g finished in second and team Emiru picked up a third place finish. Swim's strategy during draft to focus on LoL players paid off, as the team walked away with a title and $30,000.