There's lots of different ways to keep your Apple Watch charged. But if you want something truly convenient so you can always keep track of your health, the best Apple Watch charging stands are a must-have in your life.
Some charging stands enable your watches to be turned into alarms. Others are lightweight and fit into your pockets. For workstations and desks, a minimalistic and compact charger might save space. If you have multiple Apple devices, then an 'all-in-one' charging dock will be a good fit. For commuters, lightweight, durable charging stations are the way to go.
Whatever your situation, we have the best Apple Watch charging stands right here.
Apple Watch Magnetic Charging Dock

Specifications
Apple Watch Magnetic Charger looks compact and sleek. It has a heavy build that prevents it from slipping or toppling off surfaces. The disc-shaped charger has a smaller inner circle that pops up. To charge your Apple Watch, you have to prop it up against the inner disc. This way, you can check the time while it's being charged. The 5W charging stand is compatible with all Apple Watches.
PZOZ Charger Stand for Apple Watch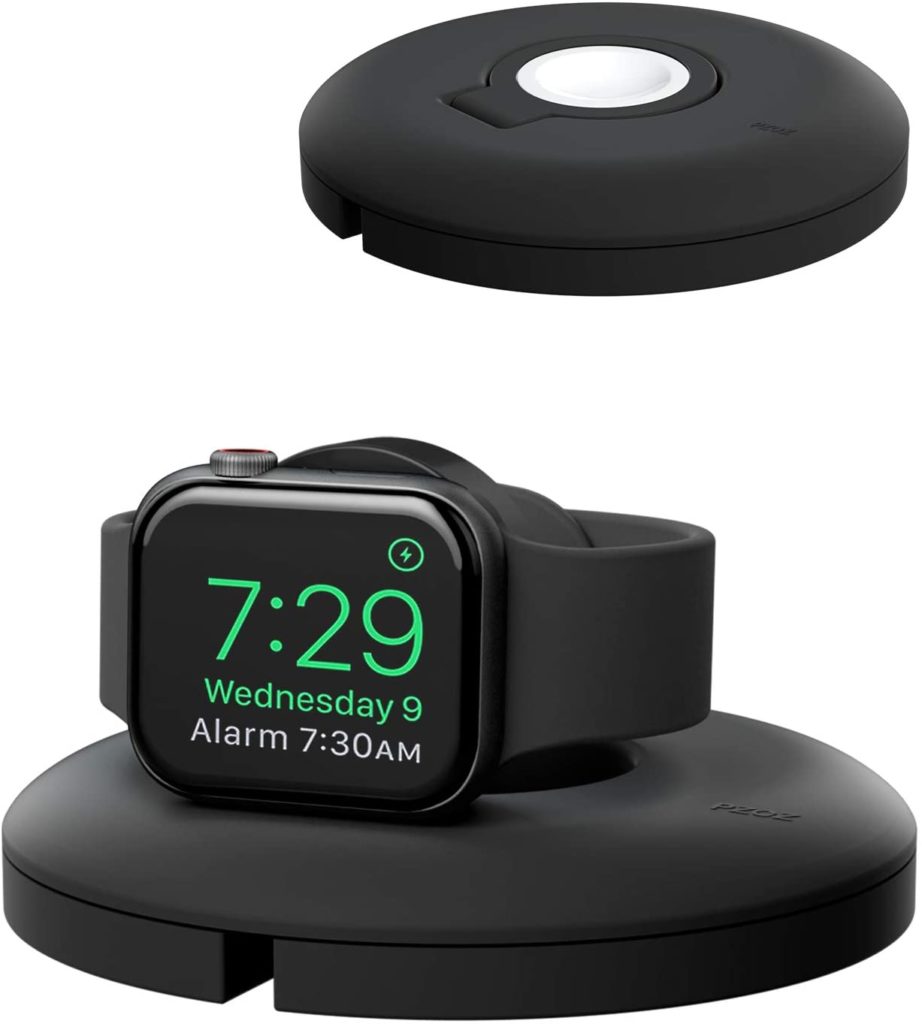 Specifications
If you travel around a lot, then the PZOZ charger stand is quite sleek and lightweight. It will fit into your bag or pocket. The charging stand can be adjusted to charge your watch horizontally or vertically. The Nightstand mode doubles up your charger as an alarm. The silicon charger does not slip off surfaces. The cable coils in perfectly so you can bid adieu to messy, tangled cables.
Spigen S350 Stand Designed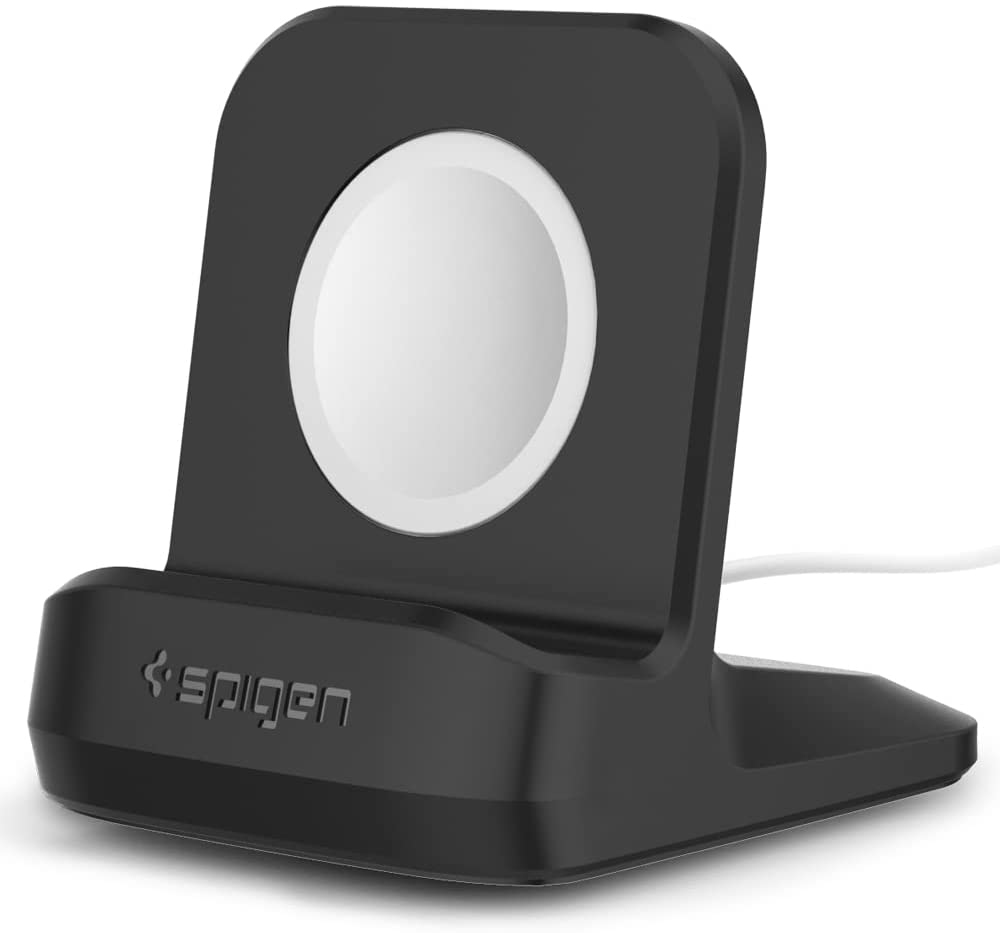 Specifications
For those looking for a stable, sturdy charging stand to place on their desk, you cannot go wrong with Spigen's S35O stand. The charger has a stable Nanotac base that does not let it slip. Further, it has padding inside the trench to hold your Apple Watch firmly. The charger cable fits the stand perfectly so you won't see any scratches. It also supports the Nightstand mode, so you can set your alarm as usual.
Belkin 3-in-1 Wireless Charger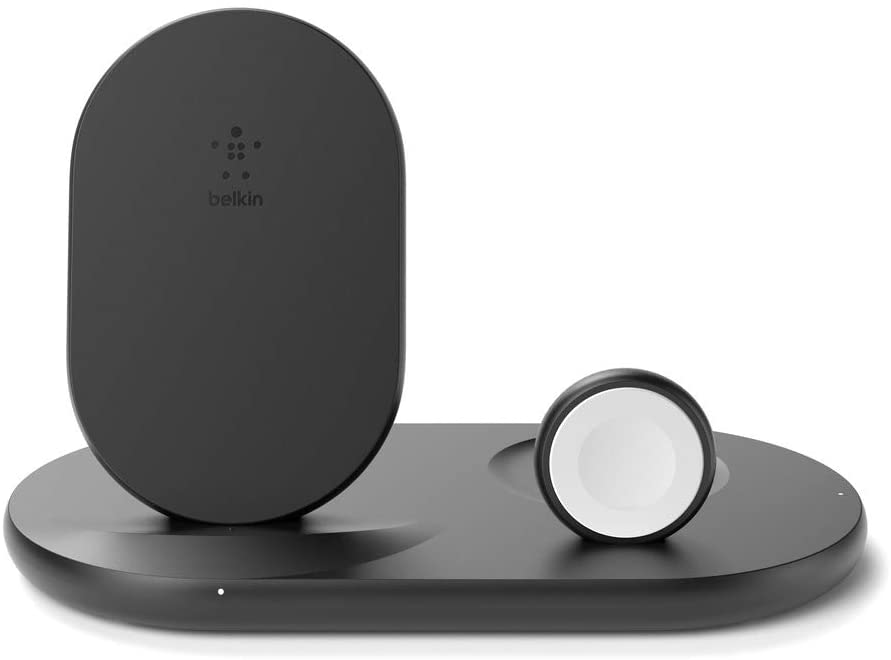 Specifications
If you own multiple Apple products, then Belkin is like the one-stop charging stand. The Qi certified charger charges your iPhone, AirPods, and Apple Watch all at once. The stand is very compact and takes up little space on your desk. It can charge your iPhone through light cases. With a magnetic base, the charge ensures that your watch does not slip off. Belkin's charging dock elevates your devices and keeps them away from spills and scratches.
Macally Apple Watch Charger Stand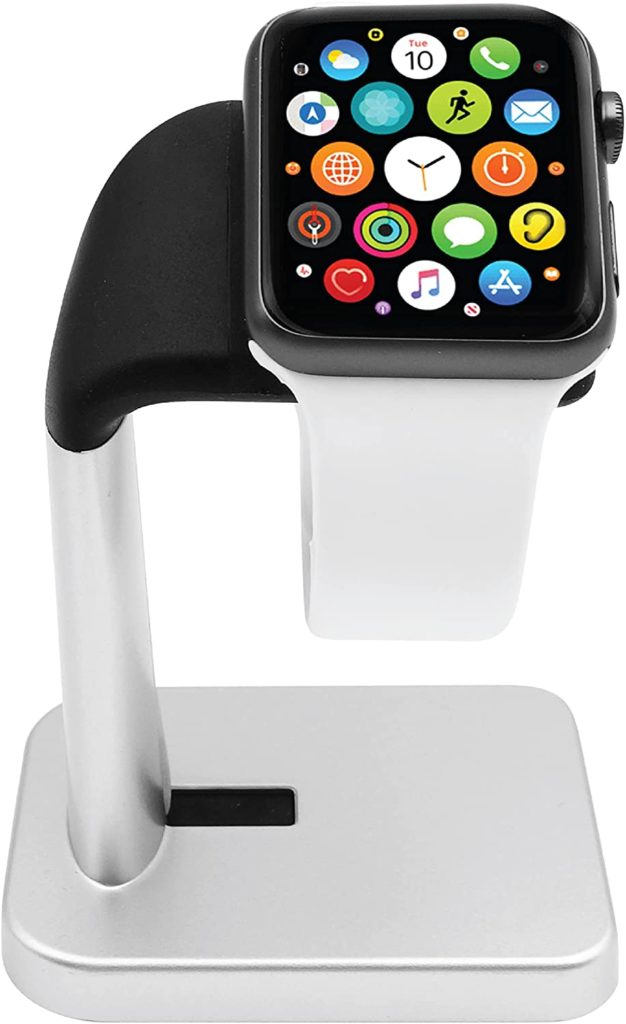 Specifications
Macally's Apple Watch charger stand is the perfect stand to place next to your laptop. This is because it tilts your Apple watch at a 45-degree angle while charging. You can easily use the watch while charging. The stand is sleek and fits any kind of decor. The heavy anti-slip base prevents the stand from toppling off. Moreover, the anti-slip grips hold your watch firmly. The charging cable can be coiled up inside the circular cable slot, so no more messy cables.
mophie Charge Stream Pad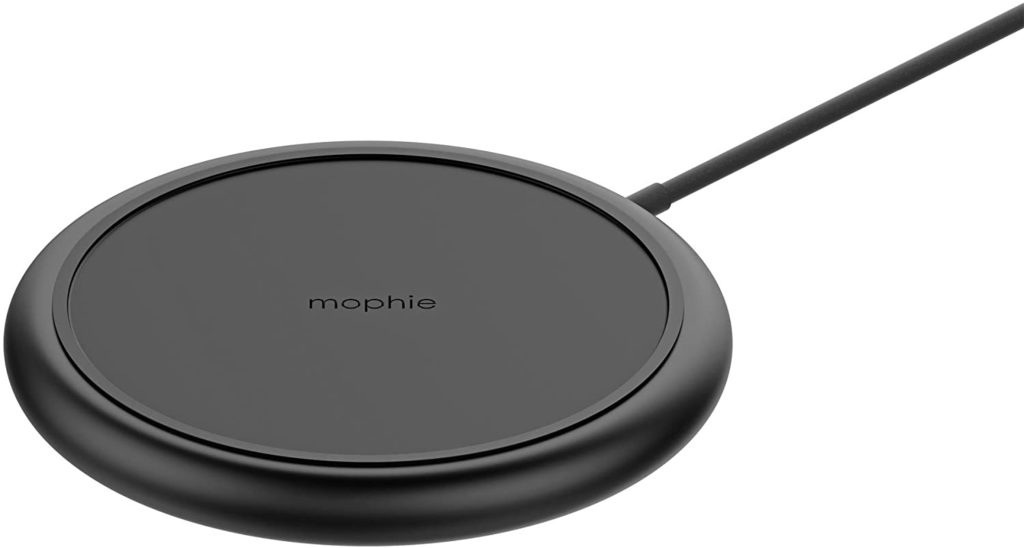 Specifications
If you are looking for a no-nonsense charging station, mophie's ultra-slim and uncomplicated build will be perfect. The slim charging pad is compatible with most Qi-enabled devices. You can charge your iPhone, Apple Watch, and even AirPods. The anti-slip grip that covers the pad will not your devices slip. The stream pad prevents your devices from overcharging and overheating.
Most of the charging stands are compatible with all variants of Apple Watches. However, it might be a good idea to check compatibility before adding any product to your cart. Further, most charging stands do not come with an actual charger. They are setups that use Apple's adapter, so make sure you have one before buying. You can also check out some wireless chargers for your Android and iPhone.
This article includes affiliate links, which may provide small compensation to Dot Esports.