Amidst Nintendo's financial reports from Q4 2021, the company may have shipped out a rather significant deal for the Nintendo Switch in the U.S. since certain websites are now listing specific models for discounted prices. 
The standard Switch model is currently being sold for $259.99, down from its usual $299.99 listing, on multiple online storefronts, including Amazon and Walmart, according to multiple websites, including IGN.
This is one of the biggest discounts the system has seen since launching in March 2017. But none of these deals are being reflected across the board or on the official My Nintendo Store website.
Related: Nintendo Switch surpasses 107 million units sold 
The lack of discounts being applied at all major retailers, along with only the Nintendo Switch with the Neon Blue and Neon Red Joy‑Con set being listed at the $259.99 price point, likely means that this is not a permanent price drop. Amazon also still shows the $299.99 list price with a line through it underneath the lower price, which tends to mean this is a temporary discount.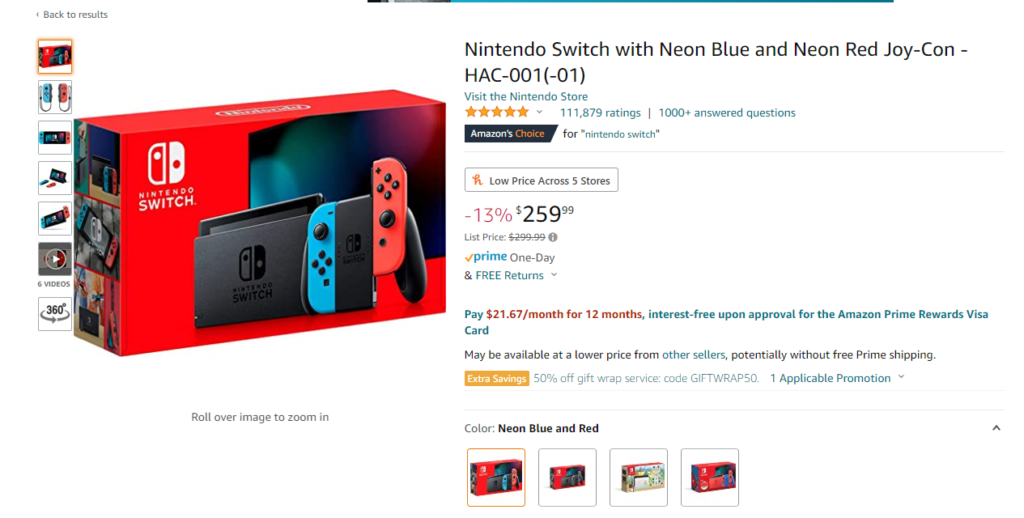 Previously, Nintendo officially dropped the price of the original Switch console model in Europe and the U.K. last September. This was done only in limited markets as Nintendo took into account currency exchange rates ahead of the Nintendo Switch OLED model releasing in October. 
Following that announcement, Nintendo of America confirmed that the price drop was only going into effect in Europe and no plans for a similar discount were in the works at the time for a discount in North America. 
This doesn't mean an eventual price drop won't happen in the U.S., it is actually likely since the Switch is now over five years old and the OLED model is becoming more widely available. But this is currently not the case despite some great deals going live.